The trade deadline is rapidly approaching. If the Chicago Blackhawks don't figure it out very soon and start playing with some consistency, Stan Bowman and Co. could be sellers at the deadline for the first time in a very long time. If this becomes the case, who is most likely to go?
Blackhawks Forwards to Trade
Looking at the Blackhawks forward corps, along with each of their contracts, there aren't many options. When retooling on the fly, Bowman needs to be careful not to give up any valuable assets.
Nick Schmaltz is looking more and more like the 2C of the future. Alex DeBrincat is showing his pure scoring talent, and Anthony Duclair has looked strong since he has been acquired.
David Kampf looks like he could become the next Marcus Kruger, and Gustav Forsling has shown potential to become a top defenseman for the Blackhawks. Under no circumstances should the Blackhawks lose an asset the same way they lost Teravainen.
So, who goes?
Anisimov seems like the most likely choice to go, even if he does have a NMC. There are ways to get a player to waive his NMC, and I'm sure if Anisimov has the chance to be moved to a contending team, he would consider.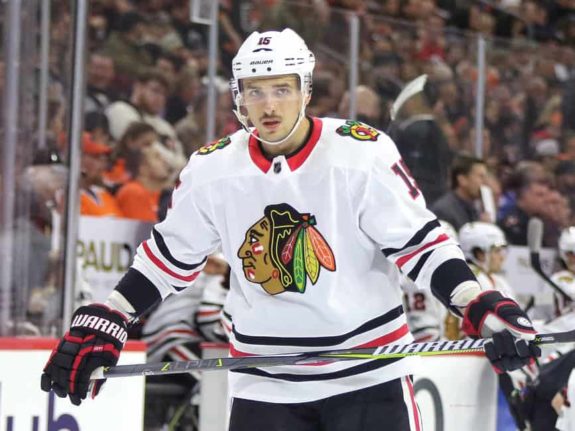 The rationale for trading him is as follows:
He's an interesting case because he really doesn't have a natural spot in the line up anymore. Schmaltz has emerged as the Blackhawks second line center of the future. He and Patrick Kane are forming chemistry on the fly, and under no circumstances should that duo be broken up.
On the flip side, Anisimov plays his best when he is with Kane. If Anisimov was able to effectively be the third line center without Kane, this team would be beyond deep. But he has proven that he can't do that.
His $4.55 Million dollar cap hit for three more seasons is daunting, especially because he has already started to slow down. The new Blackhawks "youth movement" is all about speed, and Anisimov doesn't bring that.
But, what would his return look like? Bowman has a few different options. One could be a haul of draft picks: one higher pick, and one to two lower picks.
He also could look to bring in a prospect that will be NHL ready by next year, along with a pick or two. I feel like this is more likely. A team with Toews, Schmaltz, and Kampf is extremely strong down the middle, but they need someone to step in and take the third line center role. And it's not going to be Tommy Wingels.
Lastly, he could look to bring back a young, cost controlled player with some term. A one for one swap, maybe with a pick thrown in on either side.
Defensemen Kempny or Gustafsson
Very recently, John Jaeckel of the-rink.com reported that both Michal Kempny and Erik Gustafsson are on the trading block.
As reported a few weeks ago, hearing increased TOI for Kempny (and Gustafsson) is because both are being shopped. One or the other "likely" to be moved before the DL.

— John Jaeckel (@jaeckel) January 26, 2018
Now, consider Jaeckel's previous report from December:
Heard this AM, just now, Hawks and Ottawa may be talking about a trade involving Michal Kempny and a Rockford defenseman for one Ottawa roster player. Not sure how serious, but as we've reported, lots of scouting presence from other teams in Rockford recently.
For starters, I don't think many fans would be overly opposed to this. In fact, most fans have been done with Erik Gustafsson since his costly mistake late in game seven of the 2016 Western Conference Quarterfinal against the St. Louis Blues.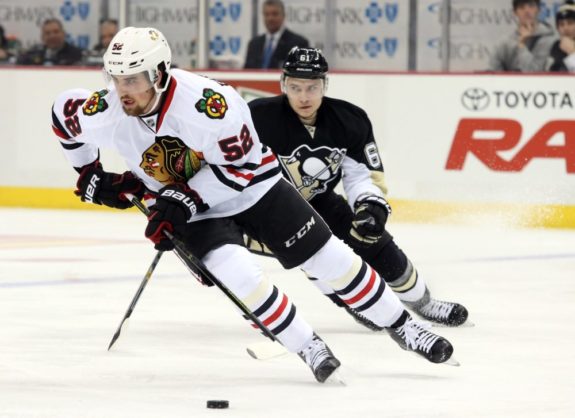 When he was signed out of the SHL, there were high hopes that he would turn into a very offensive second pair type defenseman. Clearly his development has not been as quick as the organization has hoped, and they are looking to move on.
When the Blackhawks singed Kempny out of the KHL, they had high hopes for him as well. He was seen as a very physical and mobile defenseman who could turn into a shutdown type player for the Blackhawks.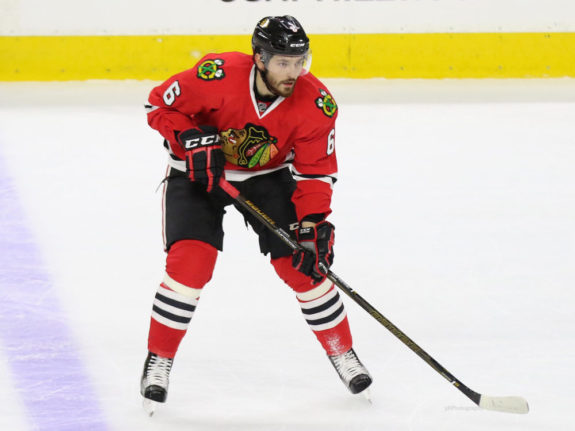 Many still do believe that he will develop into this player, but he needs time to play through his mistakes, something that isn't currently offered in Chicago.
But based on Jaeckel's reports, it seems there are a few different things the Blackhawks could do in this case. They could do what Jaeckel reported, and package both Kempny and Gustafsson for an Ottawa roster player. The Senators have several young players signed for a few more years on the cheap (Thomas Chabot, Ryan Dzingel, etc) who could be of interest.
It's no secret that the 2018 NHL Draft is a deep one, so the Blackhawks could also look to move both of them to Ottawa for a draft pick. Ottawa will likely finish the season near the bottom of the standings, which would lead to a very high draft pick.
Lastly, the Blackhawks front office could look to move both players separately for a mid to lower level pick, simply to replenish some of the organizational depth that they have lost on deadline deals in the past.
What do you think, Blackhawks fans? What will the roster look like after the deadline?
I am an undergraduate student at the University of Illinois at Urbana-Champaign, studying Community Health: Health Planning and Administration. I previously have covered the NHL at FanSided & BlackhawkUp.