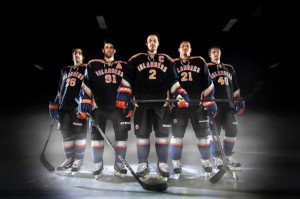 It's easy to forget that professional athletes are people, just like you and I. As sports fans, writers, and analysts, we all are quick to be very hard on athletes getting paid to play the sport we all love. But sometimes, it's important to stop and remember that they are people too.
During the holiday season, many people aren't spending their time in front of fireplaces with their families, eating cookies and reading their favorite stories. On Wednesday, members of the New York Islanders, including Evgeni Nabokov, visited Long Island Hospitals to spread holiday cheer as part of their annual holiday hospital visits. 
Members of the team visited six different hospitals and met hundreds of people who live in the hospital. "It's tough to see kids in these types of situations," Andrew MacDonald said, "being able to put a smile on their faces is pretty special and it's an experience for us that we don't forget. We really enjoy doing these visits."
It's Christmas time and sometimes, we forget that as much as we love hockey, it is just a sport. Win or lose, the Islanders care about their community. During their visits, they also gave vouchers to families that will be good for any home game this season. Many other teams across the country do very similar things. And if professional athletes can take some time to remember the season of giving back, so should you.
Be passionate about your team. And this Christmas, be grateful for what you have.
"There are a lot more things in life than just winning and losing hockey games." -Thomas Vanek