The NHL's incredible parity has been a common talking point for years, with people celebrating the hard salary cap (although it is set to rise significantly) and a more even distribution of talent than can be found in other professional leagues. There is validity to this. There is no doubting that professional hockey is less predictable than most other major sports in North America. Of course, that doesn't stop fans from trying to forecast Stanley Cup champions anyway. Almost halfway into the season, I see only four true contenders for the Cup, with a number of pretenders lagging behind. I would be comfortable taking these four against the field.
Let's get to it.
Contenders for the '13-14 Stanley Cup
Contender #1: Los Angeles Kings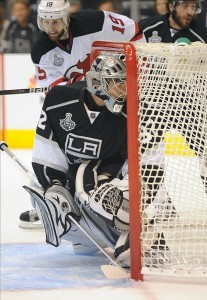 Why LA is on the list: After a disappointing start to the season, the Kings have rocketed up the standings and currently reflect the ability of what most expected of them. Despite losing Jonathan Quick to an injury for extended time, LA has the league's stingiest defense to date. They're also fourth in the NHL in Fenwick Close (FC), a puck possession metric that is *clearly positively correlated with playoff success (see footnotes if interested). Elite defense and puck possession was the formula for Los Angeles' dominant run to the Cup two seasons ago – indeed, they were 4th in FC that year as well, distinguishing them as a very atypical 8th seed – and they look primed to make another deep run in the spring of 2014. Los Angeles is an unmistakable contender.
Why LA might fall short: The Kings' roster today is largely the same as the Cup-winning version from 2012. At face value that sounds like a positive, but two of LA's best and most important players from that run have struggled badly this season. Dustin Brown has 16 points in his last 53 games, and while he still provides the same physical presence, it's quite unlikely that he'll again produce at a point-per-game pace come springtime. Jonathan Quick, meanwhile, has missed major time this year and hasn't looked particularly good when he has played. This is a concern – nobody needs reminding of just how key he was to Los Angeles' 2012 run. Further, regardless of their strong play this season, it would be extremely premature to suggest that Martin Jones or Ben Scrivens can come close to matching what his past playoff performances.
Finally, the Kings have never seemed to match up well with the West's other contender.
Contender #2: Chicago Blackhawks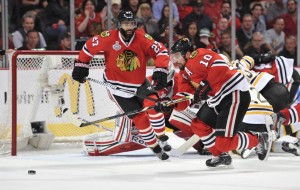 Why Chicago is on the list: My rule of thumb is that any team with an especially dominant defense (LA) or especially dominant offense deserves respect as a genuine contender. The latter applies to the Blackhawks, who are stocked deep with talent throughout the lineup. No NHL team can match Chicago's depth of top-end forward talent in Toews, Kane, Hossa, and Sharp. They also boast one of the league's best defensive pairings in Norris buzz-generating Duncan Keith and Brent Seabrook. As with Los Angeles, Chicago has retained most of its Cup-winning roster, and are a popular choice to become the NHL's first repeat champion since 1998. Their offensive excellence vaults them to "contender" status essentially on its own, and it doesn't hurt that they're the most dominant possession team in the league, ranking first in FC.
Why Chicago might fall short: You'll notice I only talked about the Blackhawks' offensive ability above. That'd be because the team defense has been porous this year. Corey Crawford has been inconsistent as well, although I'd attribute that mostly to the problematic play in front of him. The Blackhawks have the third-highest goals against average of any current playoff team – trailing only Washington and Toronto, which is nothing to be proud of. This is a serious concern; last year's Blackhawks were the league's best defensive team, and it proved to be a winning formula. Offensive-focused Blackhawk rosters from the recent past haven't met very much success.
We'll have to wait and see if the Blackhawks can get their defensive issues corrected. I believe they will, which is why I have Chicago as my other Cup contender out of the West.
Contender #3: Pittsburgh Penguins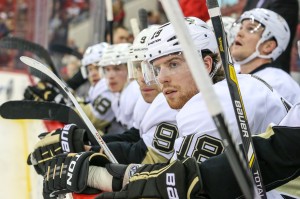 Why Pittsburgh is on the list: The Penguins have (seemingly) fixed their flawed team defense from last season, and Marc-Andre Fleury is on pace to have his best NHL season ever. The offense is as strong as ever, with Crosby and Malkin both top-3 in points and Chris Kunitz looking like an elite first liner thanks to the former. James Neal is also a nice offensive piece, although he's been doing some stupid things this year. The Penguins have two of the league's three best players and have shored up their past bugaboos. I have been skeptical of Pittsburgh in past years, but there's no arguing that they're a contender based on what they've shown so far. They're 6th in FC after being 15th in 2012-13.
Why Pittsburgh might fall short: It's possible that this improved defense is a mirage, although the possession numbers make me doubt that. It is, however, much more conceivable that Fleury won't maintain this level of play, and that could lead to problems for Pittsburgh if they run into a team with the personnel to limit Crosby and Malkin. Speaking of…
Contender #4: Boston Bruins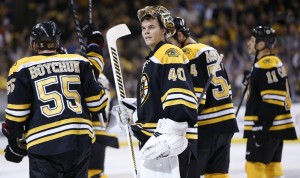 Why Boston is on the list: Frankly, they'd have to have been pretty terrible this season for me to leave them off. In light of their defensive-oriented focus, Loui Eriksson is a much better fit for the Bruins than Tyler Seguin – in that sense, I thought it was a great trade for Boston. Eriksson's had some trouble staying healthy this season, but that seems like a fluke more than anything else given he had missed only 3 game in the previous 5 years. Boston is above average in every facet; they have good balance in the top-6 and plenty of scoring power, one of the league's best defenseman and defensive cores, and a top-10 goaltender. It's difficult for me to ignore what they did to Pittsburgh in the Eastern Conference Finals last year – that kind of defensive sovereignty is nearly unheard of. Their new pieces will inevitably start to mesh better as the season goes on, and in this year's pathetically weak Eastern Conference there's little reason to suggest Boston is anything but a contender for the Cup.
Why Boston might fall short: The Bruins struggle mightily against speed. This is what Chicago exploited in the Cup Final last year and explains why Toronto – an otherwise mediocre team, especially by possession metrics – managed to take Boston to the brink. Of the four contenders, I'd put forth that Boston is the most likely to get upset in an early round.
Still, the Bruins are deep, talented, and tough to beat at home. They'll likely be a favorite in any Eastern series, including against Pittsburgh.
Summary of the Four Contenders
Yes, I'm aware that these are the same four teams that played in the two conference final series last year. Boring, isn't it? For all the talk of the league's wonderful parity, these four teams look like the best in their respective conferences once again. Of course, that's simply my opinion. I have this bizarre, inexplicable feeling that fans of teams in the "pretender" section below will disagree.
The Pretenders of the 2013-14 Season
Pretender #1: St. Louis Blues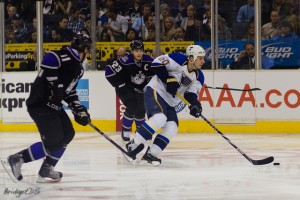 The Blues have been relying on unsustainable scoring heavily this season, with both David Backes and Alex Steen scoring at a rate far above their career norms. The Blues as a team are shooting abnormally well when those two are on the ice. The rub on St. Louis has always been their lack of an elite, gamebreaking forward, and this remains true despite Alex Steen's illusionistic jump to superstardom. Teams with a goaltending duo this statistically weak also rarely do significant damage come playoff time. In that respect, a team like this season's Chicago gets the benefit of the doubt due to its starter having backstopped the team to a Cup just last season. St. Louis has not earned the equivalent respect in bowing out to Los Angeles for two consecutive years.
Pretender #2: Anaheim Ducks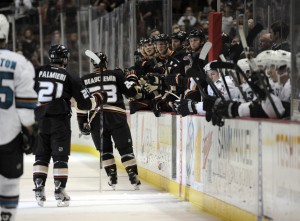 Nobody should have been surprised when Anaheim went down to "underdog" Detroit in the first round last season. Ranking an unimpressive 14th in FC, their possession stats – as with last season – indicate a team that tends to control tempo and generating scoring chances at about the same rate as their opponents (as opposed to a higher rate). The Ducks also have an exceptionally high **PDO in 2013-14, which will likely fall and accompany a drop in the standings (see footnotes). They have fantastic top-end forward talent in Ryan Getzlaf and Corey Perry, but the top-6 is rather lacking after those two. Anaheim is a quality team and all but a postseason lock, but they rely far too heavily on opportunism to really be a serious threat to the contenders in the playoffs.
Pretender #3: San Jose Sharks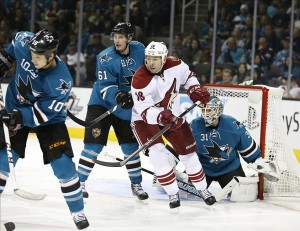 Admittedly, this was a tough one. San Jose is clearly the best team among the "pretenders." I really don't like attaching that word to the Sharks, but I restricted myself to having only the top two teams in each conference in the "contender" category, and the Sharks fall behind Chicago and Los Angeles. Call it more a gut feeling than anything if you'd like – I simply can't see the Sharks topping either the Blackhawks or Kings in a playoff series. Their possession numbers are good, they have a great goal differential, they're a solid team in all three phases… Sorry, Sharks fans. Can't offer you much else than that here. For what it's worth, I'd label San Jose as far-and-away the third best team in the West – and probably the league, too, but San Jose doesn't play in the East so that's rendered moot.
Ugh. I feel dirty. Let's move on to a team that is a much more evident pretender than the Sharks.
Pretender #4: Vancouver Canucks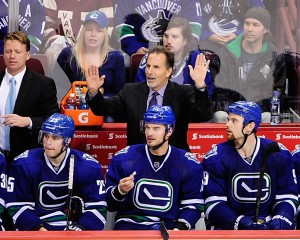 Ah, I can breathe freely now. Derogating Vancouver is much easier.
The Canucks have a middling goal differential, and their forward depth is extremely questionable after the Sedins and Ryan Kesler. They don't really display either offensive or defensive excellence, and still lack a true #1 defenseman (a staple on almost every Cup-winning team since the 2004 lockout). Even to get to the Western Conference finals, Vancouver would probably need to defeat Los Angeles and San Jose as a lower seed – an unlikely proposition even before considering the fact that the Canucks have lost lopsided playoff series to each of these teams recently. Vancouver screams "average playoff team" – nothing to be ashamed of, to be sure, but also far from being a Cup contender.
Pretender #5: Tampa Bay Lightning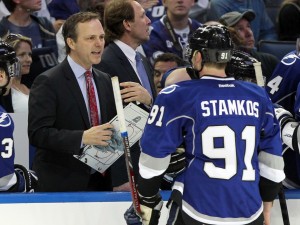 Too many questions hovering around the Lightning for me to label them a contender. For one, we have no idea how Stamkos will look when he returns from that brutal leg injury. As with Vancouver, the lack of a #1 defenseman is a definite issue; while Tampa Bay's defense has been fairly good this season, they do not have the personnel to shut down elite opposing forwards over the course of a 7-game series. There's also a very apparent absence of scoring depth behind Martin St. Louis and Stamkos. Ben Bishop – a 6'7″ behemoth in net – has played almost preposterously well this season, but there's no telling how he would deal in his first exposure as a starter to the NHL playoffs. Even granting the rather unlikely scenario that Stamkos immediately returns to his usual form, it's very hard to see the Lightning topping Pittsburgh or Boston in a playoff series.
Pretender #6: Montreal Canadiens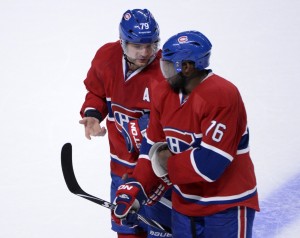 The argument against Montreal as a Cup contender is not an arduous one to make. Most glaringly, the Canadiens rank a dreadful (relative to most playoff teams) 20th in FC this season, suggesting that their opponents tend to control possession and generate slightly more scoring chances than they do. They are a strong defensive team, but have a definitive dearth of gamebreaking forwards much like St. Louis. Carey Price tends to have trouble in the playoffs, which does not bode well for a team that relies on defensive play. Their tendency to be out-possessed as well as the absence of any exceptional forwards suggest when put together that Montreal is a paper tiger, and simply is not on the level of the East's true contenders in Boston and Pittsburgh.
Footnotes
*I'm not just spewing hot air about Fenwick Close as a stat. It really does correlate with team success. Not perfectly, of course, but there's undeniably something here.
Cup winners tend to be near or at the top of the league in FC.
2012-13: Chicago (2nd)
2011-12: Los Angeles (4th)
2010-11: Boston (14th)
2009-10: Chicago (1st)
2008-09: Pittsburgh (13th)
2007-08: Detroit (1st, highest Fenwick Close ever recorded).
**PDO is the save percentage and shooting percentage of a team added together. Over time, it tends to regress toward the mean of 1000. PDO is an effective (albeit not infallible) measurement of what some call "puck luck."
Follow Sean Sarcu on Twitter: @seansarcu