The New York Islanders are in the midst of a 6-2-2 stretch over their last 10 games played and currently sit in third place in the MassMutual East Division, just two points behind the first-place Washington Capitals.
The departures of veteran players such as Johnny Boychuk, Devon Toews, and Derrick Brassard in the offseason left holes in the Islanders' roster that they needed to fill. With little cap space due to a flat salary cap, general manager Lou Lamoriello and head coach Barry Trotz were forced to turn to their rookies instead of signing new players to fill the void.
Now, just over a third of the way through the 2020-21 NHL season, the Islanders' rookies have been spectacular, giving the team the depth necessary throughout their lineup and helping contribute to their success.
Noah Dobson
Although he's not considered a rookie due to his 34 appearances in the 2019-20 season, this is Noah Dobson's first NHL season in a full-time role, and he's been nothing other than fantastic.
Dobson had nothing left to prove at the junior level, yet wasn't quite old enough to run with the Bridgeport Sound Tigers of the AHL, so he did a lot of sitting and observing when he wasn't in the lineup. An awkward playing season nonetheless, Dobson gained irreplaceable experience being taken under the wing of some notable Islanders veterans.
"When you're in junior hockey and you're one of the best players, you can get away with stuff that you can't in the National Hockey League," Trotz said. "Breaking him of some of those habits and then building him up, his physical strength in his body, so he can start having success in the NHL. Going through it, we've tried to surround him with good mentors. Living with Dennis Seidenberg, being partnered up with Johnny Boychuk, who took him under his wing. Greene has taken him under his wing. You can't think of three better people in this game that you could learn from. He's getting a really good tutoring from people who have played in the league." (from 'Why Noah Dobson has gained confidence early in the Islanders' season' – The Athletic – 01/22/2021).
As soon as the Islanders moved Toews to the Colorado Avalanche, Dobson was given the vow of confidence from Lamoriello, and he's lived up to the hype thus far. Through the Islanders' 21 games so far this season, it hasn't been often, if ever, that the lineup has missed Toews due to the excellent play of Dobson.
With eight points in 21 appearances, Dobson sits only behind Nick Leddy in points among Islanders' defensemen and has solidified a role on the first power play unit. He's a crafty two-way defenseman who has the ability to make plays in the offensive zone while also making smart reliable plays in the Islanders' zone. He's also shown great talent as a puck-moving defenseman, showing off great skating and zone-entry ability. The 21-year-old defenseman currently possesses a 51.37 Corsi-for percentage, behind only the top-pairing of Adam Pelech and Ryan Pulock.
Dobson has been playing at a high level so far this season and is on his way to becoming a top defenseman in the NHL.
Oliver Wahlstrom
It's been a long time coming, but the Islanders may finally have their sniper. It's early yet, as Oliver Wahlstrom has only played 23 NHL games in total, but his early play has been very encouraging.
Wahlstrom has had an NHL-ready shot since the day the Islanders drafted him in 2018. He's now in a position to fully utilize his talent, and it's paying off.
Wahlstrom played his way into an everyday role, beating out fellow rookie Kieffer Bellows for regular minutes on the third line. It took Wahlstrom just one game to find the back of the net for his first NHL goal, but he couldn't find the back of the net for another 11 games.
In that stretch, Wahlstrom did almost everything but score a goal, impressing Trotz as he appeared on the verge of breaking through at any moment. The 20-year old winger finally found the back of the net once again in a high scoring affair against the Boston Bruins on Feb. 25 and is now riding a four-game point streak (two goals, three assists). He's solidified his role in "Ovi's Office" on the second power play unit, and it's changed the dynamic of the power play.
With defenders now favoring his side of the ice on the man advantage, Wahlstrom has brought an element to the Islanders' power play that they haven't seen in a long time. The Portland, Maine-native's shoot-first mentality gets plenty of pucks to the net, but he also has the offensive IQ to pass the puck if the shot is not there. Wahlstrom did just that in Sunday night's victory against the Pittsburgh Penguins, picking up a goal and an assist, both on the power play.
"Since he was added to the power play on February 11, the Isles are 8 for 20 (40 percent) and Wahlstrom has figured in five of those goals," said Arthur Staple of The Athletic. "He's got more power-play points than Mathew Barzal." (from 'Scoring or depth? What we're hearing about the Islanders trade deadline plans' – The Athletic – 03/01/2021).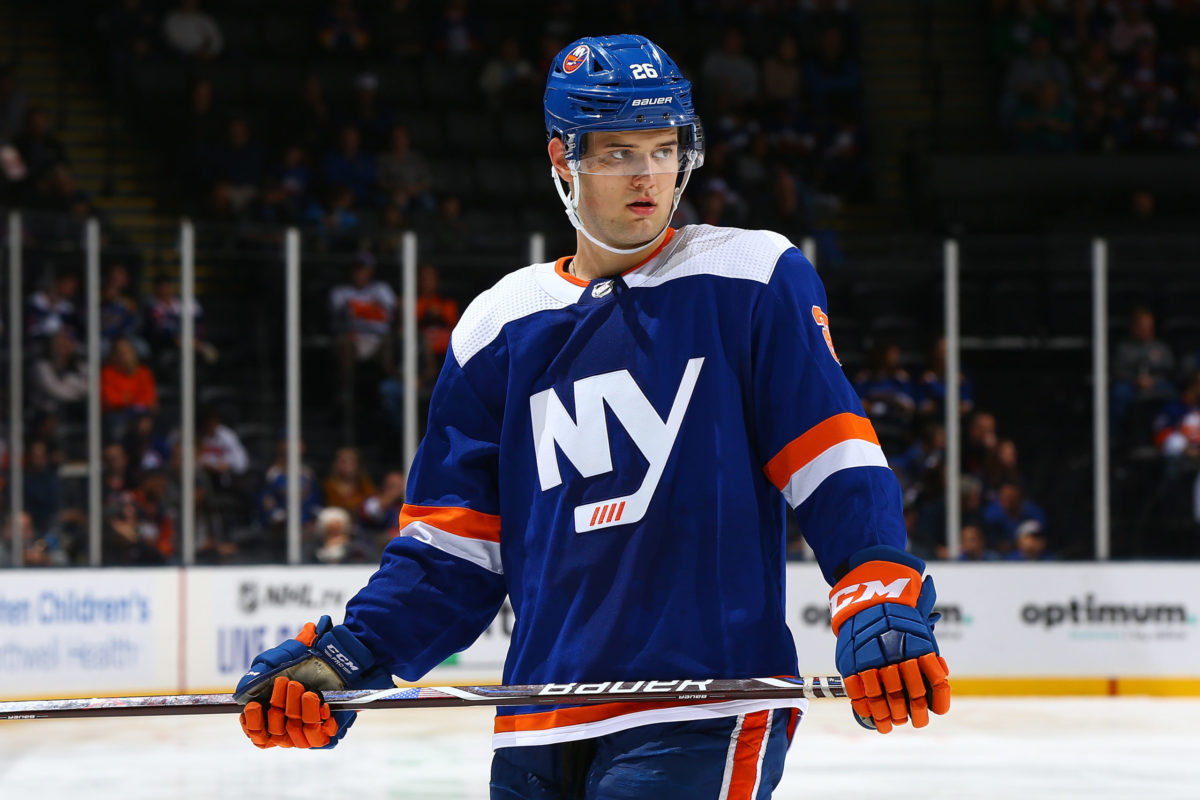 "His attitude is top-notch on and off the ice," Jean-Gabriel Pageau said of Wahlstrom. "He's doing the right things and paying attention to all the details and that's how you get better… He's doing everything possible to be apart of this team."
Wahlstrom now has seven points through 14 games, with an expected goals-for percentage of 51.64%, solidifying himself as an everyday NHLer. As he continues to grow, expect his deployment to increase. Don't be surprised if you see him on the first unit power play and within the top-six forward group soon.
Ilya Sorokin
Ilya Sorokin has only started in five of the Islanders' 21 games this season. The last three starts were much better than the first two, and the KHL standout finally nabbed his first NHL win on Feb. 16 against the Buffalo Sabres, a 20-save performance in a 3-0 shutout. Twelve days later, the Russian prodigy was at it again in his very next start with another 20-save shutout against the Penguins.
Sorokin became the first Islanders rookie to have consecutive shutouts since Glenn "Chico" Resch in December 1975.
"If you talk to any goaltender or goaltending coach, they'll tell you one of the toughest games to play is when you haven't been busy," Trotz said. "It's easy to sort of let your mind wander and all that, and I think Ilya did a really good job (on Sunday)."
With 12 days off between starts, Sorokin posted a second straight shutout, giving Trotz the confidence to deploy him more often and allowing veteran goaltender Semyon Varlamov to receive much-needed rest between starts to ease his workload.
Sorokin has improved his goals against average to 2.19 and his save percentage (SV%) to a .912. His SV% ranks first among rookie goaltenders with a minimum of five games played.
It took Sorokin a few games to get acclimated. A short training camp and no exhibition games were contributing factors to his slow start to his first NHL season. However, he's built more and more confidence in each start, proving to Trotz that he has two reliable goaltenders on any given night. The Islanders' goaltending situation has been a position of strength under the Lamoriello/Trotz regime, and Sorokin has proven that trend will continue for the foreseeable future.
The Islanders needed the youth to step up for the 2020-21 season, and they sure have answered the call. Dobson, Wahlstrom, and Sorokin have all solidified themselves as regular NHL players, and what was once one of the "older teams in the NHL" suddenly has a younger core of players, stretching their win-now window a little further.
Want more Islanders content? Check out the Nassaumen Hockey Podcast, hosted by The Hockey Writers authors James Nichols and Jon Zella. Follow on Apple Podcasts, Spotify, and Google Podcasts!
---
---