The Islanders won their home opener, as well as their first game this season, and went on the road to beat the Rangers at Madison Square Garden. That puts them squarely at 3-0-0 to start the season, the first time that feat has been accomplished by an Islander team since Peter Laviolette was the head coach back in 2001-02.
The Islanders also have two players that are tied for the league lead in points, and they play on different lines- John Tavares and Brock Nelson.
I think it's fair to say that the Islanders have played very well to this point in the season. From the moment the puck dropped in Raleigh, North Carolina, to the home opener, to last night at the Garden, the Islanders have been vastly improved over last year, and almost every team in the past 20 years.
However, this is just the start of something special.
What? How?
The Islanders are missing some key parts to their team- Calvin de Haan, Lubomir Visnovsky, and Michael Grabner are all out due to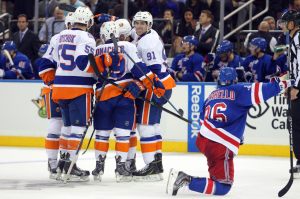 injury. Bringing in two more good defensemen only makes this team better. Griffin Reinhart doesn't look ready for the show just yet, as he doesn't seem to have to speed and agility to keep up with the faster pace of play that is prevalent in the NHL. A move to Bridgeport only will help him develop into a better defenseman, and moving him out of the lineup for Visnovsky or de Haan improves a defense which is already better than last year.
Michael Grabner's injury gives the team time to evaluate a few players on the roster as well. Will Ryan Strome stay with the big club, or join Ryan Pulock and Anders Lee in Bridgeport? What's Josh Bailey's future? Through the first three games, however, both have looked good, so it will take a little longer to make a decision on these player's futures.
The team as is looks great, and it looks to only be trending upwards.
Islanders Home Opener and Fan Support
The home opener was one of the loudest games I've been to in years. Outside of the Penguins Playoff Series, this might've been the most electric game I've seen. What's more, it appears that Thursday's game against the Sharks will draw some fans as well, with tickets more than doubling in price (almost tripling) and Stub Hub seeing less than 500 available tickets. In comparison, Tuesday's game against Toronto has over 1,000 available at far less a price.
It seems as if casual fans are now being given a reason to show up and support the team. In addition to the fact that this will be the last time you'll be able to see the Islanders here at Nassau Coliseum, the team is tied for first in the entire NHL in points.
Simply put, this team looks good.
Scoring From Unlikely Sources
Who would've picked Brock Nelson to be tied for the league lead in points? With an astronomical 63% of ESPN Fantasy Owners picking up the young forward in the past week, it seems as if not many people did.
Johnny Boychuk already has more power play goals than he had in his entire career in Boston. Brock Nelson just keeps on tallying points. While John Tavares is also scoring extremely well, it's almost as if he wouldn't have to in order to have this team be where they are now, which is something that could not be said ever in Johnny's career on the Island.
The Islanders are a deep team with playoff aspirations. If they keep getting scoring from depth players, they'll surely be in it for the long haul.
Get Excited, Islander Fans
There's a lot revolving around the team right now and it's all good- Barry Melrose has had only good things to say on ESPN, and the mainstream media has been positive about the team for a change.
The time is now. All these years of rebuilding are finally going to start coming to fruition. It's time that the little brother becomes a powerhouse, and it'll be sweet.
Lifelong Islander fan who spends way too much time playing NHL 15. Student at Hofstra University currently studying broadcast journalism. Generally can be found tweeting about hockey or whatever he's watching on Netflix.