The pre-season has yet to officially start for the New York Islanders and they already have their hands full when it comes to injuries. Travis Hamonic left the ice this morning with an apparent shoulder injury that was suffered while practicing with the squad that will take on the Philadelphia Flyers tonight. Hopefully it is only a minor issue, as two other skaters in Mark Streit and Kyle Okposo will be missing some considerable time with the team.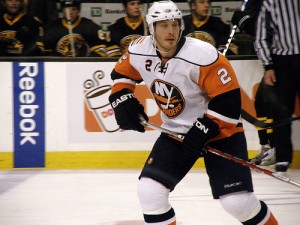 As I reported recently over at The Checking Line (www.thecheckingline.com), Mark Streit will be out for six months with a torn rotator cuff and labrum that will require surgery. It was just announced this afternoon that Kyle Okposo will be out for 2-3 months with a torn labrum that will also require surgery.
In order to help restore some reliability to their blue line, the Islanders signed Mike Mottau to a two-year one-way deal. Mottau joins seven other healthy defenseman that are currently under contract, but it is hard to anticipate any of them being able to overcome the loss of Mark Streit. The only bright side to this void in the line-up comes to the younger defenseman, such as Jack Hillen and Andy MacDonald, who will get an opportunity to step up their play.
Although it was unlikely that Hamonic would make the team this year due to the log jam at defense, this season would have been a major part of his development as a professional hockey player with the Bridgeport Sound Tigers. It can't be ruled out that he may even get some playing time with the Isles if spots open up due to injuries or an impressive run in the AHL.
The Isles recently invited five players to join them in training camp as well; goaltenders Manny Legace and Joel Martin, defenseman Anders Eriksson, and forwards Kris Kolanos and Dean McAmmond. The latter had spent some time with the organization two years ago after being acquired in a trade with the Ottawa Senators. Although McAmmond proved to be a reliable depth veteran, the Islanders need to find a top-six forward that can fill the spot left vacant by Okposo's injury. However, it is still possible that Snow will look at this as an opportunity for players such as P.A. Parenteau and Matt Martin to really earn some playing time. But Snow and Co. might want to take a long look at all possible options if they are serious about making a run for the playoffs this year.
Islanders Goaltending 2010
Many fans were scratching their heads when they saw that two goaltenders were joining the Isles pre-season run. Does this mean Rick DiPietro is hiding yet another injury? Don't count on it. The league rules that a minimum of eight NHL veterans play in exhibition games. With Weight nursing an injury, Streit and Okposo out for some time, and Nielsen just returning to the ice, the Isles needed some ground to cover. Goaltenders Kevin Poulin and Nathan Lawson are also nursing some bruises and are not committed to any starts just yet.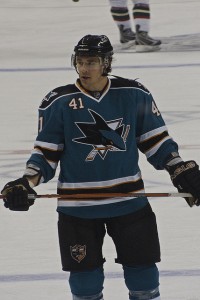 Former New York Ranger Jed Ortmeyer was also extended an invite to training camp on a professional tryout. Will he make it? It's hard to say, but anything is possible with the recent loss of Okposo. However, Jed brings a different element to the ice than Kyle; whereas Okposo is relied on for his leadership, scoring ability and overall power-forward skills, Ortmeyer serves as a fourth line penalty killer. Although he does his job with excellence, he does not meet the services of Kyle.
In addition to my stories written on Streit and Okposo, I also recently discussed Kirill Kabanov and his irresponsible behaviors at training camp over the past week at The Checking Line.. He reported late to camp twice after promising everyone that he is a "good boy" and would do everything he could to make the Isles as soon as possible. Head Coach Scott Gordon and the rest of his coaching staff decided that these actions wouldn't be tolerated and sent him back to his Junior Team in Moncton shortly after the Orange and Blue scrimmage that was held this Saturday.
Other names that are still flying on Gordon's radar are 5th overall pick Nino Niederreiter, Matt Martin, David Ullstrom, Calvin de Haan, Travis Hamonic and P.A. Parenteau. All of these players (with the exception of possibly Hamonic) are playing in tonight's scrimmages. Other players that will be getting looked at are Rhett Rakshahni, Anton Klementyev, Jesse Joensuu and Rob Hisey. The others are either Bridgeport or Islanders regulars. There haven't been any cuts made besides that of Kabanov, which was becoming a no-brainer despite his skill. Expect that to likely change within the next five to seven days.
-Rob McGowan
Follow me on Twitter!
http://twitter.com/IslesRM