It appears that the 2010-2011 Islanders opening night roster is set with Andy Hilbert placed on waivers in order to be sent to the Bridgeport Sound Tigers and Michael Grabner recently snagged off of the waiver wire from the Florida Panthers. Matt Martin was sent to Bridgeport (don't be surprised if it isn't for long) and Calvin de Haan was one of the final cuts for the second year in a row. He was returned to the Oshawa Generals of the OHL.
Although many were probably excited to see that he was still at training camp pushing for a roster spot, Junior is the best case scenario for him. He was limited to only 34 games last year due to a shoulder injury and a full season in Junior would definitely bring the young defenseman back up to speed.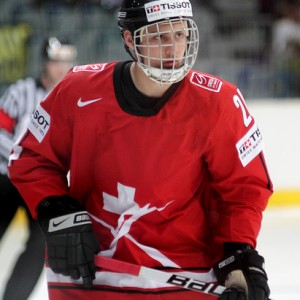 The most intriguing part of the current line-up is that Nino Niederreiter will be skating on Coliseum ice this Saturday for his first NHL game. It may not come to many as a surprise since the Islanders signed him to a 3-year entry level deal. However, he is eligible to participate in 8 games before his contract kicks in. By then the organization will have to decide whether or not they should keep him around for the remainder of the year or send him back to his Junior team. This is the same route they took with Josh Bailey in 2008. So far the kid has impressed the coaching staff all throughout camp with his goals, skating and even his willingness to drop the gloves. He will easily be one of the most interesting stories that will develop over the first few weeks of the season in Islanders Country.
Per Chris Botta at Islanders Point Blank, Trevor Gillies is expected to play on a fourth line with Zenon Konopka and Jon Sim. Sim, who was signed to a two-way contract to play in Bridgeport as a veteran call-up when needed, is getting an easy start with the club due to injuries to Okposo (2-3 months) and Rob Schremp who recently went down with back spasms (2-4 weeks). The third line is centered by Doug Weight, with Josh Bailey on the left and El Nino on the right. This line combines veteran presence in the Captain, a young and eager power forward looking to stay in the NHL and a play-maker who went through the same motions as Nino in Josh Bailey.  The combined experience and ability can be exciting to watch. The second line appears to be Moulson and Hunter on opposite sides of Frans Nielsen. No surprise here; Nielsen is one of Gordon's favorites and easily one of the team's best center-man. The first line will be situated around 2009 1st overall pick John Tavares with Comeau and Parenteau as his wingmen.
The defense is another question as their are eight ready to go despite the loss of Mark Streit. My guess is that Jurcina and Gervais will be the two odd-men out. Bruno has been given ample time to prove that he can be a mainstay on this defense and has struggled with numbers over the years. Jurcina has more experience than Bruno, but it doesn't seem likely that he will replace MacDonald or Hillen, who are two young defenseman that have made themselves homes on the blue line. Eaton, Martinek, Mottau and Wisniewski will not be sitting unless injuries occur as they appear to be the clear cut top-4.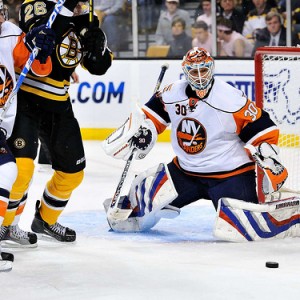 And let's just say it…won't it be nice to see Rick DiPietro between the pipes on Coliseum ice for his first opening night game in two years? Gordon may opt to go with Roloson – and don't immediately think this means 'he is only healthy enough to be the back-up but not the starter' sort of thing that went down two years ago. Last year the job was up for grabs between Biron and Roloson and Dwayne easily won it, no contest. Out of respect, we may see the 41-year old get the nod in goal.
Michael Grabner is not in the line-up since he was just added to the team yesterday. He will likely be given a few practices to get used to Gordon's system before being thrown into the mix. The 23-year old forward has potential to be a speedy winger that can really contribute under Gordon's system. He didn't do enough to impress in Florida's camp this off-season, but being placed on waivers may be enough of a wake-up call to get him going; just think of Rob Schremp last season. If not, he can easily be placed on waivers for another team's attempt or to develop in Bridgeport. Snow has shown that he is willing to take a chance on players that other team's have lost their patience with; and it has worked well in guys like Moulson and Schremp. Grabner is being given the same opportunity.
We've all been asking, "Is it October yet?" Yes. It FINALLY is and the Islanders season will start this Saturday vs. The Dallas Stars.
-Rob McGowan
Follow me on Twitter!
http://twitter.com/IslesRM