Originally published in April 2015.
Twelve minutes into the second period, Anders Lee poked the puck past Toronto Maple Leafs goaltender Jonathan Bernier to give his New York Islanders a 3-2 lead. That goal stuck as the game winner as the Islanders would go on to beat the Leafs in what was Toronto's final trip to Nassau Coliseum.
The fans stood on their feet and their chants rang out following the goal – Yes! Yes! Yes! – I sat three rows from the ice, absorbing all that surrounded me in my first and last trip to the home of the Islanders.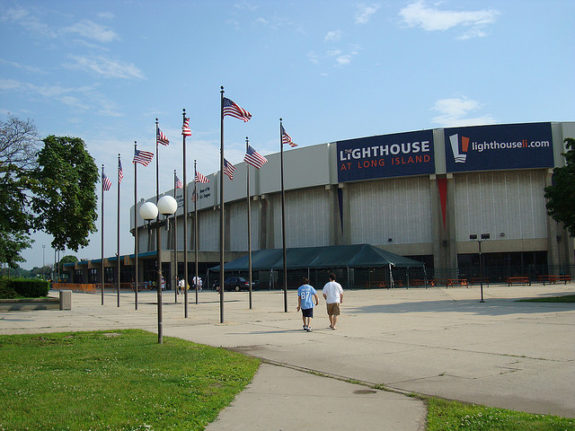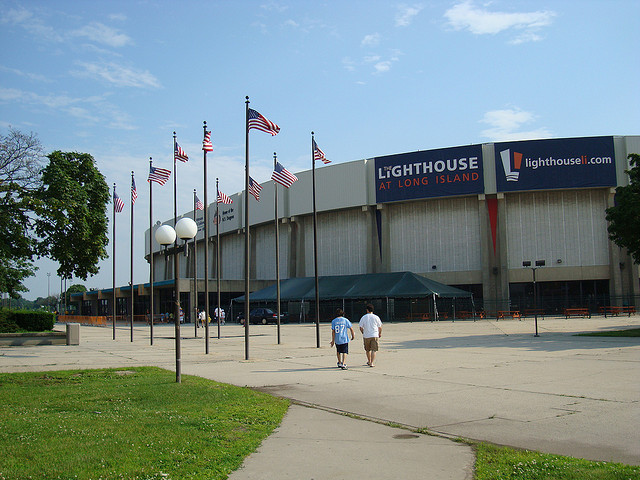 On April 25, 2015, many filled the seats again to watch their beloved Islanders take on the Washington Capitals in Game 6 of their Eastern Conference playoff series. Some may have thought it, but nobody wanted to admit that it could've been the final game at the old barn. But their fears became reality two days later when the Caps handed the Islanders a 2-1 loss in Game 7 – ending New York's season and figuratively locking the doors to an arena that once witnessed great moments.
Fulfilling Dreams
For every hockey fan, watching a game live delivers an atmosphere unlike that of your living room couch. The heckling fans, the ones cheering on their team searching for some glimpse of greatness that they can witness.
For most hockey fans, seeing games in different arenas is just an added hope – dreams that don't always get fulfilled. For me, I never thought I'd make my way out to New York. Now, don't get me wrong, I would love to see every rink across the NHL – there's nothing like it. But when I heard Nassau Coliseum was closing, a part of me felt ashamed for not having visited the Isles' arena.
You see, when I started watching hockey, the Islanders weren't a marquee club. In fact, I had always written them off. But the team transformed into one of the best the league had to offer around 2009. Players like John Tavares, Kyle Okposo and Nick Leddy gave New York fans hope again to see the Stanley Cup – one day – return to their club. Unfortunately, it just won't be at the Coliseum.
Sitting that close – section 115 to be exact – you can't help but stay involved in the game and everything going on around you. Players were shouting. Fans were hollering at their teams and referees. I sat there watching like an eight-year-old getting his first taste of NHL hockey.
And while it was an old barn, the history within its walls was indescribable.
Welcome to Nassau Coliseum
Opened on February 11, 1972, Nassau Veterans Memorial Coliseum was one of the oldest arenas in the NHL – next to the Rangers' Madison Square Garden. While it's been the talk of change for over a decade, it wasn't until the team decided on a move to Brooklyn that the Coliseum became dispensable.
In its inaugural year, the arena held 14,665 for hockey games with that number climbing to 16,170 in its final days – remaining one of the smallest in the league. Yet the crowd – small in comparison to the rest of the league – was a loud one. They were unified by the team that played in front of them and even though the team went through some hard years over the past two decades, it's a crowd that remembers the glory years from 1980 to 1983.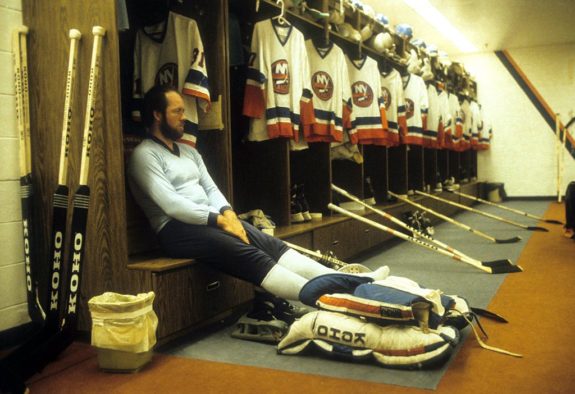 As a lasting reminder of their four Stanley Cups, banners hung over the ice surface at the Coliseum – the numbers retired by the club hanging next to them. Denis Potvin. Clark Gillies. Bryan Trottier. Mike Bossy. Bob Nystrom. And Billy Smith.
They're all players that brought glory to the building built for their NHL club. They're players that are still mentioned today. And their numbers hung amongst the rafters as the lights were turned off for one last time – at least for the Islanders – at Nassau Coliseum.
Final Farewells, The New Beginning
Every fan has their own story, their own experience and their own thoughts about the former home of the New York Islanders. For some, like former Puck Daddy writer Sean Leahy, his story reflects on a younger self. A time when he was fortunate enough to watch on as the Lemieux-led Penguins took to the ice at Nassau.
For others, like myself, it was one game. That's all I ever saw at Nassau Coliseum. But it was the experience – watching the Islanders' faithful ecstatically cheering on their club. And taking my – then girlfriend – to her first ever NHL game.
Others simply reflect on their own game experience, as they voiced their farewells via social media.
Favorite pic at Nassau Coliseum with my grandfather. Memories that will last a lifetime. pic.twitter.com/pT3fCH3PAW

— Pete Jensen 🏒 (@NHLJensen) April 28, 2015
If that's the end of the Nassau Coliseum, the guys did themselves proud, and gave the fans such a great day #YesYesYes

— Ray Ferraro (@rayferrarotsn) April 25, 2015
Farewell to @Nassau_Coliseum, our former home rink for @HofstraU Hockey. @MissJtotheK #goodtimes #memories pic.twitter.com/omGs7yb7lU

— Dave Joseph (@itsdavejoseph) April 28, 2015
But as Jesse Yomtov wrote for USA Today, "as one era ends, another begins full of promise, as the Islanders move into their new home this fall. The experience of a hard-fought seven-game series will surely be a positive for a talented young team that aspires to reach great heights."
While it wasn't the same building for the Islanders as they started the 2015-16 season, Yomtov is right. This team was young, talented and had the opportunity to become one of the marquee franchises in the NHL. While the team made a preseason trip to their old barn in September 2017, the lights did fade at Nassau Coliseum, the fans and the team opened the doors in Brooklyn to start a new era of Islanders hockey. An era where anything was possible. Their 3-1 win over Ovechkin and the Capitals, their final farewell to their longtime home.
There has been talk about returning to Nassau County, as things haven't worked out well in Brooklyn for the Islanders, but nothing has been set in stone. Time will tell if the Islanders will head back to their old stomping grounds, but for now the team will remain in Brooklyn with the NBA's Nets.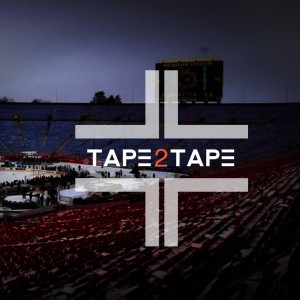 Have some thoughts about this week's column, let me know at @AndrewGForbes or @Tape2TapeTHW on Twitter.
Tape2Tape is a column looking at some of the biggest stories from around the world of hockey. Discussing different topics, it focuses on one major story each week. Agree or disagree, writer – Andrew Forbes – would love to hear what you have to say.