The St. Louis Blues' training camp has been open for under a week and already the lineup for opening night is starting to take shape. Unfortunately for the team this is more due to circumstance than by design. The Blues have already been hit by the injury bug it seems, which means they'll be starting the season at a disadvantage. Luckily for St. Louis there are also players who are using training camp as a way of showcasing their talents in an effort to make the team.
So who's out and who's making a case to join the team? Read on.
Bouwmeester Out at Least Three Weeks
The St. Louis Blues have announced that veteran defenceman Jay Bouwmeester will be out for at least the next three weeks after fracturing his left ankle in a scrimmage at camp.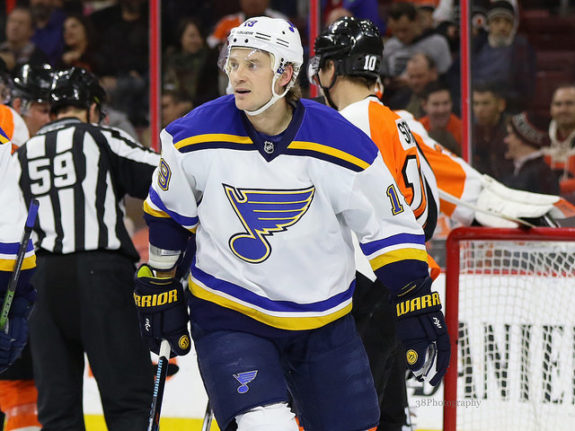 Bouwmeester's loss is a big one. It means he'll now miss all of the Blues' preseason games, and the start of regular season as well. If Bouwmeester is able to return to the team after three weeks then the damage may be minimal, but if it is decided that more time off is needed the Blues blueline could be in real trouble. He plays a major part of the St. Louis penalty killing unit and consistently spends upwards of 20 minutes a night on the ice. He also had 15 points last season, and those won't be easy to replace on a blueline that isn't particularly offensive.
The fact that Bouwmeester is injured at all is somewhat of a surprise, last season he missed only a single game. He has been a part of the NHL since the 2002-03 season and is 33 years old though and may be more prone to injury at this stage of his career.
Sanford Injured Worse Than Previously Thought
A few days ago the Blues said that left winger Zach Sanford would miss a few weeks with a shoulder injury he suffered on the first day of camp. Apparently Sanford's injury is much worse than that though, he's now expected to be out for five to six months.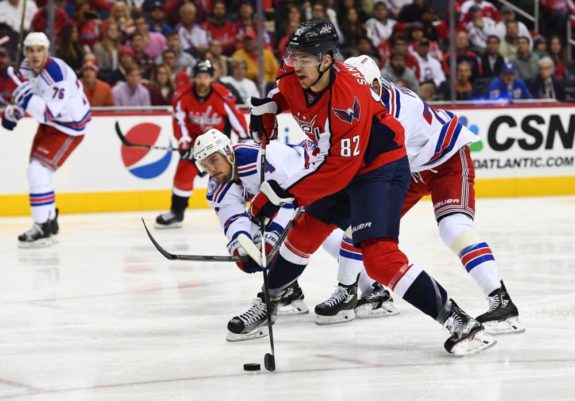 Sanford joined the Blues as part of the trade that sent Kevin Shattenkirk to Washington at the last trade deadline. He wasn't an everyday player for either the Caps or Blues last season, he only appeared in a total of 39 games split between Washington and St. Louis, but this should have been his first full year in the NHL.
His loss probably won't be felt on the scoresheet, he scored only two goals and five points last season, but depth forwards are a key piece of any good team and the Blues will be hard pressed to come up with a truly suitable replacement. While Sanford has never played a full season in the NHL, whoever the Blues choose to replace him will likely have even less experience.
This means that someone who management and the coaching staff probably didn't think would make it this year will likely be given a shot. But who?
Samuel Blais Getting Serious Consideration
Left winger Samuel Blais is probably the best bet to crack the Blues' lineup after the injury to Sanford. The 21-year-old was drafted by St. Louis in the sixth round back in 2014 and spent last season playing for the Chicago Wolves in the AHL.
With the Wolves last season Blais managed to score a total of 26 goals and 43 points in 75 games, two of the goals you can watch in the video below. Before that he played in the QMJHL, scoring 82 points in 63 games. Clearly the kid has a scoring touch.
At the Blues training camp he was originally on a line with Paul Stastny and Vladimir Tarasenko but has since been paired with Robby Fabbri and Alexander Steen. Not bad company to be playing with for someone who's never seen a single second of NHL action.
If Blais does manage to make the team as a replacement for Sanford he'll have to show that he can keep up with the speed of the NHL and not be a defensive liability in his own end. Right now though he looks like the most obvious choice to fill Sanford's spot in the lineup.