The St. Louis Blues officially opened their training camp back on the 15th of September; hockey is almost fully back! It's good to see our social media feeds packed full of pictures and videos of players dressed and on the ice again. While training camp hasn't even been running for a full week, there are still plenty of things to talk about here, so let's get to it.
Sanford Injured
Let's get the bad news out of the way first. Zach Sanford suffered a shoulder injury on the very first day of training camp and will miss the next few weeks as a result. That's probably not how he thought this new season would begin.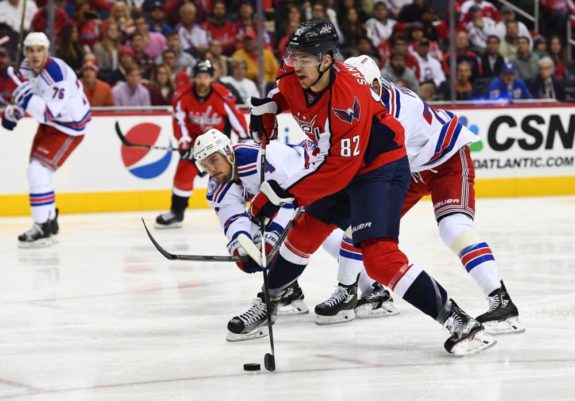 If you've completely forgotten who Sanford is exactly, you'll be forgiven. The 22-year-old left winger was brought in as a part of the trade that sent Kevin Shattenkirk to Washington at the trade deadline. Last season was the first time Sanford got any NHL experience, as he appeared in a total of 39 games split between the Caps and the Blues. The then-rookie scored two goals and five points last season.
Sanford is by no means a star player. He's not going to break out for 35 goals and 70 points this season. His injury certainly isn't something that is going to make or break St. Louis's season, but it may set him back a little as he gets ready for what should be his first full NHL season. That's certainly something to keep in mind here.
Kids Getting a Chance to Show Off
Some St. Louis prospects are getting a chance to play with the stars at training camp this year. Samuel Blais, who was drafted by the Blues back in 2014, skated on a line with Vladimir Tarasenko and Paul Stastny. Tage Thompson, who's been with the Blues since being picked in the first round of 2016, has played with Robby Fabbri and Magnus Paajarvi.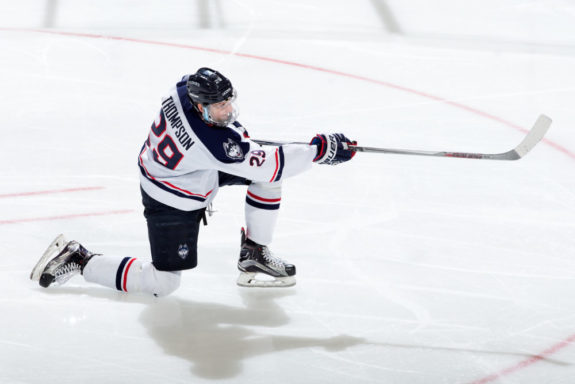 Now, it's pretty unlikely that either of these prospects is going to make the team this season. Blais just played his first full season in the AHL with the Chicago Wolves, scoring 43 points in 75 games. He's probably at least another year away from making the jump to the big club at this time.
Thompson has even less experience. He didn't join the Wolves until late in the last season and only scored two points in his 16 regular season games. Thompson went on a bit of a tear at the rookie camp in Traverse City Mich. just a short while before coming to camp. The big forward scored four goals and nine points in the tournament.
So while they won't make the team this season, it's a good sign that the rookies are getting an opportunity to play with truly skilled players at camp. Any tricks that they can pick up from the more experienced players will certainly help them moving forward.
Schenn Getting His Chance
The Blues seem as though they are willing to give Brayden Schenn a chance to play center. The Blues' most high-profile acquisition this summer has taken part in some drills at camp that are designed simply for centermen.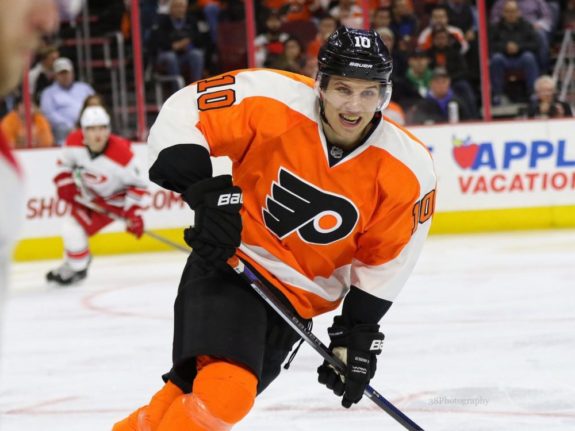 This is certainly good news for the Blues, as Patrik Berglund is out until December after injuring himself working out this offseason. Schenn has previous experience playing the position from his time with the Philadelphia Flyers but has never been able to truly establish himself as a true center in his career yet. The Blues are obviously hoping to change that this season. With Schenn at center on the second line, between Steen and Fabbri, the Blues would have a fantastic one-two punch between their first and second lines. Schenn could also be vital to the St. Louis power play as a center.
Whether or not this is the year that Schenn truly becomes a NHL center is still to be determined. This is training camp, not the real season. This is the time to try new things out with no real consequences. But the regular season is creeping up on us fast and the Blues will need to decide if Schenn can handle the responsibilities of a center sooner rather than later.
Journalism graduate of Loyalist College and former intern of The Hockey News.