At the age of two, Nathan Walker and his family moved from the United Kingdom to live in Sydney, Australia. Though the nation has just 30 ice rinks, this was where Walker found his love and passion for hockey, through watching his older brother play and seeing the 1992 movie, "The Mighty Ducks."
He has come a long way since then. After starting hockey at the age of six, and after seeing his game reach new heights, he begged his parents to let him move to another country so he could continue his playing career.
"It's a lot easier for kids back home to buy a soccer ball and a rugby ball than to get two grand worth of hockey gear," Walker said. "It's more so the culture of Australia to play sports other than hockey."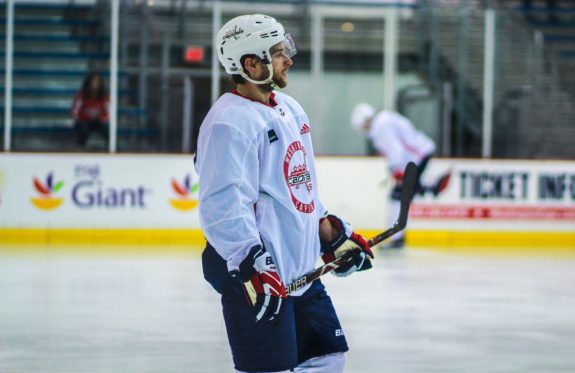 He eventually moved to the Czech Republic to play in the European leagues, and even though he was just a teenager playing along 20-year-olds, he shined just as brightly as anyone could imagine. Ultimately, his scoring at remarkable rates, impressive play, high energy and overall skill-set earned him attention from the Washington Capitals.
To lock up Walker, the Capitals' AHL affiliate Hershey Bears signed him to a one-year deal in 2013, and Washington took him 89th overall in the 2014 NHL Entry Draft. Shortly after that, he signed an entry-level deal with Washington and has been working on improving his game with the organization over the last four years. Coming into this season, he has a new two-year extension to live up to and hopes to finally make history as the first Australian to play in the National Hockey League.
The Cutting Edge
As he prepares to fight for an NHL spot this season, Walker realizes that he has a lot of competition. There are a lot of spots up for grabs, but also many prospects who are ready to try and make the jump, including Jakub Vrana, Liam O'Brien and Riley Barber. Not only that, but new signees in Devante Smtih-Pelly and Alex Chiasson (PTO) are bound to also look to remain on the NHL roster.
Still, despite the rivalry going on for these spots, as well as those players looking to beat each other out for spots on the main roster, there is no bad blood or bonds broken. In fact, in a way, it's fun for the players to get to compete against each other, even if they all have a common goal and are playing for the same team.
"We're all good friends and we all understand it. We're all pros. We've been doing this a long time now, we all understand what's up," Walker said of the competition. "You're never going to hold a grudge against anyone. You're just gonna compete hard, and at the end of the day, see what happens. It's fun, it's the best things about hockey. You get to compete against each other day in and day out and I think everyone enjoys that."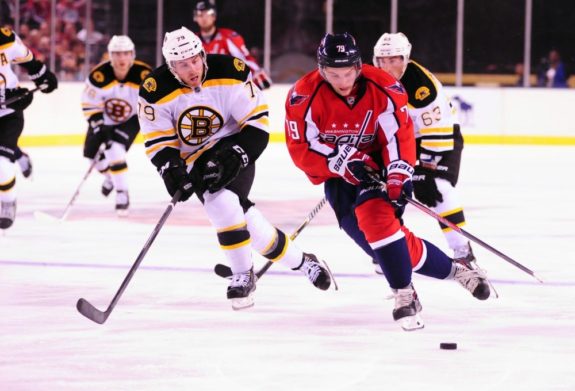 Since coming into the league and fine-tuning his game over the years, the 23-year-old has made himself a prominent name throughout the organization, and he is perhaps one of the top forward prospects the team has in the system. For years now, he has been transitioning to the North American style of hockey and defining his role on the ice as he has moved up the ranks.
A high-energy forward, Walker is solid on the forecheck and also plays a good two-way game. He is an excellent skater with great speed, and he brings a positive attitude and good work ethic game in and game out.
When it comes to finally carving out a role for himself, the 5-foot-9, 186-pound winger believes that he has found where he can fit in on Washington's roster — he has added a lot more of a physical element to his game over the years, and it is evident in the way he plays. He isn't afraid to throw his weight around and get gritty and has also been known to drop the gloves with some of the bigger guys out there.
"Certain guys have certain things to do, and my role, as I like to put it, is a so-called pest out there," Walker said. "I'm not the biggest guy but I like to think I play fairly similar to some of the bigger guys, and I just try to go out there, play that role and see where it takes me."
First Impressions
Coming into camp, Walker said he had a "really good summer of training," where he was "trying to push the body to its limits" and come to camp "as strong and as fit" as he can be. So far, he has made a solid first impression.
On the first day, he excelled in the skate conditioning tests, which are perhaps among the most enduring parts of training camp. Put in a situation of suicides from goal line to goal line, Walker has been a force to be reckoned with. He finished strides ahead of his teammates, some of whom are veterans who have been through the wringer, and he didn't appear to slow down as he pushed himself to work hard.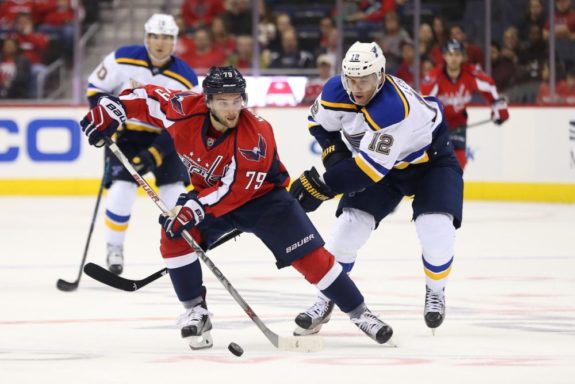 When it comes to drills and practice scenarios, the Australian forward has been physical, getting aggressive and competitive and trying to stand out. And so far, his strong start to camp has impressed many, including General Manager Brian MacLellan.
"He just continues to become a better player, better positionally, reads the game better, more intelligent on his reads, instead of being a pure energy player," MacLellan said. "It's impressive. I think he's made a statement. He's come in early, he's in really good shape, he's had a good year at the American league level. He wants it, so he's made a great first impression."
Culture Shock: From Australia to America
At camp, some of Walker's teammates will attempt to imitate his accent, and at times, players will find themselves communicating through hand gestures so they can fully understand each other. And with players hailing from all different countries across the globe, there can be somewhat of a culture shock in the NHL locker room. And though this can be challenging for some players at first, Walker thinks that it helps bring the team together.
"I think it's good. You got guys from Switzerland, Czech, Russia, all parts of the world and if anything it brings guys closer," Walker said. "When they're trying to say something and they say it with a different funny accent, it's kind of funny, but they're learning a whole new language and it's a whole new culture for them and it's hard… it's awesome, being around guys from different parts of the world and seeing how they handle things and approach things. It's really good."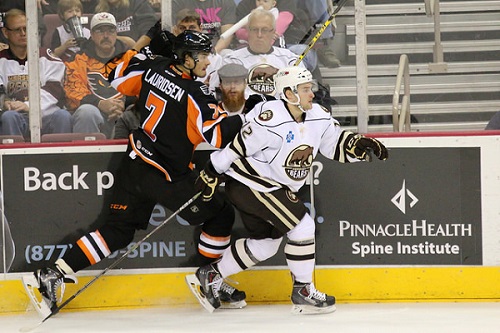 Over the course of his life, he has lived in Australia, the Czech Republic and the United States, and has also traveled to Canada and many different places around the world, all in pursuit of excelling his hockey career. For players and others looking to follow in his footsteps, Walker had some words of wisdom to offer.
"I mean, I kept nagging my parents to kind of get me over to a different country to play. I don't know, just be persistent about it. If you want to do it, be focused and have that drive and willpower to really get where you want to go."
Sammi Silber covers the Capitals beat for The Hockey Writers and is an NHL contributor with Sporting News. She has also contributed to USA TODAY College, Huffington Post, FanSided and the Nation Network. Silber has written four books and recently worked on graphics for the film, The California Golden Seals Movie.