Twenty year old Nathan Walker was drafted by the Washington Capitals in the third round this summer in Philadelphia, fulfilling a hope of many in Australia, where the Cardiff native played throughout his youth. Walker was selected by Washington 89th overall and will head back to play in Hershey for the Bears this fall, the AHL affiliate of Washington, where he played last season under an AHL contract due to the CBA rules on players who never played Junior hockey in North America.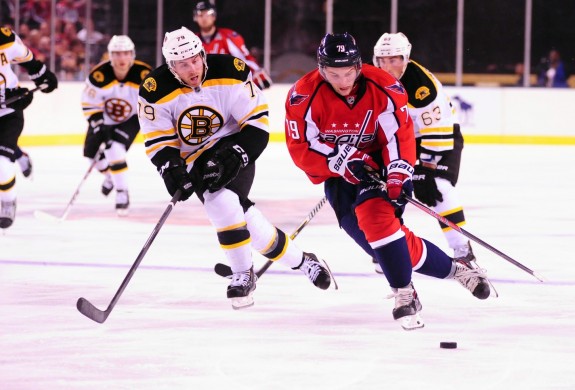 He's a quick, physical winger that opened the eyes of former Hershey head coach Mike Haviland last season, who accepted a job at Colorado College this summer. Walker contributed 11 points (five goals, six assists) in just 43 games last season. He played one single game after March 22nd.
"I think if he would have played juniors, he may have scored 40 goals maybe at a junior level, which would have put him probably higher up [in draft consideration]. I think he's got a pretty good upside. He can skate. He competes. He's still learning the game and has to understand it a little bit more. I like his work ethic and his bite and the way he played." –Mike Haviland to the Patriot News
Walker, born in Cardiff, Wales, is listed at just 5-10, 185 pounds on the American Hockey League website. Adding another five to ten pounds prior to the upcoming season where he's ticketed to spend the campaign in Hershey could have a big effect on his production in his second year of professional hockey.
Scouting Report
He has strong instincts when he doesn't have the puck on his stick and his good vision enables him to put himself in good situations to create offensive opportunities. Walker never got the chance to really show off his shot throughout the year with 75 shots on goal during the 2013-14 season, less than two per contest.
"Nathan Walker is quite a unique player, having a British and Australian background while suiting up for Australia in international competition. He is the first Australian to play in a top Europeans men's league. He's an above-average puck-handler who certainly has the skills to make things happen with the puck. Walker is also a pretty advanced thinker for his age, a big factor to the ice time he's gotten playing in the Czech Extraliga, as he's a responsible two-way thinker who knows where he needs to be in his own end and makes good, quick decisions with the puck. Walker has impressive vision and can certainly move the puck around well. He is an above-average skater who ideally would have an extra gear as a 5'9″ player but can move around the ice just fine and is quick on his first few steps. He has a somewhat forward lean that gets him a little lower than you'd like a 5'9″ player to be though. Despite his smaller stature, Walker is pretty strong and is very aggressive and physical. He takes his assignments with the body in the defensive end, and shows no fear from driving the high percentage areas. He lines up at left wing at even strength, but on the power play I have seen him play right wing to take advantage of his shot that can score from a distance." –Corey Pronman of Hockey Prospectus on Walker prior to the 2012 Draft
There is definitely potential for Walker to become a bottom six forward in the NHL level, but it's important to recognize he'll be a role player, not an impact performer. He has a strong compete level on the puck and along the boards, along with no fear of going in front of the net, as displayed throughout his first year in Hershey. With the NHL game evolving, Walker's speed is an asset that makes him valuable in hockey today. The narrative and hype surrounding the possibility of Walker becoming the first Australian to play in the NHL shouldn't hinder your opinion on his game.
He's not going to play for the Capitals this season, nor should he. Walker is suited for a third line role in Hershey with time on the Bears second power play unit, a group that struggled mightily last season, a team that missed the playoffs after they entered the year with sky high expectations. Playing with a bruising forward like Captain Dane Byers could do wonders for Byers along with a creative player at the center position. Be excited about Nathan Walker, he's an interesting story, but don't draw yourself into something the young forward will never become.
Matthew Speck covers the Washington Capitals organization for The Hockey Writers. He provides coverage of both Washington at the NHL level and prospect related content. Matthew also covers local sports for the Lebanon Daily News in Central Pennsylvania. You can email him at mspeck21@yahoo.com with any questions or comments.