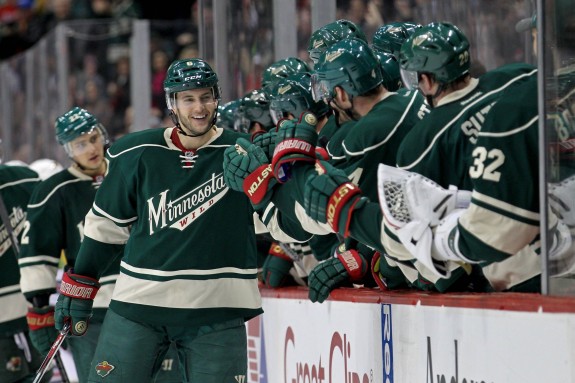 Are you feeling lost without the familiar, dulcet tones of Anthony LaPanta on your TV, Mike Greenlay's color commentary (RIP "The Faceoff" with Gorg vs. Greenlay, in our hearts forever), or Bob Kurtz's radio calls? Then this guide is for you. In season, postseason, or postseason, here are the best spots to keep up with what's going on with the Minnesota Wild.
The Minnesota Wild's Official Site
The Wild have a pretty great social media and writing team that keep the site up to date. You can catch general news or read Mike Doyle's View From the Lighthouse blog via Wild.com.
You can also get game highlights and inside the locker room with Wild TV or follow players around their day-to-day routine in their TV series Becoming Wild. Here's the breakdown of everything else the team has going on social media.
#TBT! @J_Fontaine37 became the 1st #mnwild rookie to score a hat trick on 1/9. Re-live it: http://t.co/6HYqhksfs8 pic.twitter.com/SfoXaZqoXN

— Minnesota Wild (@mnwild) August 7, 2014

The Star Tribune

The Star Tribune is probably your #1 source for all Wild news. The Strib's Michael Russo is the team's veteran beat writer and is pretty consistently the man who breaks all Wild-related stories.

 

I'm having trouble finding the press box here at the Colosseum. pic.twitter.com/GHZWQVpc1X

— Chad Graff (@ChadGraff) July 28, 2014


 

The Iowa Wild

Last season was the inaugural year for AHL hockey in Iowa, but the social media team there are doing a ton of work to keep everyone up to date on the team and the Wild's top prospects. Also below are accounts for Wild affiliates in the ECHL and the CHL, the Orlando Solar Bears and the Quad City Mallards, respectively.

 

Found in West Des Moines today! The #StateofHockey has no borders. Lots of @mnwild fans in #Iowa! #IAWild #mnwild pic.twitter.com/HoKgqSSplL

— Iowa Wild (@IAWild) August 1, 2014


 

Players and Broadcasters

The personalities that make up your season from the players and prospects, to radio hosts and play-by-play announcers.

Players

 

@EHaula thank goodness! The suspense was killing me! #imgettingawhiteone

— Keith Ballard (@Keith_Ballard2) June 27, 2014


  
Broadcasters

 

Looking to build a garage. Any suggestions?

— Kevin Falness (@RadioFalness) August 8, 2014

I was looking for recommendations on who could BUILD a garage not size and shape ideas

— Kevin Falness (@RadioFalness) August 8, 2014


 
Prospects

 

Other Blogs and Sources

There are a lot of great Minnesota Wild hockey sites out there, here are a few of them worth keeping tabs on.

 
Writers

 

More Minnesota-Related Hockey News

Because Minnesotans can't seem to get enough hockey.

 
This guide is a living document and will continue to change. If we missed something you think should be included, drop a note in the comments.
Dustin Nelson writes about news and the Minnesota Wild for The Hockey Writers.