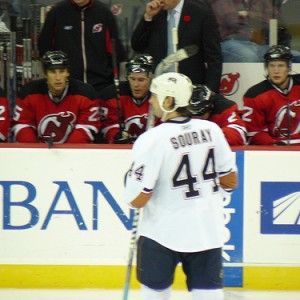 Sheldon Souray will not be playing for the Edmonton Oilers, nor for their AHL affiliate in Oklahoma City. He has been assigned to the Hershey Bears, the AHL farm team of the Washington Capitals. But the Oilers are still paying his salary. And he is technically still part of their organization. Confused yet?
For those not familiar with the situation, a tale of a highly regarded, all-star defenseman being shipped out of town after being banned from training camp, and not welcome to play at any level of the organization, here's a brief history. The Edmonton Oilers signed blueliner Sheldon Souray to a 5 year contract worth $27 million dollars in the summer of 2007 after he scored 26 goals and 64 points with the Montreal Canadiens the previous season. Souray was a hard hitting defenseman, with great puck skills, good leadership and one of the hardest shots in the league. He could quarterback a powerplay and shut down the oppositions best players. He was a highly sought after commodity as a UFA and the Oilers won (not really) the bidding war. But his career with the Oilers was cut short with injury, and despite being a fan favorite at the beginning of his tenure, he fell out of Edmonton's good graces after making disparaging comments against management. Perhaps he just wanted out of Edmonton, as many players do, but rather than simply ask for a trade behind closed doors, he went public with negative comments about the team.
The Oilers tried desperately to trade Souray, but his age (34), cap hit ($5.4 mil for two more years) and recent injury history made him almost impossible to move. After spending most of this past summer trying to find trade partners to no avail, GM Steve Tambellini banned Souray from training camp as he continued to find a suitor. But with the season about to begin, there were no takers, thus Tambellini was forced to loan Souray to the Hershey Bears. The move immediately sparked speculation that the Capitals were interested in the blueliner, but they declined to comment on the matter. The assignment was the only choice for Edmonton, because now Souray has the chance to play in a popular market and show NHL teams that he still has the ability to be an NHLer. If the Oilers want to trade him, they would have to put him through re-entry waivers, and there's a chance he might get picked up, because his new team would only be on the hook for the half the salary.
It's remarkable how far such a talented and coveted player has fallen, but perhaps he has no one to blame but himself. A guy who wants a trade, but has been ravaged by injury, who is getting old and has a huge cap hit should know better then to badmouth the organization that signed him. But what's done is done, and now Souray has the opportunity to prove he's still a good player, and he can contribute to an NHL team. Although at first glance the headline may have suggested this saga was over, it's far from over.
Marcy, a former hockey player, is a hockey correspondent on CTV News and TSN radio. She began her career as a Sports Journalist in 2009 and has been part of The Hockey Writers since 2010, where she is currently a senior writer and editor.