With almost a week between the last pre-season game and the start of the regular season, things were relatively quiet in Ottawa as the Senators prepared for Buffalo on Friday night. Here are a few of the items that made the news in Canada's capital.
Sens Rally at Ottawa City Hall
Larry O'Brien, the Mayor of Ottawa, and Ottawa Senators forward Jarkko Ruutu kicked off the 2010-2011 hockey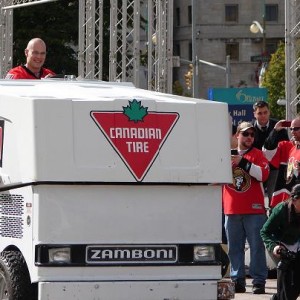 season with a rally today at City Hall.
The event began with Ruutu driving a Zamboni along Elgin Street in Ottawa, the street that has become known as the "Sens Mile" since the Stanley Cup playoffs in 2007. Once at Ottawa City Hall, Ruutu and Mayor O'Brien raised the Ottawa Senators flag and proclaimed, "This is my town, this is my team!"
Ruutu told the small but enthusiastic crowd that the team is confident heading into the new season with so many players returning from last year's squad. There were cheers all around when Ruutu arrived and during the ceremony, and the crowd took up the "my town, my team" chant several times.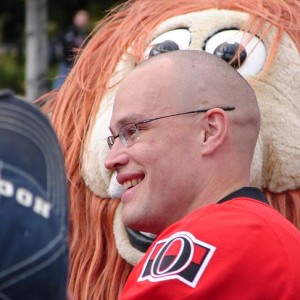 GM Murray agrees – Sens could challenge for the Northeast title…
It is no surprise that the GM of the Ottawa Senators believes that his squad can compete in the Northeast Division this year. With a roster that is almost identical to the fifth place team from last year, a group of players that set a franchise record with an 11-game winning streak; there is reason for cautious optimism.
"They're all pretty good teams here," Murray told the Ottawa media (audio available at the Senators web site).
Boston: "They're the bigger, more physical group; I think adding Horton to their group will help them. I like them as a real strong hockey team."
Buffalo: "Any team that Lindy Ruff coaches is a good team, I think Ryan Miller in goal helps them. I think they are a real good team."
Montreal and Toronto: "I think Montreal feels that they are better, listening to their group and I know listening to Brian in Toronto, they feel they have improved their group."
"I'd like to think that we are right there in the top two or three in the division for sure. I'd like to think that Boston will be serious about contending with us, but I think we have the chance to be right there with them."
Is Murray worried about Leclaire and Elliott in Goal?
When asked if he was concerned with his goaltenders heading into the season, Murray offered an honest opinion on Pascal Leclaire and Brian Elliott. While he would have liked to have seen a stronger performance in the pre-season, where one or both goalies staked a claim to the starting goaltending job, he has faith that once the games the really matter begin, one or both will be ready.
"We'll see as we start the regular year if I have to be worried, and I certainly didn't like the number of goals we gave up in the last couple of games – by either one of them. We played the last couple of games like they were the last pre-season games – let's get them over with and get serious about playing."
"I thought we were quite careless in our own end," Murray continued. "We had a couple of rebound situations, but the goaltenders have to be better, there is no question. We know to be a contending team; you have to have good goaltending. I believe they are both capable of that; they have to go do it now."
Will Senators fans see Robin Lehner in goal this year?
While he put up the best numbers of any Ottawa goaltenders during the pre-season, Ottawa fans should not expect to see Robin Lehner in the NHL any time soon; except as a replacement if Leclaire or Elliott are injured. The second round selection from the 2009 draft (46th overall) shares a hometown with Daniel Alfredsson, but they will not be sharing a locker room.
Ottawa fans and the team's management group were very impressed with the 19-year-old goaltender, but the optimism must be tempered with the fact that his pre-season appearances came against rosters that were not filled with NHL talent. In an interview with Rogers TV during the final pre-season game, Lehner explained that last year in Sault Ste. Marie with the Greyhounds was the first time he had ever been a number one goaltender. To develop his skills, he would often play in leagues with older players – it forced him to be better as a goaltender, but it often left him on the bench as the number two or three goalie on his teams. In 49 games with the Greyhounds, he had an impressive 27-13-3 record, with a 2.80 GAA and a .918 save percentage.
Ottawa has made the right decision here by sending Lehner to Binghamton to continue developing as the number one goaltender for the future. If the season becomes a disaster in Ottawa due to injuries or the failure of Leclaire and Elliott to get their game on track, we may see Lehner in Ottawa after Christmas, but keep in mind – Ottawa has very little cap space. The young Swedish goaltender and Brian Elliott both earn $900,000 at the NHL level, but Elliott's cap hit is $850,000. A tiny variable but one to consider in the NHL's salary cap era.
The "Sens Army" spends time at CFB Petawawa
The Ottawa Senators and the "Sens Army" have been strong supporters of the Canadian troops and spent several days at the Canadian Forces Base in Petawawa, Ontario at the start of the week. Using their time at the base for team building exercises, they also practised on the base and took plenty of time to sign autographs and meet with the Canadian soldiers and their families. Many of the soldiers at CFB Petawawa have spent time in Afghanistan, and many of the Canadian casualties have come from that base.
"We had a good time," head coach Cory Clouston said. "We really enjoyed ourselves and it was nice to see what a soldier has to go through. Obviously, it was just a small portion of their activities but we got a glimpse of how hard they train and what they have to go through, and how dedicated they have to be. I think it was a real good situation for all our guys."
Team captain Daniel Alfredsson agreed with his coach, and learned something new about Ottawa's bench boss.
"I didn't know Cory was scared of heights," Alfredsson joked. "But he overcame it and did a good job repelling. It's been a good camp I think, everything has run smoothly and we are on track."
"Guys have had a really good time and that's what you need coming into the season," Senators forward Mike Fisher said about being in Petawawa. "Get everyone together, loosen everybody up a bit."
A few injury notes – Filip Kuba is riding the bike and expects to return in 3-4 weeks. Jason Spezza has a slight groin issue, called a "tweak" by the Sens – he is a game-time decision for Friday's game.
The 2010-2011 season gets underway on Friday evening for the Senators when they take on the Buffalo Sabres at Scotiabank Place. The team hits the road on Saturday to take on the Toronto Maple Leafs.
Andrew Rodger is an independent sports columnist and member of the Canadian Association of Journalists. Along with operating The Voice of Sport, he covers the Ottawa Senators and writes the "Ask the Alumni" series here at The Hockey Writers. He is the resident writer for the NHL Alumni Association and a contributor on CBC News Now.