Last night the Islanders  were set to square off with the Colorado Avalanche but the game was to be delayed an extra few minutes due to an altercation that occurred on the ice as soon as the puck was dropped. Zenon Konopka, who was signed by the Isles during this summer's free agency period to provide a toughness element that lacked for the majority of last season, dropped the gloves with the Avs 2010 leading goal-scorer, Chris Stewart at the start of the first period last night at Nassau Coliseum.
Konopka already leads the team with 12 PIMs, including two fighting majors in the five games that have been played. His partner in crime is Trevor Gillies, who also has two fighting majors of his own and is second on the team in PIMs with 10.
According to Hockeyfights.com, last year the Islanders had a total of 33 fighting majors on the year ranking them 23rd in the league. There were many games where the very young team would get thrashed and trashed by guys such as Riley Cote, Chris Pronger, Mike Rupp and several other Atlantic Division villains. This year the team is stronger and tougher and now rank 8th in the league with the four fights. They are tied for sixth with the Flames and Oilers and just one shy of tying the Blues, Leafs and Capitals for 3rd in the league. The Ducks currently lead with nine fights.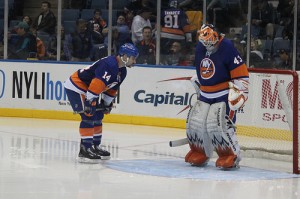 It is early in the season and the Isles may rise or drop in these ranks, but these fourth-line fist throwers are making a difference in this team's success. They may not get a lot of ice time or score many goals, but they are the Islander policeman and are there for the young guys. Last year the Islanders went on a tear when Gillies was inserted into the line-up which made the organization realize they needed to make the team stronger. So far they are off to a 2-1-2 start, the only loss coming to the Washington Capitals that was lost in the final four minutes of the third period due to a questionable call by one of the on-ice officials who gave Blake Comeau a roughing penalty.
Not only do they protect their teammates, but they are also serving a leadership role on the bench as well. Gillies has been one of the more vocal forwards on the bench screaming his head off whether it be due to a big play, huge hit or fight. Konopka also has been an effective penalty killer and very strong on face-offs as well.
In a division that is filled with plenty of bruisers, including Derek Boogaard and Brandon Prust, the Islanders needed to have their own set of heavyweights ready to go into battle and do all of the little things that help make a young and inexperienced team successful.
So far it is making a difference.
-Rob McGowan
Follow me on Twitter!
http://twitter.com/IslesRM