The Calgary Flames marketing slogan this season is "It's Go Time" but so far the team looks far from being ready to take the next step in their rebuild. The effort on the ice is usually quite valiant but as they return from yet another failed west coast road trip, with their NHL record-setting string of 24-straight losses at the Honda Centre in Anaheim still intact, there are a lot of places that fans are starting to point the finger.
Flames make history in 4-1 loss to the Ducks Sunday, setting NHL record for 24 straight losses at the Honda Center https://t.co/2rO2349YI4

— Kristen Odland (@Kristen_Odland) November 7, 2016
You could start with the way young stars Johnny Gaudreau and Sean Monahan have struggled to consistently perform. An easier target for blame are the NHL referees who have tagged the Flames with the most minor penalties of any team in the league at 64 – eight more than the number two ranked Boston Bruins heading into Sunday's games.
Is the 'Wideman Effect' for Real?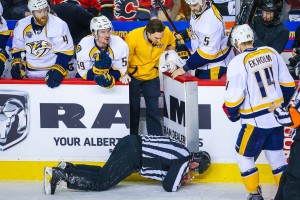 If you believe it is then Dennis Wideman is mostly at fault for the Flames misfortunes, after seemingly ending the career of NHL Linesman Don Henderson when he violently cross-checked him last season before receiving a 20-game suspension.
After all, the fraternity of NHL officials is a tight one even if Stephen Walkom, the NHL's Director of Officiating can review each and every call from his office in Toronto to check for bias.
It can't all be the fault of Wideman or Gaudreau's and Monahan's lack of consistency, though these factors along with Johnny Gaudreau's late contract signing and Monahan's early season back injury have all played a part in the team's poor start to this season.
Are the Flames Ready to Play a Puck Possession Style?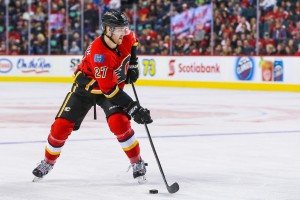 The biggest problem with the Flames this season is the expectation that they would be ready to be a puck possession style of team under new head coach Glen Gulutzan.
The vision when he and his staff were hired in the off-season was that the Flames would possess the puck more and make plays instead of playing the simplistic dump-and-chase approach championed by the iron-fisted Bob Hartley. The team was also expected to be able to use its speed to transition more fluidly between offense and defense.
That approach sounds good in theory as Calgary is a young team with speedy players like Gaudreau, Sam Bennett, Dougie Hamilton, T.J. Brodie and Monahan leading the charge. But, they also have slower players eating up a lot of minutes on their blueline that aren't always great puck handlers, like Wideman, Deryk Engelland and the off-season's head-scratcher of a free agent signing in the slow-footed Nicklas Grossman.
Up front, the story isn't a lot better, where the Flames still have their dependable overstocked crew of power-forwards like Matt Stajan, Lance Bouma, Michael Ferland and Alex Chiasson who still are far better suited for Hartley's old school approach.
The truth is that the Flames are still a bit slow, especially on their bottom two lines, and they aren't yet ready to play the puck possession style made famous by the Detroit Red Wings and imitated poorly by last season's version of the Vancouver Canucks. It isn't hard to see this on the ice either, as the Flames rank 28th in the league with an average of 3.54 goals against each game. They also rank 29th in the league with a penalty kill percentage of 74.5% and 28th in the league on the power play at an abysmal 8.7%.
Is It All Bad News?
The Flames are performing terribly in many areas, but there are a few bright spots on their roster. Rookie Matthew Tkachuk looks like a natural goal scorer who can draw penalties with his agitating style of play — he hasn't yet mastered the ability to stay out of the penalty box himself, though. Mikael Backlund and Michael Frolik have consistently performed beyond expectation by shutting down the opposition and adding more offensive spark than expected. Newcomer Troy Brouwer is also a strong presence that helps to clear room for the creative moves of Johnny Gaudreau.
The Flames fourth line, centered by Matt Stajan, has also stood out in a good way during most games by generating scoring opportunities and momentum with their strong forecheck and aggression. However, these bright spots have only been able to help the Flames win a handful of games.
When Is 'Go Time'?
Right now, I don't think the Flames have the right personnel on their team to execute on the style of play they have committed to this season, which is a bit baffling because the rebuild in Calgary has been methodically planned by management since the Iginla trade. Nevertheless, the Flames have been a disastrous team defensively and on special teams with players like Wideman, Grossman and Bouma looking completely over-matched at times.
Even previously dependable players like Mark Giordano and T.J. Brodie look flat, with Brodie holding a team worst plus-minus rating of -11. On top of that, Gulutzan and Assistant Coach, David Cameron have spent more than a dozen games tinkering with defensive pairings and special teams units like they're coaching an exhibition game — they haven't yet found the answer and I'm not confident they will this season.
No, it isn't yet "Go Time" for the Calgary Flames, but, it soon could be for their newly assembled coaching staff and a few of their more popular defenseman if results don't improve soon. We all know Brian Burke isn't known for his patience, which means general manager Brad Treliving could be on the phone to teams around the league, or at least to the AHL's Stockton Heat, in very short order.