Week four of the young NHL season saw the Anaheim Ducks skate to a 3-1-0 record and saw them climb to second in the Pacific division. After suffering through a bit of an injury bug in week three, the Ducks' Nick Ritchie, Ryan Getzlaf, and Jonathan Bernier all suited up for their 4-1 win over Calgary Sunday night. Speaking of their Calgary win, may the streak live on with this astounding piece of history:
PUT IT IN THE RECORD BOOKS! The #NHLDucks beat Calgary for the 24th consecutive time on home ice, breaking the @NHL record! #LetsGoDucks

— Anaheim Ducks (@AnaheimDucks) November 7, 2016
The captain also set a personal record of his own. While recording three assists in the contest, he tied Teemu Selanne for the all-time assist lead in franchise history.
MILESTONE: With an assist on Kesler's PPG, Ryan Getzlaf tied Teemu Selanne for the all-time franchise lead in assists (531). pic.twitter.com/rha4crVgGL

— Anaheim Ducks (@AnaheimDucks) November 7, 2016
With Hampus Lindholm expected back sometime soon, the Ducks are trending upward. Here is your Ducks' week four flashback.
Week 4
Game 10: @ Los Angeles, Tuesday, November 1 – W 4-0 (Gibson shutout, Rakell GWG)
Game 11: vs. Pittsburgh, Wednesday, November 2 – L 5-1 (Gibson)
Game 12: vs. Arizona, Friday, November 4 – W 5-1 (Gibson, Rakell GWG)
Game 13: vs. Calgary, Sunday, November 6 – W 4-1 (Bernier, Kesler GWG)
Overall: 6-5-2, 14 points; 2nd in Pacific, 4th in Western Conference
Rickard Rakell Shakes Off Rust
With half of the Swedish twins back in the lineup, Rickard Rakell looked to start off strongly after missing the first nine games of the season. You could say he's been okay. After popping one goal and two assists in his debut against the Los Angeles Kings, Rakell finished the week notching six points in just four games. Not bad for a guy coming off a contract dispute and off-season abdominal surgery.
Rakell brings a much-needed spark of skill to a lineup that was already lacking offensive firepower entering the season. Since Rakell has been inserted into the lineup, the Ducks have had games of four, five, and four goals in victories over Los Angeles, Arizona, and Calgary. When you can make passes like these, you know you're pretty good.
Special Teams Being Special
After leading the league in both special teams categories last season, the Ducks again have been off to a hot start this year. During the week, the Ducks' power play went six for thirteen for a 46.1% success rate, bringing them to 27.9% on the year, good enough for third overall in the NHL. While the penalty kill has not been as good as the power play, they still are killing penalties at an 83.7% rate, ranking them 10th overall.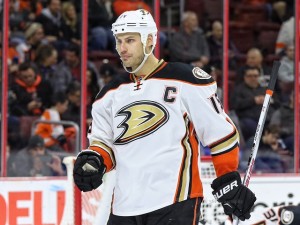 One ingredient that has stayed consistent is the dominance in the faceoff circle. Winning key faceoffs is paramount in having great special teams. Winning a draw can result in the penalty killers icing 15-20 seconds off right away. Power-play wins result in being able to set up and go to work right away. Although often overlooked in the regular season, the Ducks have dominated opponents at a 58.6% winning rate, by far the best team in the league.
With Getzlaf, Ryan Kesler, Antoine Vermette, and now Rickard Rakell, the Ducks have an enviable foursome down the middle. Especially with Carlyle at the helm, winning the draw allows him to manage his matchups exactly as he wants them.
Consistently Inconsistent
Dr. Jekyll, meet Mr. Hyde. Although the Ducks were finally able to string two consecutive victories together, their inconsistency from one night to the next has been frustrating for fans. After defeating Nashville 6-1 on October 29, they laid a goose egg at home against Columbus and lost 4-0 two nights later. Rebounding to shutout their cross-town rival 4-0, they responded the next night with a 5-1 loss to the defending champions before defeating Arizona and Calgary by scores of 5-1 and 4-1, respectively.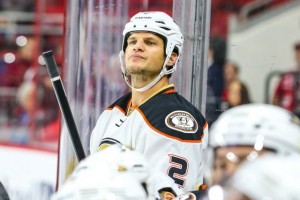 Starting the season 0-3-1, the Ducks have bounced back to a 6-2-1 record in their last nine games. Having the Swedish twins hold out did not help matters as the Ducks were going into the season with questions about their goal scoring. Getting Rakell and Lindholm back will finally stabilize the roster to avoid random letdowns after looking dominant in other games. With minor injuries affecting Getzlaf, Ritchie, and Bernier, finally getting the same 18 night in and night out will help propel the Ducks forward and continue their upward trend in the standings.
Week 5
Game 14: @ Columbus, Wednesday, November 9 – 4:00 PST
Game 15: @ Carolina, Thursday, November 10 – 4:00 PST
Game 16: @ Nashville, Saturday, November 12 – 5:00 PST
An intriguing slate of games awaits the Ducks entering week five. After losing 4-0 to Columbus on home ice, the Ducks will be looking to enact revenge against a Blue Jackets team that just learned Seth Jones will be out a few weeks. The next night offers fans a first glimpse at the Carolina Hurricanes, who are off to a 3-5-3 start. Finally, the Ducks end the week against the Nashville Predators. After routing the Predators at home 6-1, the hometown team will hope to repay the favor against the Ducks.
Highlight of the Week:
Almost gave it to Clayton Stoner, but can never fault Andrew Cogliano's effort.
Minus of the Week:
Pretty goal for Pittsburgh. Bad defense by Anaheim: