When Mike Richards was placed on unconditional waivers yesterday, everyone believed it was with the intention that the Kings would buy him out once he cleared. Considering his rapid decline in play, it appeared the Kings would rather stomach ~$1.467M of dead cap space each year for the next ten years instead of keep Richards' $5.75M cap hit on their books.
Monday, the Kings threw  huge curveball by announcing that they were terminating Richards' contract with this short and blunt announcement:
"The Los Angeles Kings today have exercised the team's right to terminate the contract of Mike Richards for a material breach of the requirements of his Standard Player's Contract. We are not prepared to provide any more detail or to discuss the underlying grounds for the contract termination at this time."
To my knowledge, this has never been done in the salary cap era in the NHL, so we're entering some uncharted waters here.
The CBA Language
The CBA is the massive and dense legal document that gives the Kings precedent to do this to Richards. As of right now, it's not entirely clear the exact language that allows this action, but this is believed to be the section:
This would appear to be the relevant part of CBA, in terms of contract breach/termination: pic.twitter.com/qEpgfvVlMl

— Rich Hammond (@Rich_Hammond) June 29, 2015
The Kings won't comment on what the "material breach" may be, likely due to legal reasons. The language is very vague and without knowing the exact wording and terms of Richards' contract, we'll have no idea what the violation was.
The Kings' Motivation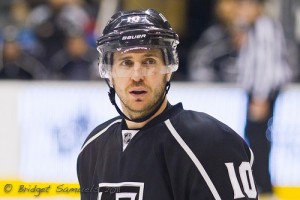 This is a type of salary cap maneuvering that we haven't seen in today's NHL. Make no mistake, this is not about Mike Richards egregiously violating the terms of his contract. It's about getting rid of the dead cap weight of a player who is vastly under-performing compared to his pay level.
If Mike Richards is still the two-way, point-producing force that he was five years ago, the Kings would not be terminating his contract.
For the Kings to take this level of action, they must believe that they have a compelling case on their hands that will support their decision. Dean Lombardi has proven in his tenure as GM that he is a very intelligent, patient, and calculating individual that built a mini-dynasty Kings team. They would not undertake this type of action if they didn't think they could pull it off.  However, they will still be eligible for the cap recapture penalties that were put in place with the current CBA that was signed in 2013.
After termination of Mike Richards' contract, LAK face cap recapture penalty of $1.32M per year for each of the next five years.

— Bob McKenzie (@TSNBobMcKenzie) June 29, 2015
So the key takeaway here is the Kings have opened up usable cap space (net gain of about $4.4M) for the coming season. That appears a given.

— Bob McKenzie (@TSNBobMcKenzie) June 29, 2015
They also must have contacted the league's office already about this action and gotten their approval considering they went through with it.
The Ensuing Battle
You can be sure that Richards, his agents, and the NHLPA will not go down without a heck of a fight in this debate. This would set dangerous precedent if the Kings were to win, allowing teams to terminate the inflated contracts of under-performing players by claiming they breached their contract.
On a personal level, this could end up being very bad for Mike Richards. There are bound to be allegations and accusations made on both sides, and from the media. His name may be dragged through the mud in this process. Despite his reputation among some circles as a partier, I have always seen Richards as a consummate professional with the heart of a warrior and a tremendous will to win. He does not deserve to have his name sullied in the name of the salary cap.
Financially, he stood to to make another $22 million dollars over the course of the final five years of his contract. One consolation is that Richards is free to sign with another NHL team. He will likely sign in another city for less money, and will be free of the burden of being seen as an overpaid, underperforming player.
This process is likely to be a very long and drawn out one with lawyers and arbitrators involved from multiple parties. For Richards' sake, I hope his reputation and name is not sullied in the process of this legal battle. If a grievance is filed, it will be heard by an NHL/NHLPA joint appointed arbitrator.
Grievances often takes months, sometimes years, to be heard but request can be made for expedited hearing that sometimes take days or weeks.

— Bob McKenzie (@TSNBobMcKenzie) June 29, 2015
If Richards/NHLPA file grievance over LAK termination, it will be heard by joint-appointed NHL-NHLPA Impartial Arbitrator.

— Bob McKenzie (@TSNBobMcKenzie) June 29, 2015