Continuing a string of, at least from the outside, confusing decisions made by new Bruins GM Don Sweeney, the Bruins acquired Philadelphia Flyers forward Zac Rinaldo in exchange for a 3rd round pick in 2017.
BREAKING: The #Flyers have acquired a 2017 3rd-round draft pick from the Boston Bruins in exchange for C Zac Rinaldo→ http://t.co/dUUXt4vmTL

— Philadelphia Flyers (@NHLFlyers) June 29, 2015
The 25-year-old forward has two years remaining on a brand new contract that will see him paid $850,000 per year. He was a fan-favorite in Philly and by all accounts a well-liked player.
On the ice, he scored just one goal and five assists through 58 games last year. He also posted a -5.3% CF%Rel. He's posted negative relative possession numbers in all four of his NHL seasons.
That kind of assessment runs through most metrics for Rinaldo. He was at -9.3% scoring chances for relative (41.6% total), -4.9% shots for relative (44.5% total), and -14.8% goals for relative (35.5% total).
Not trying to pile on Rinaldo, who is young and the Bruins may see the opportunity for him to thrive inside a role within their system, but his Total WAR (wins above replacement, via War on Ice) is -3.2. That says that instead of giving up a 3rd round pick, you should be able to find a replacement player through free agency (who costs no picks) for a similar price.
Similarly, Stephen Burtch's dCorsi (also at War on Ice) has him at a dCorsi of -23.03 last season, meaning that he was under performing in his role — limited minutes and low expectations.
On the Flyers end, GM Ron Hextall continues to chip away at the team's cap problems. The Flyers now have about $7.6 million in available cap space.
This all adds up to a bit of a confusing move on the part of Boston. A 3rd round pick is nothing to scoff at when guys like Martin Marincin and Eric Gryba drew a 4th round pick and a prospect. Eddie Lack barely drew more than that for Vancouver, who received a 3rd round pick and a 7th round pick in a trade that sent Lack to Carolina. Early in the 2014-15 season, Jordan Leopold cost the Blue Jackets just a 5th round pick.
These aren't totally comparable trades, but 3rd round picks don't get thrown around for a fourth line player. While the criticisms are plentiful, it's maybe too early to fully determine what is happening in Boston. Free agency opens on Wednesday and there's a lot of summer left to go.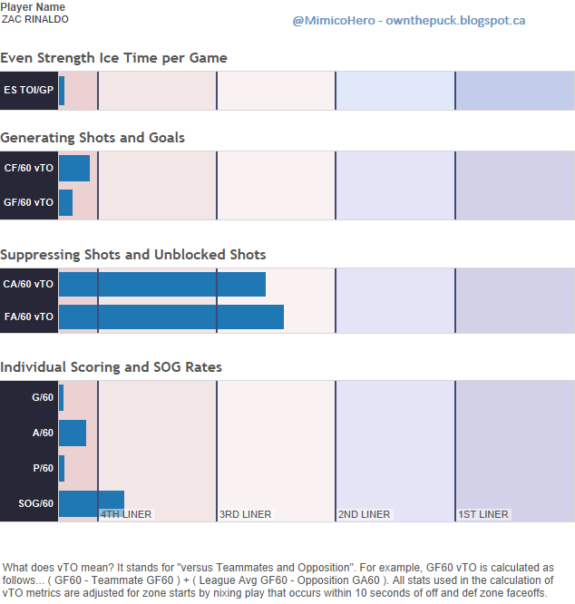 The confusion among hockey minds runs deep.
A third-round pick for Rinaldo? Bruins really have the opposite of the Midas touch right now. The sadiM touch.

— Matt Larkin (@THNMattLarkin) June 29, 2015
This is just straight up comedy now for Boston. https://t.co/BBjWnmRlDF

— Greg Wyshynski (@wyshynski) June 29, 2015
Bruins acquire Zac Rinaldo. "We believe this is another strategically savvy move for us in this key off-season," said GM Stannis Baratheon.

— Adam Proteau (@Proteautype) June 29, 2015
Bruins trade a third-round pick in 2017 for Zac Rinaldo. What is going on?

— Scott Cullen (@tsnscottcullen) June 29, 2015
Bruins announce they've acquired Zac Rinaldo from the Flyers for a 2017 3rd-round pick. I'm sure everyone will handle this well.

— Craig Custance (@CraigCustance) June 29, 2015
There is a master plan. There is a master plan. There is a master plan. Oh, hi, Toto. There is a master plan. There is a master plan….

— Kevin Paul Dupont (@GlobeKPD) June 29, 2015
— Travis Yost (@travisyost) June 29, 2015
The Bruins are like the beginning of Major League when Rachel Phelps tried running the Indians into the ground so she could move the team.

— Dave Lozo (@DaveLozo) June 29, 2015
F Zac Rinaldo scored one goal last year and the #Flyers were out-scored by a nearly 2:1 ratio when he was on the ice. That = 3rd-round pick.

— Jonathan Willis (@JonathanWillis) June 29, 2015
RELATED: Diagnosing the Disarray of the Boston Bruins
[catlist categorypage="yes" numberposts=3 excludeposts=this]