Gut Check:
Definition: A Test Of One's Nerve, Courage, Or Determination.
The Ottawa Senators knew coming into this season that they weren't going to take anyone by surprise again.  It's well known by now that the young Sens squad accomplished more last year than most people expected with their eighth place finish in the Eastern Conference during the regular season.  They continued to impress, taking the top seeded New York Rangers to a seventh game in the first round of the 2011-2012 Stanley Cup Playoffs before being eliminated.  The team used the prediction of a last place finish by many along with their own belief in the skill they had in their room as fuel and it worked to their advantage.  However this year is a new season with new expectation and goals to accomplish, and it's apparent that the team will be tested right away.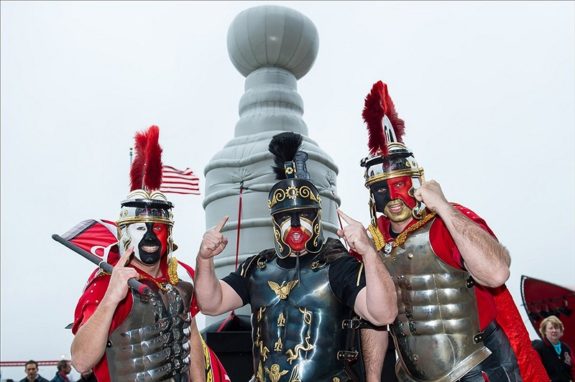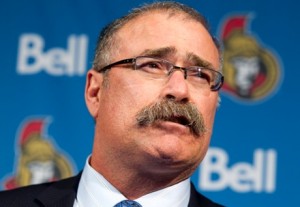 This season the Senators picked up right where they left off and that's a credit to Head Coach Paul MacLean and the Ottawa coaching staff as well as the players themselves. The Jack Adams Award nominee from last year, MacLean has his team playing at a high level right out of the gate and it's no coincidence. Since being hired by the Senators in June of 2011 he has had a tremendous impact on the team, bringing knowledge and experience combined with his ability to communicate with his team and the players have responded. This year they jumped out to a 5-1-1 start scoring 24 goals in the first seven games. However the coach has his work cut out for him and the team must respond to adversity early on as they will be without their best and most important player, Jason Spezza, for an extended period of time.
With all due respect to Craig Anderson, Erik Karlsson, and Daniel Alfredsson, it is Spezza that is the engine driving the machine in Ottawa and without him that machine has already begun to falter slightly, losing back to back games in regulation while scoring only one goal. The All-Star center, Spezza will likely be out at least two months after undergoing back surgery and in a season where every point is even more important, it's a major blow to the Sens. We have talked at length about how Spezza has become an all-around elite player at this stage of his career and it is his complete game that will be missed the most. He was off to a great start offensively, as was expected, with 2 goals and 3 assists for 5 points in his first five games while posting a plus three rating. He was also in his usual place among the league leaders in face-off percentage, winning over 57 percent. If you think that's not a big deal, consider that second-line center Kyle Turris, who will likely take Spezza's spot on the top-line for the majority of the year, is under 50 percent on the season thus far. That correlates to lost scoring chances and less time with the puck, which will hurt a puck possession team like Ottawa.
Turris is an excellent young player, with plenty of offensive talent and has really played well since coming to Ottawa from Phoenix. His 4 goals and 4 assists for 9 points leads the team and shows he can help fill the void offensively on the top line. However he had really begun to settle nicely into the number two role, developing chemistry with his line-mates and now will be forced into a much bigger role. The slot of number one center is not easily filled on any team, let alone one that's had an all-star caliber talent there for quite some time. The Sens knew when they acquired Turris that as he continued to grow and fulfill his potential, he could one day be their number one center when Spezza's time in Ottawa is done. However for the short term that time is now and he will have to step up his overall game, including face-offs and defensive zone play, as much more will be expected of him. Coach Paul MacLean gave him a show of confidence last week as well adding the alternate captain's "A" to his jersey as part of the rotating process they are doing for the time being, yet another position of Spezza's he will try to fill. The team is fortunate to have a strong and veteran leadership group with Captain Daniel Alfredsson and alternate captain Chris Phillips, which should allow Turris to simply focus on his game while they handle the leadership duties, but the extra boost the title should give Turris will be important.
The good news for the Sens is that they have been a very well balanced team early in the season, getting contributions for a variety of different players.  Norris Trophy winner Erik Karlsson is continuing his stellar play with 3 goals and 7 points early on and his ability to create offense for the team will be counted on even more.  The young core is contributing with Colin Greening and rookies Jakob Silfverberg and Mika Zibanejad seeing more ice-time and scoring.  Heralded young d-man Patrick Wiercioch, who Sens fans have been waiting to see reach this level for the last couple of years looks good and has 4 assists in his seven games so far.  Fourth-line center Jim O'Brien has three goals and even stay at home veteran defenceman Chris Phillips has a couple early goals to his name.  Top liners Daniel Alfredsson and Milan Michalek started out hot as well, but have cooled significantly since Jason Spezza went down with injury, each scoring only one point since.  As proven scorers they will be required to get their offense going again too.
Goaltender Craig Anderson has been outstanding,starting the year 5-0-1 and being named the National Hockey League's First Star for the month of January with a .967 save percentage and 0.99 goals against average. Even in the last two loses he's been stellar yielding only three goals on 67 shots.  He has quieted any doubters who may have thought it was Robin Lehner's time in Ottawa and along with Ben Bishop form a strong tandem in the Ottawa net.  The Sens are fortunate to have good depth in goal and will rely on that as good teams do, but if they continue their struggle to score goals, Anderson may have to keep this pace up for the team to compete for the Northeast Division crown.
While two loses is hardly reason to overreact, Senators General Manager Bryan Murray will be paying especially close attention to his team these next few weeks. He knows after last year's success this team needs to take another step and no team can afford an extended losing streak this year. The team has a lot of young talent, and should the opportunity arise to attain another top six forward, specifically a center, he will have to weigh the present state of the team, and their situation, with future potential. The Sens have stock piled some young talented players, some of whom are playing roles with them right now, that will be attractive to teams looking to move veteran players.  The development and play of these young guns will have a huge impact on the team and what Bryan Murray does. They also have plenty of cap space to absorb a larger contract or two for the short term which is an asset.  The biggest factor for Murray will be if Kyle Turris can produce as a top line center and get that line rolling the way it needs to be for Ottawa, as well as who will fill his spot on the second line without a huge drop in offense.
It's been a great start for the Sens but now they must answer some questions, as all teams must do throughout their season. They certainly can't replace a Jason Spezza, and inevitably there will be dips in player's performances however this is an opportunity for many others to make a name for themselves, and the team to show the kind of character they have. Head Coach Paul MacLean's steady demeanor and positive style will be key for the young squad to stay consistent and certainly the experienced GM Bryan Murray will know what his team does or does not need when the time comes. Regardless, the fans in Ottawa remain excited about this team and the opportunities it has this season.