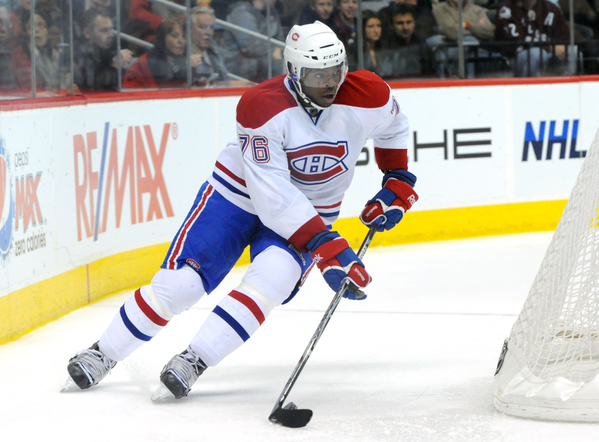 You're a general manager overlooking your roster for the upcoming season and you notice a gaping hole in your lineup. Your team is one #1 defenseman away from being a potential perennial Stanley Cup contender. You've exhausted all possible trade options and turn your focus to free agency.
On the open market sits an unsigned bonafide superstar blueliner in PK Subban – a restricted free agent. Talks between Subban's camp and the Montreal Canadiens have been stagnant and his future with the team is up in the air. You, as a GM, have the wherewithal to write up an offer sheet in line with Subban's salary demands, to which Subban would likely sign. So why not take the plunge and potentially change your team for the better?
Because offer sheets are a gimmick. NHL offer sheets are seldom given out and when they do get signed, more often than not, the team being pressured to retain their player will match.
Since the lockout, only seven players have been given an offer sheet. Of those seven players, only one (Dustin Penner) offer sheet was not matched. In the new world of salary cap compliance, teams at or near the cap don't have nearly enough space to make a play on a key RFA. And the teams who do have the room aren't necessarily the teams most RFA's want to play for.
For the sake of argument, say a team does have the space and is a desired location or a potential free agent. In 2012, Philadelphia signed Norris-caliber defenseman, Shea Weber, to an offer sheet. Having let Ryan Suter walk away in free agency, Paul Holmgren essentially forced David Poile's hand to match the offer sheet.
Another aspect of signing an RFA to a gigantic offer sheet is mortgaging your future at the expense of one player. Weber's offer sheet (if unmatched) would've cost the Flyers four 1st round draft picks over the next four years. That means no Scott Laughton, no Samuel Morin, no Travis Sanheim, and no whoever they decide to pick in 2015. A PK Subban offer sheet would likely cost the same – maybe a bit less.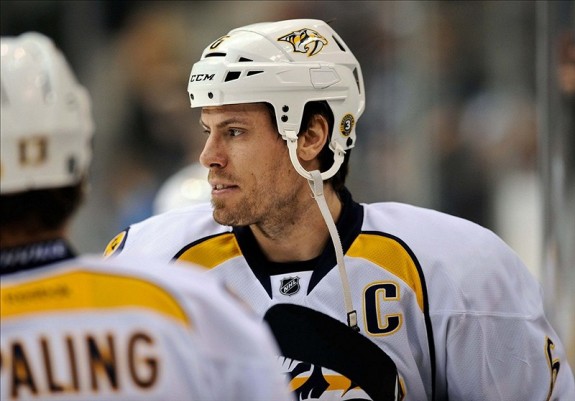 Granted, the Philadelphia Flyers would be a vastly different team with Shea Weber than they are now. Even so, David Poile probably wasn't all too pleased at Holmgren for the move he pulled.
Which leads me to my next point: potential turmoil among GM's.
The only player since the lockout to successfully sign an offer sheet and it not be matched by the team was Dustin Penner who moved from Anaheim to Edmonton. That wasn't before Brian Burke challenged Kevin Lowe to a fight in a barn calling the move "gutless" and "an act of desperation for a general manager who is fighting to keep his job".
In an interview with NHL.com's Adam Kimelman, former Dallas Stars general manager, Craig Button said this about GM's battling for each other's players with offer sheets:
"Who's Dean [Lombardi] to say you go after one of mine and I'll go after one of yours? Go ahead. It's about valuing players. … I always laugh about when Brian [Burke] went on his tirade against Kevin Lowe.

We sit here and say, 'Why aren't there offer sheets?', but you may impale yourself. You not only need to know your current situation, but you need to know your future situation better than you know your current one.

The bottom line is there are tools at your disposal. You just have to understand the future ramifications."
But why even test the market if you're threatening trade possibilities with teams down the road. I can't imagine Burke has smoothed over his anger at Lowe. Same goes for Poile with Holmgren. In fact, that very well could be a solid reason a deal for Vincent Lecavalier to Nashville hasn't been completed, but I digress.
https://twitter.com/vishal_hussain/status/486262493149294593
The Flyers are in a similar spot today as they were in 2012. They are still without a #1 defenseman, a #1 defenseman is a sitting duck on the RFA market, they don't have the financial room to sign him, and even if they did, Montreal would match the offer.
Offer sheets were agreed upon in the CBA by the players and general, but I have a sneaky suspicion that the GM's around the league truly had no intention of truly ever using. One successful offer sheet in eight seasons isn't glowing endorsement of the rule in place. In theory, offer sheets should work well, but the negatives associated with them drastically outweigh the positives.