Recently, Russian forward Ivan Barbashev scored his first NHL goal. The St. Louis Blues player is at his fifth season in North America, after spending three years with the Moncton Wildcats and one with the Chicago Wolves. In this translated interview, originally appearing on the popular Russian website Sport-Express, Ivan Barbashev talked about his waiting for a chance in the NHL, his first NHL goal and more.
* You can enjoy the original Russian article by Alexei Shevchenko here *
NHL Debut
Alexei Shevchenko: Recently I have talked with Nashville Predators prospect Vladislav Kamenev. He told me that you were really waiting for your chance to be called up.
Ivan Barbashev: Yes, but it was also my fault. You know, I kind of started thinking that it was unuseful to only think whether they'd call me or not. This is not going to give you any good influence, and it impacted my production.
AS: Any concrete example?
IB: In the AHL I had a long series of games, and for the whole series I was wondering when I would have been finally called up to the NHL. But I wasn't called up, and I got nervous, I think it was in that period that I met Vladislav. Oh, finally now I'm free from him (laughs). We were in the same division in the AHL, and we met pretty often.
AS: You started well with the Blues, but during the bye week you were again sent down to the AHL.
IB: I'm too young for an entire week of vacation. I was assigned down to the AHL to gain ice time, even if in Chicago I had a good one. But in the first game, I got punched in the back of the head and I ended up at the hospital.
AS: A tough league to play in.
IB: Playing in the NHL is easier, I'm not the first one to say so. Then I was called back to the Blues after I healed. I do enjoy every day in the NHL.
AS: For your first NHL goal, you benefited of a "good assist" by Ottawa Senators defenseman Erik Karlsson.
Ivan Barbashev scores his first career NHL goal! How about that celly? 6-0 #stlblues pic.twitter.com/1IT3Hxre7V

— Cristiano Simonetta (@CMS_74_) February 8, 2017
IB: That was a hectic game. Tons of fun stuff, not only that goal.
AS: You usually play on the fourth line.
IB: We have a strict game plan. We try to play hard and be solid back on defense. I'm glad that we didn't let any goal in, it means that we fulfilled our task.
AS: The Blues have many center forwards. This is perhaps your biggest problem.
IB: Maybe. Now we have four, we also traded one away. I also played on the wing.
AS: How did you like it?
IB: It's not a problem to me. I also played wing in the AHL. I feel myself good [in any position]. If there is such a strong competition, it's a good sign that the coach will still ice me, even if on the flank.
AS: You usually play on the same line as Ryan Reaves. Did you try fighting him during practices?
IB: No, I don't think it would be a good idea. There is an interesting story with him, by the way. I played with him in my first NHL game. The coaches gave us tasks, and so on, and Ryan approaches me and says: "Ivan, don't worry. Do what you want, when I'll be here, no one will touch you."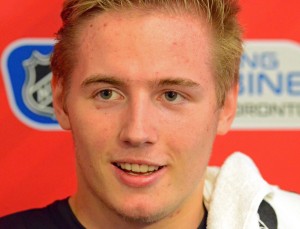 AS: Kind of logical.
IB: But I didn't take advantage of it and once Ryan just got back to the bench. It was a dangerous moment, against Toronto, I hit Mitchell Marner. Maybe it wasn't a completely clean hit. But his teammates were okay with it. Mitchell is a young player, if he was a veteran, I think I wouldn't have been able to escape retaliation.
Back to the AHL
AS: This season you played very well in the AHL. What is the secret of your progress?
IB: I have much more trust. Our coach is Craig Berube. In spite that he was an enforcer, he knows hockey very well. We played in a much more systemized style. And this year there are much better ties between the Wolves and St. Louis. Finally, the AHL team started helping the Blues.
AS: How was it earlier?
IB: You know that Chicago is the only team in the AHL not to have the logo of the parent club on the sweater. Yes, there was an agreement with St. Louis, but nothing more. And they were always talking about their independence from the NHL. Now it's all different. Last year I mostly played on the fourth line, now I usually play on the first or second unit.
AS: Last summer you had a good offer from Dynamo Moscow. I heard that you almost signed it.
IB: Yes, it's true. I really almost signed it. But in the end, I decided to spend a further year in America. I decided that I would just get back home if I wouldn't get a chance in the NHL. At the end of the day I want to play at the highest level. Now I understand that I took the correct decision. I still have one year out of my contract with the Blues and everything is in my hands.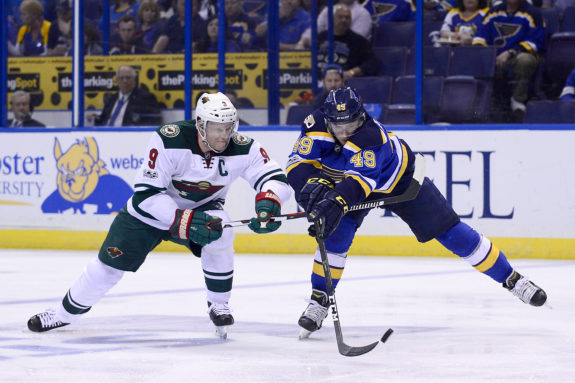 AS: Maybe you had a sigh of relief when you heard about Ken Hitchcock's firing. You didn't have a chance with him.
IB: I think you understand that I simply cannot reply the way you would like to. But I do say that I really enjoy working with Mike Yeo. With him, the teams changed a lot of things, and wins started to come. Yes, we had some bad games, but we don't feel like we're out of the playoffs yet. It's interesting to work with him, and our attitude radically changed.
AS: Where do you live in St. Louis?
IB: The team pays me a hotel. For now I'm living there. It's probably too early to think about a flat.
AS: Where do you keep your things?
IB: I haven't taken much with me. When I have been called, I simply jumped on the machine and got to St. Louis. Once I'll be asked to get my things too, then I'll take them.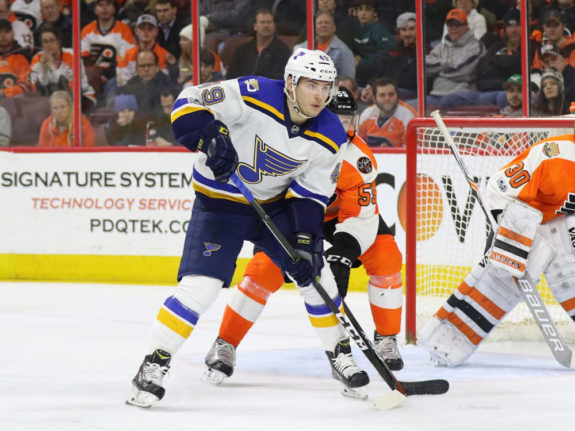 AS: Five hours on a car. Why didn't you take a plane?
IB: It was much more comfortable to me. Some guys from our team spent whole days on a car. Of course it's too much for me. By car it was just simpler. And when you get called up to the NHL you want to get there as fast as possible, therefore you're not going to think much about the means of transportation.
AS: Now in St. Louis there are many Russian players.
IB: Yes. And other than Tarasenko and Nail Yakupov, also Dmitrij Jaskin speaks Russian. I do know English language, but with our [Russian] guys is much more fun. They're always helping me. This is why all is good now in this sense.
A professional hockey writer and translator. Loves Russian culture, language, and hockey. Reachable on twitter @AlexSerenRosso