After playing a very good first half of his second American Hockey League season, Nashville Predators prospect Vladislav Kamenev finally made his NHL debut on Jan. 6 against the Florida Panthers. In this translated interview, originally appearing on the popular Russian website Sport-Express, forward Vladislav Kamenev talked about his first games in NHL, return to the AHL and other interesting things.
* You can enjoy the original article in Russian language by A. Shevchenko here *
NHL Debut
Alexei Shevchenko: In spite of your good performance in the AHL, there weren't many rumors about your possible call-up. How did it happen?
Vladislav Kamenev: As far as I know, there were some injuries at the Predators, therefore two players from Milwaukee were called up. It was very surprising to me. We were on a road trip in California, I already went to sleep, but then my coach called me. He told me that I was called up and that I needed to go. I packed my things and left, and it was already deep night. It was a hard flight.
AS: Because it was a night flight?
VK: Yes. We left at 11 PM, and I was with the team at 7 AM. Because of the time zones. The flight lasted five hours. We had a game against Florida on that same day. Do you remember that in the start of January a shooting happened at the Florida airport? We departed from there only one hour before the fact. We checked the news and were in shock. It was good to be able to escape all that.
AS: What did the coaches tell you before the game?
VK: We had a simple talk. The coach explained to me that he understand my condition, but that I still needed to get ready for the game as I'll have some ice time.
AS: The start wasn't good.
VK: My team allowed a goal in my first shift. We created a scoring chance at Florida's net, but they got the puck and replied with a goal. Not bad.
AS: Were you worried?
VK: At first I was, but fastly everything turned out better and better, and already in the second period I was feeling great.
AS: Did you have any scoring chance?
VK: A couple of chances, nothing more.
AS: After the training camp you were told that you had a problem with faceoffs. Did you solve it?
VK: The first game wasn't good on this aspect, I won just one faceoff out of four. But against the Chicago Blackhawks I won many of them. I get told all the time that I need to work on faceoffs. I've been even asked to work individually with my coach on this, to watch videos with the best players. I'll try to learn.
AS: I had a chance to watch your second game, against the Blackhawks. You played much better.
VK: Yes, I was already feeling more confident. It was a good game, I agree. I managed to play well.
Back to the AHL
AS: You were still demoted down to the AHL after that game.
VK: I've been told the usual stuff, I will be followed, I need to keep on working. But, of course, I'm very glad to have played in the NHL. I understood that I can play at such a level.
AS: Usually players who get demoted lose motivation. You didn't get any point in the first couple of games for Milwaukee.
VK: I was simply unlucky, I had enough chances. No, you're wrong, I started playing even more, and now I want even more to get back to Nashville. I understood how close I am to play in the NHL.
AS: In your of your games in the AHL, against Grand Rapids, [Detroit Red Wings prospect] Evgeny Svechnikov scored a double. And you were on the ice when it happened.
VK: He outplayed me twice. Somehow we don't have a good record against Red Wings' farm team. They win all the times.
AS: How did the guys greet you in Nashville?
VK: There were no problems. Everyone has good ties with young players. Veterans offered us to have a dinner all together.
AS: Did you pay for it?
VK: No, veterans did.
.@PredsNHL prospect, Vladislav Kamenev, made his #NHLdebut on Friday after tallying 62 points in 91 career @TheAHL games, with @mkeadmirals! pic.twitter.com/52QCXKXv0K

— PHPA (@thephpa) January 10, 2017
AS: You are among your team's leaders in points scored. I cheer for you to win this competition.
VK: I think I am having a good season. I scored almost as many points as last year, but we still have half of the season. I don't care about being the team's top scorer. What's the difference in points?
AS: Just a couple.
VK: I can be either the top scorer or not, but we need our team to win. I have other goals: I want to get called to Nashville not just from time to time, but constantly. But, of course, I know that I have a lot of competition. As far as I understood, the top team grabbed another center. It won't be easy.
AS: Do you often play against other Russian players in the AHL?
VK: We play very often against Svechnikov and Grand Rapids. Also against Ivan Barbashev and his Chicago Wolves. We go to dinner together after the games. We play against Barbashev's team a dozen of times during the season. Ivan is having a good season and, of course, he also really wants to get called up to St. Louis.
AS: I hear barking from another room as we speak.
VK: My friend gave me his dog a couple of days while he's on a business trip.
AS: What is the breed of the dog?
VK: I'm not sure, but she's really big. I can't even get close to her, she just stays at the door waiting for my friend.
AS: Don't you want to have a dog yourself?
VK: I would really love having one, but as soon as I think about it, then long road trips come to my mind. Where would I leave the dog when I'm not at home for a week?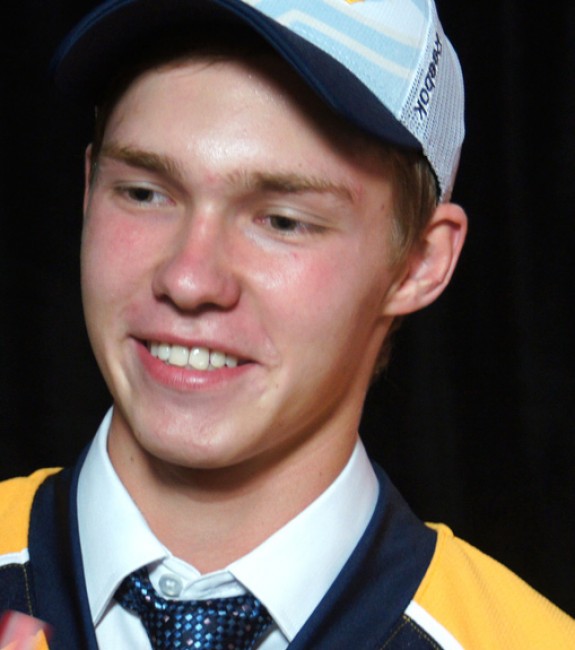 AS: You have a strange calendar.
VK: Yes, sometimes we play three games straight, then just one game for a week. But on the other hand, I don't think too much about it, as my life is pretty much always the same: practice, game, practice, road trip. Of course, now my emotions are through the roof after my NHL debut. I really want to get back there.
AS: Were you awarded something for your debut?
VK: Oh, that's an interesting thing. I've been gifted a puck, I don't even understand why. Should I have scored, then I'd understand, but…
A professional hockey writer and translator. Loves Russian culture, language, and hockey. Reachable on twitter @AlexSerenRosso