Of the many points of distinction between the New Jersey Devils of now and their dynasty days in the early-2000s, surely the lack of a puck-moving defenseman is on that list. In recent years, the defense has proven a steady presence on the blue line, but there is much to be desired when it comes to scoring. If 2016-17 is any indication, Damon Severson is the solution to that shortcoming.
He has gotten the job done in a year when most Devils are struggling to put points on the board and could soon be recognized as a cornerstone of this franchise.

Damon Severson – The Devils' Prized Defenseman
Severson's surface-level numbers don't jump off the page – three goals and 22 points in 48 games – until they are prorated to an entire season. At that point Sevs' production jumps to 39 points, which is not only considered sound play for this scoring deficient squad, but also relative to franchise history. In the 13 years following the Devils' last Stanley Cup, only four individual campaigns from three defensemen, Scott Niedermayer, Brian Rafalski and Marek Zidlicky, eclipsed Severson's extrapolated 39-point mark.
His play has been phenomenal by team standards but also impressive by league standards. He's 32nd in points among all defensemen which appears even more impressive when coupled in with some advanced minute-based statistics.
Among regular defensemen (minimum of  750 minutes of time on ice), Severson is ninth in the NHL in points/60 at even strength. That makes the Devils' blue-chip blueliner one of the top point producers in the entire NHL.
That said, there's more to Severson than point-scoring capabilities.
Driving Possession from the Back
The Devils have struggled over the last decade to produce defenders that can create scoring chances from the blue line. Most of the recent contributions have come from ageing veterans and roster add-ons, but never a homegrown prospect. Severson has bucked that trend in a big way.
Not only does Severson find the score sheet with consistency, but he has also been quick to rack up shots and scoring chances. He is second on the Devils back-end in terms of shots for/60 (just a hair behind Andy Greene) and is 38th of 58 qualifying defensemen (min. 750 TOI).
On the power play, Severson is far and away the team's top producer of scoring chances. His shots for percentage (SF%) is 82.8, a significant proportion greater than second (John Moore). Severson is essential to the Devils for his offensive contributions and may be one of the team's most talented puck-moving defenseman since Rafalski.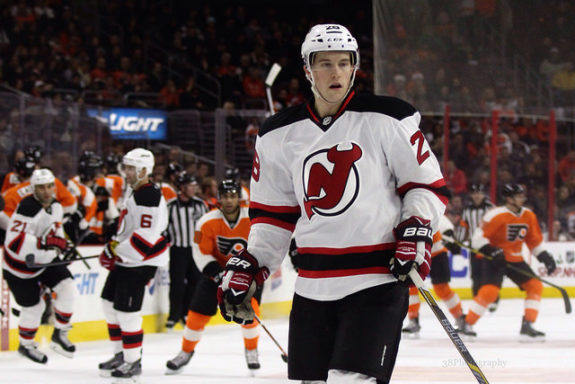 Counterbalancing a Hideous +/-
One of Severson's greatest knocks is his ugly plus/minus figure. The Canadian-born defenseman is currently a minus-23 and tied for last in the league. However, statistics fail to tell the whole story.
Most fans and analysts, with ample reason, refuse to consider plus/minus when evaluating a player's performance. Arctic Ice Hockey gives some good arguments, namely that it is driven in large part by both on-ice save percentage and shooting percentage as well as total time on ice. None of those metrics are great barometers of one's defensive play or worthwhile metrics on their own. When combined into +/-, they help to tell a story only if that narrative matches on-ice play. That is not the case for Severson.
Shots against and goals against per 60 are great methods to evaluating a player's defensive contributions to the team.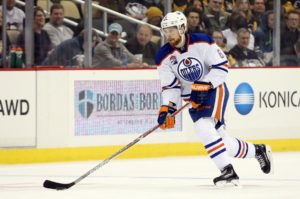 Among defenders (min. 750 TOI), Severson is 30th of 53 qualifiers in shots against/60 and is in great company with Victor Hedman, Ryan McDonagh and Adam Larsson within a few spots. In terms of goals against, Severson is about average among the league's heavily utilized defensemen: 36th of 53 (min. 750 TOI) with a 2.53 goals against/60.
In sum, Severson is certainly not the worst defenseman in the league when it comes to suppressing chances. He's about average, which is a promising sign for a 22-year-old who is scoring focused.
https://twitter.com/NHL_Lineups/status/823163070558060547
Lack of Shelter
Unlike last year, John Hynes hasn't forced his defenders to take part in a specialized system. If they could set up chances, then they spent the vast majority of ice time in the offensive zone. But that system has its drawbacks. Severson has not been rewarded with the same favorable zone starts as last year, but has nonetheless shown marked improvement.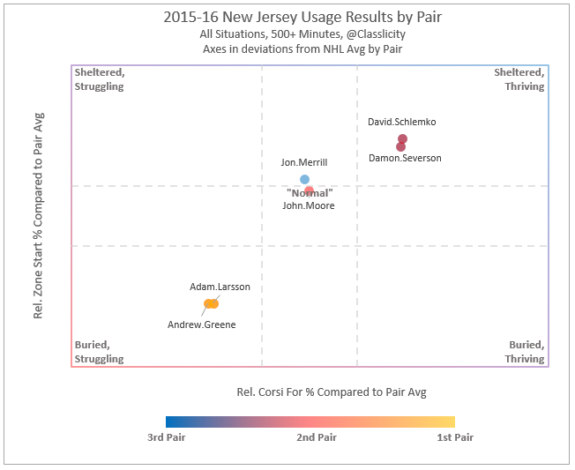 On top of that, Severson's most common pairing-mate of late has been Kyle Quincey. Despite that, he is still producing (four points in his last 10) and is one of the Devils' chief scoring chance contributors. Over the course of the year, Severson has lined up mostly with Greene.
For the Devils to have a talented, puck-moving defender is rare in its own right. For him to be homegrown and improving is impressive. But Severson has done more than that — he's a young, burgeoning talent on a blue line in desperate need of his help. Fortunately, his cost-controlled contract and restricted free agent status means that Severson is likely to be in New Jersey for the long haul.