The Winnipeg Jets are widely-considered one of the league's best at bringing in young players and integrating them into the lineup when appropriate. That method is done correctly by closely monitoring minutes, putting the player in situations where they have the best chance to succeed and giving them more responsibility when earned.
The Jets are currently carrying six forwards, two defencemen and two goaltenders that have played for the Manitoba Moose. Add another player to each position if we are including the Jets' former American Hockey League affiliate, St. John IceCaps, with superstar Mark Scheifele, defender Ben Chiarot and goalie Michael Hutchinson who all learned the professional game playing in the Newfoundland capital.
While fans are enjoying watching the success of Moose-graduates Adam Lowry, Andrew Copp and Josh Morrissey among others, they have another wave of future NHL-talent coming. Once highly thought of draft picks like Scott Kosmachuk and J.C. Lipon are quickly taking a backseat to better long-term NHL fixtures that include a couple of college kids and a stud youngster in the blue paint.
Kyle Connor
After an absolutely dominant first and final year of college, which saw him register almost two points per game, Kyle Connor decided to go pro. Unsure of whether he would crack the big squad or end up with the Moose, Connor risked it after just one season with the University of Michigan.
[irp]
Connor impressed at training camp and earned a spot on the big club's roster. Much like Jesse Puljujarvi and Jake Virtanen with the Edmonton Oilers and Vancouver Canucks respectively, though, he ended up in the AHL after a small taste of NHL action — he played a total of 19 games with the Jets and notched only four points. He just simply was not ready to be an impactful player every night, which is completely understandable for a player with such limited experience.
At just 20-years old, Connor went down to the Moose with the attitude to take over the Moose club and he did just that. He has 32 points in 40 games with Manitoba so far this season including AHL player of the week honours awarded on Mar. 6.
With such increased production at the pro-level in Manitoba, Connor might find himself as the second line left winger for the Jets next season. His hockey sense is off the charts and he has the skating ability along with the unbelievable skill to keep up with his brain. It isn't a matter of if he will be an NHL player, it's just a matter of when.
Jack Roslovic
Reading @TheHockeyNews Future Watch Edition based on 21-under #NHLJets back at #1 from 5th & have 2 in Top 50. Connor (26th) Roslovic (46th)

— Jim Toth (@JimTothSports) March 11, 2017
Like Connor, Jack Roslovic only required one year at university before making his mark in the pro ranks. With 37 points in 52 AHL contests, many believe he is very close to becoming an effective NHL player because of the maturity he already shows on a nightly basis.
Another year with the Moose surely wouldn't hurt him as the Jets could take a page out of the Detroit Red Wings book by over-ripening their prospects. Looking long-term, Roslovic appears he can develop into a versatile, top nine forward that can be depended on in any situation.
If the Jets decided that the best case scenario next season would be having Roslovic as the first line center for the Moose, they are going to need to do a few things first. Let's not kid ourselves — the Moose are frankly a joke around the AHL right now.
They need a more competitive roster for next season with some veterans scattered through the lineup that can help advance the development of their prospects. Though it may sound like a broken record, one cannot stress the importance of the Moose adding a couple defencemen with the ability to transport the puck.
[irp]
Eric Comrie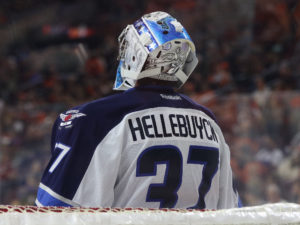 Ondrej Pavelec will see his contract expire from the sidelines as he will miss the rest of the season after suffering a knee injury that required surgery. While Manitoba-grad Connor Hellebuyck will start the majority of the remaining games for Winnipeg while Hutchinson backs him up, it shouldn't be ruled out to see Eric Comrie get a start down the stretch for a Jets club that will likely be absent from the playoffs for a third straight season.
Comrie's numbers would not suggest he is having a spectacular season by any means, but on such a poor Moose team, he is their backbone. Many experts believe Comrie would make it as a top-60 goalie in the NHL already, meaning he should technically be considered NHL-ready. Another season in the AHL would absolutely benefit Comrie as goaltenders take seemingly forever to reach a balance of consistency and poise but don't rule out this 21-year-old Edmonton native to challenge Hellebuyck in the crease moving forward.
It would appear that only Connor is prepared to make the giant leap to the best league on earth at this juncture however, the Jets still have a steady stream of prospects coming through the system that will see NHL minutes in the not too distant future.