Not much has gone right for the Detroit Red Wings this season – an understatement to say the least. Among the many things that have not gone the way of the Winged Wheel are the injuries that have mounted. As of March 4, the Red Wings lead the NHL with 361 man-games lost this season.
However, there is a silver lining — with all the injuries, the prospects are getting to play. In fact, some are playing significant minutes in Hockeytown. Had it not been for injuries to key forwards, would Anthony Mantha have been recalled from Grand Rapids so soon? Would Andreas Athanasiou be playing in the top-six?
Which youngsters have made the most of their time in Detroit? In this week's edition of The Grind Line, The Hockey Writers' Red Wings coverage team shares their picks for this season's surprise prospect contributions.
Tony Wolak: Nick Jensen
Though his scoring stats may not scream success, defenseman Nick Jensen has been a solidified his standing on the Red Wings' blue line. Through 34 games, Jensen has scored three goals and recorded nine points, while averaging 16:31 TOI per game. Through four March games, Jensen has averaged 19:27 time on ice per game – almost three minutes more than his season average. Clearly, he's earned defensive coach Doug Houda's trust.
Jensen's speed, right-handed shot and ability to play in all situations have kept him in the lineup. He's often in on the forecheck and has the speed to recover in case the opponent quickly breaks the puck out. In addition, Jensen has shown a willingness to jump into the play when Detroit's forwards carry the puck into the offensive zone.
Another quality of Jensen's that stands out is his ability to process the game quickly – something the majority of the team struggles with. Not only does the young defenseman move fast, but he also makes decisions—most of which good—in an accelerated manner. The split second of extra time saved will start paying dividends as Jensen progresses in his career.
As of late, Jensen has been trusted to take over penalty kill duties with Jonathan Ericsson, Brendan Smith, and Alexey Marchenko no longer with the team/in the lineup for varying reasons. Considering how many players have regressed in year two of the Jeff Blashill era and his individual role expansion, it's nice to see a rookie step in and pick up some of the slack.
Tom Mitsos: Anthony Mantha
Based on Mantha's dominant career in the Quebec Major Junior Hockey League, where he scored 129 goals and added 131 assists in 184 games, it seemed like he was destined for success in the professional ranks.
However, an injury during the 2014 prospects tournament delayed his professional debut, and he played in just 62 games for the Grand Rapids Griffins, scoring 15 goals and adding 18 assists. The next season, he improved on his point total, scoring 45 points (21 goals, 24 assists) in 60 games. He even got a call-up to the Red Wings for 10 games, scoring two goals and adding an assist.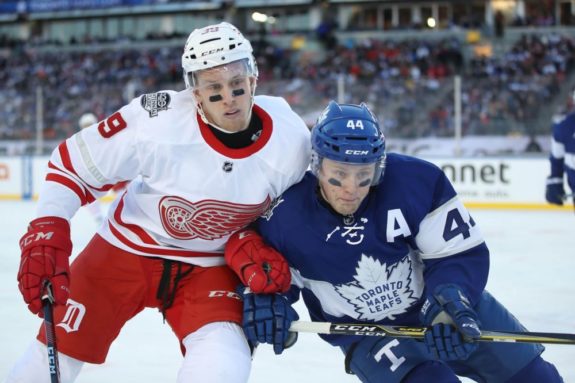 However, his 45-point campaign during the 2015-16 season was not enough to ensure a roster spot with the Red Wings to open the 2016-17 season. That didn't phase Mantha, as he scored 10 points (eight goals, two assists) in 10 games for the Griffins and quickly earned another call-up to the Red Wings.
With his second call-up, I figured there would be more growing pains. I knew Mantha had the potential to be a great player, but there's always a learning curve when it comes to learning how to succeed in the NHL, and he didn't get a lot of experience last season.
Mantha, however, matched his point total of three from last season in the first six games and now has 33 points (14 goals, 19 assists) in 50 games. He also is first on the team of all players who have played at least 100 minutes in five on five score-adjusted shot attempts percentage at 52.57 percent, according to Corsica. Despite that offensive output, coach Jeff Blashill scratched Mantha for Friday's game against the Chicago Blackhawks and again Sunday against the Rangers, citing a decline in compete level.
Once again, Mantha has to overcome a challenge from his coach, just as he did when Blashill opted not to give him a spot on the roster to begin the season. Mantha said he was surprised and angry when he heard about being scratched and said he will use this as motivation.
Coaches have to know how to handle their prospects when it comes to teaching them how to compete on a daily basis. Some take healthy scratches/less playing time as a challenge and, others, like Jonathan Drouin, want to be traded. If Mantha repeats history, he'll come out of this with a renewed sense of determination.
Brandon Peleshok: Anthony Mantha
There was a little doubt that Mantha would develop into a solid player for the Detroit Red Wings, but his rapid ascent up the team's depth chart still comes as a surprise. The 22-year-old forward sits fourth in scoring among all Red Wings, registering 33 points through 50 games this season.
Despite his success, Mantha has fought an uphill battle to prove himself throughout the entire 2016-17 season.  It started before the regular season began, as Blashill criticized both Mantha and Athanasiou for not being "good enough" during the Wings' final preseason game. While Athanasiou stayed in Detroit, the team elected to send Mantha back down to Grand Rapids. He responded by scoring 10 points through 10 games with the Griffins, earning himself another shot with the Red Wings when they recalled him in mid-November.
Since then, Mantha has been a fixture in the team's group of top-six forwards, spending the majority of his time skating alongside captain Henrik Zetterberg. According to DobberHockey, Mantha has skated on a line with Zetterberg and Tomas Tatar (37.17%), and Zetterberg and Gustav Nyquist (26.78%) the most this season.
However, Mantha has found himself on the wrong side of his head coach once again. He sat in the press box during last night's contest against the New York Rangers, serving as a healthy scratch for the second consecutive game. Blashill insists the move is to push his budding star forward to compete harder, but the move is an unpopular one among Red Wings fans, to say the least. Whether or not Blashill's handling of Mantha will pay off remains unclear. What is clear, however, is that the Red Wings have a potential superstar on their hands, one who has put together an impressive rookie season.
Which Detroit Red Wings prospect has surprised you most this season? Comment below with your choice.