The Philadelphia Flyers announced on Friday evening that they signed Ivan Provorov to an entry-level contract. This announcement came exactly one week after Provorov was selected seventh overall.
For a player who was not drafted in the top five, it was a very quick signing. By comparison, the Flyers did not sign their previous first round picks (Samuel Morin and Travis Sanheim) to their ELCs until September of their draft year.
This quick signing has added to the hype surrounding Provorov. Shortly after the draft, one Flyers scout had this to say about the young defenseman:
I don't like to make bold statements, but I think he could come in and just be one of the better defenseman on the team in training camp. They are going to see this guy and go 'whoa.'
Last Thursday, new Flyers head coach Dave Hakstol had this to say about Provorov:
The thing I know there, he didn't play like a rookie [in the USHL, during the 2013-2014 season]. He's got great presence, a little bit ahead of his time in terms of maturity. Whether or not he's ready to make the step and whether it's the right step for him and our team, those things have to be answered as we get into training camp and the exhibition season. But he's a special young man on and off the ice."
Taken together, these signs point to Provorov wearing the Orange and Black in 2015-2016.
However, I believe it is unwise to pencil in Provorov for a roster spot next year. Here are three reasons why:
Blue-line Logjam
For starters, the Flyers currently have eight NHL defensemen on their roster. Mark Streit, Andrew MacDonald, Luke Schenn, Evgeny Medvedev, Nick Schultz, Brandon Manning, Radko Gudas and Michael Del Zotto will all have a leg up on Provorov heading into training camp.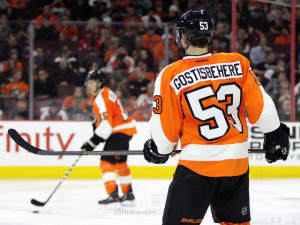 Not only are the Flyers deep with defensemen at the NHL level, but they are also deep with good defense prospects. The prospects previously known as 'The Big Four,' Shayne Gostisbehere, Samuel Morin, Travis Sanheim and Robert Hagg, all have experience in a professional training camp and are at least a year older than Provorov.
There are even a few dark-horse defensemen who could challenge for an NHL roster spot. Mark Alt was plagued with injuries in 2014-2015. But prior to that, he looked like he could eventually step into an NHL role. He is 6 feet 3 inches, 200 pounds, right handed, and has outstanding mobility. The Flyers also signed 22-year-old defenseman Christian Marti to an ELC in May. Marti has spent the last few years playing against grown men in his home country of Switzerland.
Long term, I believe that Provorov has a higher ceiling than every player listed above (with the possible exception of Sanheim). However, right now, he will have plenty of competition against men who are older and likely more polished.
 18-Year Olds Are Just Too Young
Historically, 18-year-old defensemen have not performed very well in the NHL. Even having players like Aaron Ekblad and Seth Jones (although Jones was 19-years old for the majority of his rookie season) in recent memory, there is little evidence that young defensemen have a significant positive impact on their teams.
Below are three graphs, cataloging the same group of players. The graphs represent defensemen drafted in the first round since 2008 who immediately stepped into the NHL.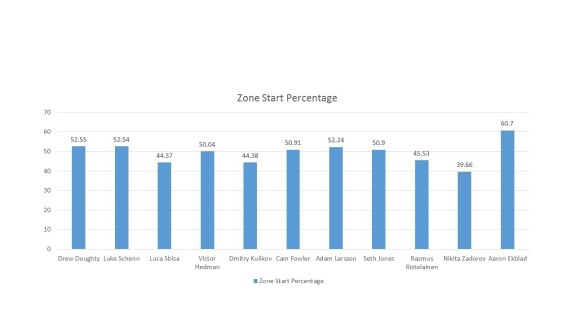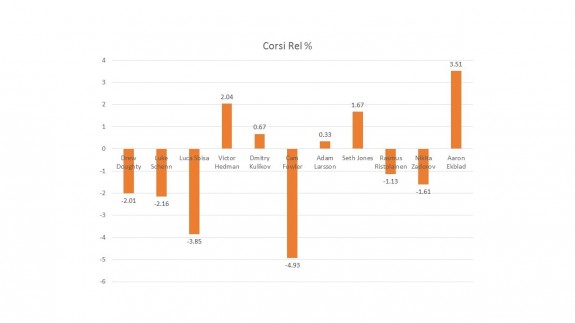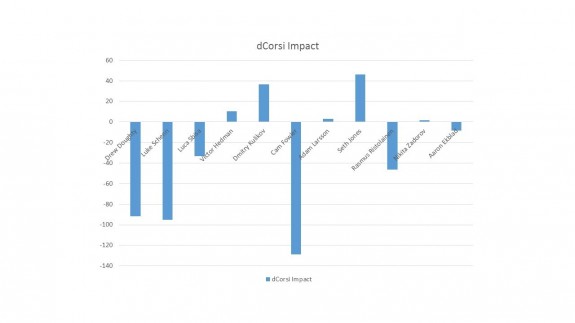 *dCorsi is a statistic created by Stephen Burtch. It measures possession relative to usage, taking context into account. A more detailed explanation of dCorsi can be found here. All stats above are five-on-five and score-adjusted.
Since 2008, only five 18-year-old defensemen have outperformed their usage. Seth Jones, Dmitry Kulikov and Victor Hedman are the only defesemen to seem to have performed to the level of a top-four defenseman.
Looking at the graphs, the results seem to be a mixed bag. Sure, I'd love to have Drew Doughty, Victor Hedman, Cam Fowler or Seth Jones on the Flyers. But, Luke Schenn? Luca Sbisa? Rasmus Ristolainen? None of those players have lived up to their seemingly endless potential. Overall, there seems to be little correlation between going straight to the NHL and becoming a quality defenseman. More often than not, those players have a rough rookie season.
On the other hand, players like Oliver Ekman-Larsson, Dougie Hamilton, Morgan Rielly, Hampus Lindholm and Jacob Trouba each spent one additional year in juniors (or overseas) before jumping to the NHL. Here are their dCorsi numbers from their rookie seasons: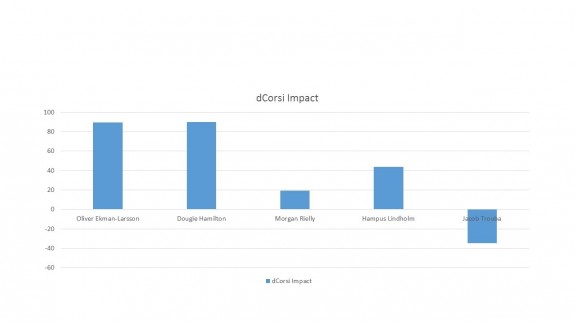 In my opinion, it would be wise to let Provorov spend one more season in juniors and allow someone like Travis Sanheim or Shayne Gostisbehere to seriously challenge for a roster spot in October.
ELC Years Are Precious And Cheap
In general, is a hockey player better when he is 21 or when he is 18? The obvious answer is 21.
A standard entry-level contract lasts for three years and can potentially slide for two years. For example, Scott Laughton is 21-years old and has been in the Flyers organization for three years. However, he still has two years left on his entry-level contract.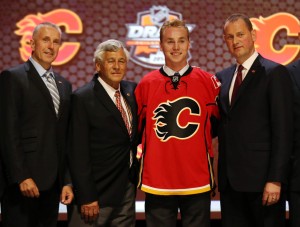 Players make less money on their entry-level contracts, generally speaking, than in the later contracts they sign, including bridge deals. Therefore, the choice the Flyers have would be to start the clock on Provorov's  entry-level deal now, when he is 18, or next year when he is 19 (or even the next year when he is 20). That way, Provorov would still be on his entry-level contract when he is 21, or even 22.
This may not seem like a big deal. But when taking a realistic look at the Flyers and their cap situation, it seems like a no-brainer to let Provorov's contract slide back to juniors.
Let's face it. The Flyers are not Stanley Cup contenders in 2015-16. Although Ron Hextall has made a few brilliant moves so far this summer, the team is still a couple of years away from serious contention. It would be far better for the Flyers to have Provorov on his entry-level contract until the 2018-2019 season, when the Flyers should be serious Stanley Cup contenders.
Ultimately, if Hextall and Hakstol believe that Provorov is one of the six best defensemen at training camp, he will likely be on the team. However, I believe that it may be best to let Provorov spend another year in the WHL while the Flyers continue to build. There are plenty of defensemen, both current NHLers and prospects, who are capable of getting the Flyers through the 2015-16 season. They don't need to throw their 18-year-old phenom to the wolves.