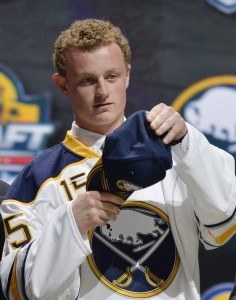 The Buffalo Sabres and Edmonton Oilers will, in theory, be linked together for the next few decades. That's based on how the 2015 NHL Entry Draft unfolded and how the careers of their top picks—Edmonton's Connor McDavid and Buffalo's Jack Eichel—ultimately pan out.
However, as Sidney Crosby of the Pittsburgh Penguins and Alexander Ovechkin of the Washington Capitals prove, there's much more to a team than just the superstar at the helm. Looking at how general managers Tim Murray and Peter Chiarelli have fared so far, whose chances at making the playoffs first are better?
Buffalo Sabres: Questions in Goal?
The working theory is Murray actively shelled out his team in order to give Buffalo the best shot to draft McDavid (but obviously failed). After all, he essentially traded away an entire player position with Ryan Miller and Jhonas Enroth, eventually transforming into Chad Johnson and Anders Lindback.
He has since tried to correct that issue, acquiring Robin Lehner from his uncle's Ottawa Senators. Of course, with the Oilers having to go out and get a former backup of their own in Cam Talbot, it's not like their goaltending was in the best shape. Still, the edge in net must still go to the Oilers, with Talbot having performed more consistently than Lehner.
Despite playing for what has become a farm for great goalies, Lehner's numbers got worse from a career-high .936 save percentage in 12 games in 2013 to a decent .913 in 36 games in 2013-14, and finally to a mediocre .905 in 25 games last year, admittedly having had to deal with a concussion. The only guarantee he has in net now is a lack of competition, all due respect to Johnson, who had a save percentage of .889 with the New York Islanders last year.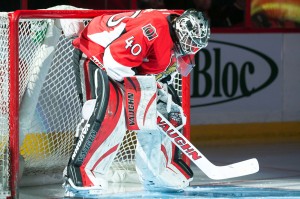 That's downright bad.
One ace up Murray's sleeve is the haul from his trade with the Winnipeg Jets from last year, which killed two birds with one stone by enabling his team to get worse in the short term and acquire an injured Evander Kane to presumably play on one of Buffalo's top lines this coming season. It was a stroke of genius that might very well pay off, assuming Kane, and more importantly, Eichel, are properly insulated up front.
Despite his skill set, Kane never really developed into the guy with the Atlanta Thrashers and Winnipeg Jets. With Eichel presumably set to make the jump to the NHL, Kane may never have to be and that's probably ideal and will allow him to not have to deal with the accompanying pressure to perform.
However, Eichel will only be 19-years old in October. He needs a worthwhile supporting cast around him. Murray opted to buy out a young asset in former No. 1 center Cody Hodgson after a horrible six-goal season. But he still has talent and is only 25. He can also play wing, so if the decision was made in order to make room down the middle for Eichel (and the newly acquired and extended Ryan O'Reilly), it might turn out to have been misguided.
In addition, the Sabres have Matt Moulson, Tyler Ennis, Brian Gionta, David Legwand, Marcus Foligno and all-star Zemgus Girgensons, each of whom has experience playing top-six minutes to various degrees. That's a relatively impressive mix of veteran leadership and youthful exuberance. But does it compare to that of the Oilers?
Edmonton Oilers: All Offense?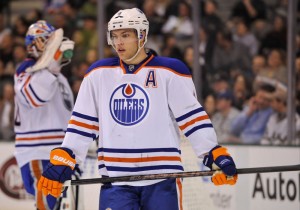 The recent acquisition of former 19-goal-scorer Lauri Korpikoski gives Edmonton a group of maybe less top-six-caliber forwards, but arguably a more complete offense overall. Taylor Hall is one of the best left-wingers in the game, but he didn't even lead the team in scoring last season. That was right-winger Jordan Eberle.
They're complemented by Ryan Nugent-Hopkins, Nail Yakupov, Teddy Purcell, potentially Leon Draisaitl—and of course, McDavid, who is considered to have more upside than Eichel. The edge in offense has to go to Edmonton here.
Admittedly, the Oilers far from lit the league on fire last season with just 2.35 goals per game, but, since Buffalo had a dead-last 1.87 goals per game, they have less ground to have to make up to become competitive. McDavid should only make that transition back to respectability easier.
The question is really in regard to how well-prepared the team's defense is to play a supporting role. Edmonton ended up paying just slightly less for Andrej Sekera ($5.5 million per season) than the Calgary Flames did for future No. 1 defenseman Dougie Hamilton ($5.75 million).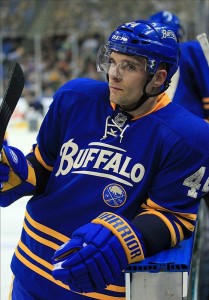 To a point, that's justifiable seeing as Sekera is a veteran and this should have been Hamilton's bridge contract. There's still no denying Edmonton overpaid him, much like they did Andrew Ference, Mark Fayne and Nikita Nikitin before him.
Add in the odd choice to acquire depth-defenseman Eric Gryba from the Ottawa Senators and the unproven Griffin Reinhart from the New York Islanders, and the Oilers have assembled an eclectic collection of underachievers rounded out by youngsters like Oscar Klefbom, potentally Darnell Nurse and stud Justin Schultz, who himself, has yet to translate success at lower levels into dominance in the NHL.
Zach Bogosian and Rasmus Ristolainen headline a Sabres defense that was just slightly less porous in terms of goals allowed (3.28 vs. 3.37 goals against per game), but let in 5.6 more shots per game (35.6 vs. 30.0). If the saying that defense wins championships rings true, both teams are far away from a Stanley Cup.
The question that was asked initially was which team would make the playoffs first, though … And that has almost as much to do about the teams they're competing directly against than each other.
Atlantic vs. Pacific
The West is widely considered to be the tougher of the two conferences. However, whereas Edmonton's Pacific Division boasts both the Western Conference-winning Anaheim Ducks and recent two-time Stanley Cup winners in the Los Angeles Kings, only three of its teams made the playoffs last season. The Atlantic Division sent four.
The Sabres also have more competition relative to the Oilers (eight total teams versus seven), including the Florida Panthers, who may have missed the postseason last season, but are further along with their rebuilding plan. That's one more hurdle they need to jump.
Conversely, Edmonton only has to navigate past the Arizona Coyotes, who are in worse shape than them and the fast-falling-from-grace San Jose Sharks, who are similarly depending on a career backup in Martin Jones for starting goaltending, albeit one who's much more unproven than Talbot.
The Kings, despite missing out on the final playoff spot, are ironically the wild card here. While they are undeniably a team to avoid in the playoffs, they are just a good regular-season one, accumulating no more than 100 points in any one year dating back to and including their 2012 championship campaign.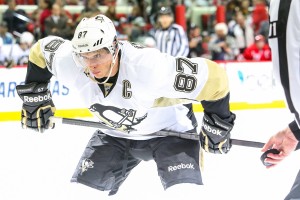 As a result, one has to believe the Oilers, taking into consideration their edges in net, on offense and arguably even on defense, have the easier road to a postseason berth.
That isn't to say either Edmonton or Buffalo will make the playoffs next season, despite the undeniable course-altering additions of Eichel and McDavid. For proof to that effect, one need only look to the last one in Sidney Crosby, whose Pittsburgh Penguins failed to reach the postseason in his rookie season, despite his 100-plus points.
Even if McDavid and Eichel similarly become bona-fide superstars right off the bat, there's still a lot of work to be done by each team.