With all the breakout years the members of the Rangers roster are seeing this year, there may be none more important than the year J.T. Miller is having so far. A subject of offseason trade fodder, Miller came into the season with something to prove. After a solid playoff performance and the chance to play on Team North America in the World Cup of Hockey, it looks like he is well on his way to proving to the league that he is a star in the making.
Miller Hitting Development Stride
Miller had his first jump in production last season. After scoring just 15 goals and tallying 18 assists in his first 114 games, Miller had 22 goals and 21 assists in the 2015-16 season, his first full 82 game season. While a 43 point season is nothing to sneeze at, that production was not the rate that Rangers fans had hoped for out of the 15th overall pick in the 2011 NHL Draft.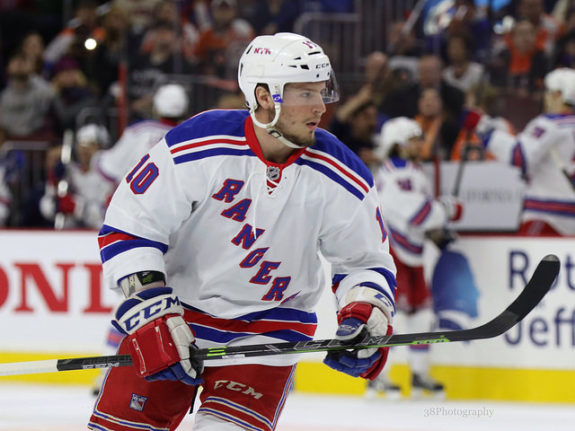 Now, just four years after Miller made his debut at the ripe age of 19, he has 17 points in 18 games playing just over 15 minutes per game in the Rangers balanced system of ice distribution. He currently finds himself tied at 10th overall in the league in points through the first chunk of the season, while leading the Rangers league-best scoring attack. With a contract of $2.75 million per year for this season and the next, scoring at this rate will land Miller on the list near the top of the best contracts in the league.
Breaking Down Miller's Two-Way Game
Miller has been very good in every facet of his game so far this year. While he's producing the majority of his scoring chances when the game is at even strength, his play on the power play has been wonderful as well. Although his ice time has been low so far with the man advantage, Miller has added a goal and an assist to his totals playing as a member of the special teams — totals likely to increase if he sees more time on the Rangers' special teams.
Not only has his production been spectacular so far offensively, Miller is one of the most important forwards when the Rangers are short-handed. With the third most time-on-ice for any forward on the penalty kill, he's one of three players on the Rangers who has been on the ice for as many goals scored as goals allowed while short-handed along with Kevin Klein and Michael Grabner. This means that Miller's active stick is leading to scoring chances even when the Rangers aren't at even strength.
Potentially More Upside?
When a player's putting up a point-per-game, the chances are he's hitting his offensive stride as a player. However, Miller can still improve in other parts of his game. One of the biggest aspects of his game that could use work is his ability to take faceoffs. In the future, the Rangers may need to use Miller up the middle in certain situations and having that skill on top of his scoring ability would be extremely beneficial.
While most young players have many flaws, Miller's proven that he's a very valuable player after an offseason of second-guessing.  With the added scoring help this season, Miller will have a lot less pressure on him to succeed and in turn will likely be able to work more on getting to his top potential and less about having to score a ton every time he's on the ice. As long as Miller keeps progressing as he has been, it might not be long before Miller becomes one of the forward leaders in the league. That is a scary, scary sight for the rest of the league.