The rookie of the year race is full of legitimate contenders again this season. The first year NHL players are becoming more impactful players in today's NHL. This season at least 11 different players have made a significant contribution to their team in their first season.
The top candidates for the Calder Trophy this year include Chicago's Artemi Panarin, Arizona's Max Domi, Edmonton's Connor McDavid, Detroit's Dylan Larkin, Philadelphia's Shayne Gostisbehere and Buffalo's Jack Eichel. All of the mentioned players have legitimate arguments to take home the award. Sabres center and 2015 2nd overall pick Jack Eichel has one of the best cases to win the Calder.
The Field
To properly make the case for Eichel, you have to first explain why some other favorites in the field shouldn't take the award. Panarin may be considered the favorite right now if you look at the stats, but some may argue he's not legitimately a rookie. Yes, by NHL standards he is, but the Blackhawks winger played six full seasons of professional hockey in Russia before coming to North America. Also, Panarin is playing with the favorite for league MVP in Patrick Kane.  Kane has certainly helped to boost the point total for the 24-year-old Russian. Other players in consideration for the award have accomplished similar numbers while playing with less talent.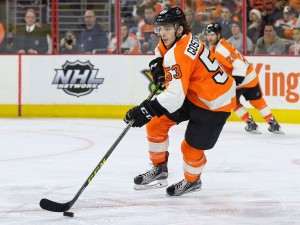 For me, Oiler's forward McDavid and Flyers defender Gostisbehere fall into a similar category. McDavid will end up missing 37 games due to his collarbone injury if he plays in Edmonton's final two games. Gostisbehere would miss 18 games on the season if he plays in the final four games of the season for the Flyers. As you can see neither player played a full season like Eichel, Larkin and Domi. Playing in fewer games may have prevented these two from hitting the famous "rookie wall". In regards to McDavid specifically, he was able to come back after the half way point of the season with fresh legs. It can be argued that other players in the race have proven they can consistently produce through a full season.
Eichel's Case
Now to Eichel's case for the award. The 19-year-old has been a special player for the Sabres this season. He's lived up the expectations that came with being a 2nd overall pick. Eichel has produced perhaps above expectations. He's scored 23 goals and put up 52 total points through 79 games, putting him on pace to finish the season with 24 goals and 54 points. His .67 points per game is fourth among all rookies. He's second in both goals and points behind Panarin. Eichel leads all rookies with over 19 minutes on ice per game. The top power play unit runs through him in which he's produced 19 points with the man advantage, which is third among rookies. Eichel has also been a clutch player for the Sabres scoring 14 goals when the game is either tied or his team is trailing by one goal. This ranks him tied for second among all rookies.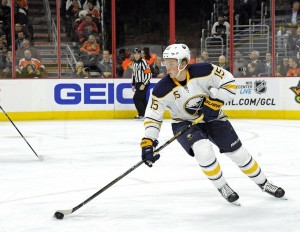 The most impressive part of his production is how he's been able to maintain it over a full season. Eichel came right out of college hockey where he played in just over 40 games and one or two games a week. He appears to have got stronger as the season has gone on. Eichel spoke earlier in the season about struggling with the amount of games played a week at the NHL level. He's quickly found a way to cope with the rigorous schedule and hasn't shown signs of fatigue since the Christmas break.
The Boston native seems to make a highlight reel play on a nightly basis. At such a young age he stands out as the best player on the ice some nights. He may also be the most irreplaceable player to his team among all rookies. The Sabres played one game without Eichel and looked to have no offensive punch in a 4-1 loss to Toronto.
https://youtu.be/b8Yakeo3Qhc
Eichel is at the top of nearly all rookie statistics and has shown numerous flashes of the player he's going to become in the future. He's played a complete season and maintained his production throughout. Eichel should be one of the final three candidates up for the award and be considered a favorite in the race.
When all is said and done I believe that the final three players up for the Calder will be McDavid, Eichel and Panarin. My gut tells me that Panarin will end up winning the rookie of the year with the big point total. It'll be hard for voters to ignore the success he's had in his first NHL season regardless of his age.
Chad DeDominicis was born and raised in Buffalo, NY. Chad is currently a Buffalo Sabres contributor for The Hockey Writers. He is an avid sports fan and is passionate about the game of hockey. Chad works hard to share creative and quality content with his readers.