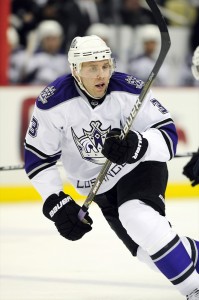 Jack Johnson likely has yet to match the number of hockey games he has played against Sidney Crosby with the number of games he has played alongside the superstar player. The two were teammates at Shattuck-Saint Mary's Boarding School in Minnesota, where they developed a very close and long-lasting friendship as they went on to win the US National Championship in the 2002-03 season. In the NHL, both players have rarely seen each other on the ice due to the fact that they were separated by different Conferences until this season.
Johnson's athleticism and ability to make plays from the back end earned him consideration as the best defensive prospect in the 2005 NHL Entry Draft, where he was selected third overall by the Carolina Hurricanes, two picks behind Sidney Crosby. Johnson went on to play two seasons at the University of Michigan after he was drafted, while Crosby made the jump to the NHL immediately.
The Hurricanes, desperately needing a defenseman and unable to sign him to an entry level contract, traded his rights to the Los Angeles Kings after his freshman season in Michigan. He would finally make his NHL debut in the 2006-07 season with the Kings, who he would play with for the better part of six seasons before being dealt to the Columbus Blue Jackets in exchange for Jeff Carter. The Kings would go on to win the Stanley Cup that season with Carter, while Johnson embraced the opportunity to join a team who was in the midst of a rebuild.
Jack Johnson received criticism early in his career
Even though Johnson was a highly-rated prospect, his ability to transition to the NHL received many critical responses. Scouts were cautiously optimistic on Johnson in 2005 noting that he was more interested in taking the body rather than playing the puck. A characteristic that can still be witnessed at times. This is illustrated best by looking at his on-ice Corsi percentage, (a metric used to rate puck possession as the sum of shots + missed shots + blocked shots for and against) which has been below the 50% mark his entire career.
Johnson has also been noted to make players around him look as though they are performing worse, as he drags his teammates' Corsi percentages down as well.
Johnson would be recognized as the best offensive defenseman in his sophomore season at the University of Michigan, however a freewheeling offensively-minded defenseman is usually seen as a liability in the NHL. He has also had to break the habit of being the enforcer on the ice. In his freshman season in Michigan, Johnson amassed an astounding 149 PIM in only 38 games played. It's likely that he picked up these habits standing up for his friend Crosby when they played together.
While the Kings never came out and said that they were disappointed in Johnson's play, it was definitely considered a steal by many to receive Carter in exchange.
A fresh start in Columbus
Unlike Carter, who did everything he could do to get out of Columbus as soon as he arrived, Johnson embraced the idea of being apart of a rebuild in Columbus. Scott Howson, general manager of the Blue Jackets at the time, was quoted as saying that Johnson was "over the top excited" to come to Columbus. This statement alone made Johnson an immediate fan favorite.
Carter's dismal attitude seemed to rub off on Rick Nash who also requested a trade that season, but wouldn't receive one until the following summer. The New York Rangers would give up another strong locker room presence to the Jackets, Brandon Dubinsky.
Columbus has yet to name a captain since Rick Nash left, however both Dubinsky and Johnson established themselves as the leaders on the team early, earning the "A" on their sweaters almost immediately. Their presence has not only had a positive impact on the atmosphere in the locker room, they also changed the team's work ethic. Both players can be found in the gym or on the ice, giving it everything they have to improve as hockey players, and that work ethic has an impact on the rest of the team, especially a team as young as the Blue Jackets.
Johnson's improvements and the playoffs
Johnson, as noted above, has never really had a season that stood out as anything spectacular. One recent source of blame could be the Jackets' poor play as a whole. Last season the team finished with a 45.1% Corsi, and Johnson finished exactly the same. This season the team was off to another bad start, bottoming out at 45% again in late November, before making an impressive rebound starting in December to finish above 50%.
Once again, Johnson was no stranger to criticism. His Corsi percentage on the season was 48%, about 3 percentage points lower than the rest of his team. However, when you factor in zone starts, which are primarily in the defensive zone, and his quality of competition, which is the toughest for defenseman on the team, you get an idea of why Johnson's numbers are still low.

Along with his teammates, Johnson's ability to avoid being hemmed in his zone for too long has improved throughout the season. He's still not an ideal shutdown defender, but he's been pretty good in the playoffs against Sidney Crosby. Players like Sid and Chris Kunitz have yet to score any goals in the series against the Blue Jackets, and part of that can certainly be credited to Dubinsky, but it's Johnson who saw the most ice time against Crosby in a game four win. The win that tied the series and left the Jackets with a chance to win it outright.
While Sid remains scoreless in the playoffs, Johnson leads all defensemen in goals scored (3) and is tied for second in points (5).
Johnson has been instrumental in allowing the Jackets a chance to tie this series. He's been averaging over 29 minutes of ice time per game against one of the most explosive offenses in the league. It's a difficult task for any player to handle, but Johnson has done well to keep the Pittsburgh Penguins star players off the scoreboard.
It can take several season for a young defenseman to develop into an elite shutdown player. Perhaps the experience in the playoffs will finally help Johnson realize what is truly needed of him for his team to succeed. His Corsi, yet again, is less than favorable but this is a crazy series where the winner of each game has battled back from a two or more goal deficit. The score effects can help skew the numbers, especially since the sample sizes have been diminished quickly.
Right now, no matter what the numbers say, Columbus fans are happy to have Jack Johnson on their team. As well, Johnson finally has his opportunity to prove himself to all of his doubters.