A few days ago, 22-year old defenseman Jacob Trouba and his agent went public with their trade demand. The youngster wants out of Winnipeg, citing his role as the main reason for the request.
Kurt Overhardt, Trouba's agent, released a statement in which he pointed out the fact that Winnipeg has two talented right-handed defensemen ahead of Trouba. "The club has two outstanding right shot veteran defensemen and our client simply wants the opportunity to have a greater role", said Overhardt, referring to Dustin Byfuglien and Tyler Myers. 
Well, Pittsburgh can offer him that role and according to TSN insider Darren Dreger, they're interested.
https://twitter.com/NicholsOnHockey/status/780855010330415104
When you look at the Penguins' blue line situation, it makes total sense that they'd at least inquire about acquiring Trouba's services. Pittsburgh has longed for an effective right-handed defenseman and while they've added Justin Schultz to the mix, Trouba is a legit top-four blueliner right now and at age 22, he'd be a crucial piece of that group for a long time.
Of course, there are two big questions when discussing whether or not this is realistic for general manager Jim Rutherford and the Penguins. First, do they have the assets that Winnipeg is seeking and two, can they afford to sign him? If his assumed asking price is correct, which is in the ballpark of $7 million per year, the Penguins will certainly struggle to make that work. 
Pittsburgh Has the Necessary Assets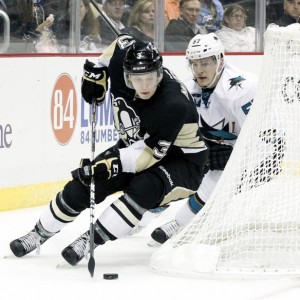 According to reports, Winnipeg is asking for a left-handed defenseman who is similar in age and skill level to that of Trouba. Olli Maatta could be that guy but as I had touched on prior to Dreger pinning the Penguins as an interested party, his injury issues may scare Jets' GM Kevin Cheveldayoff away. 
So, who else is there?
Derrick Pouliot is an intriguing name in this scenario but he wouldn't fetch a player like Trouba on his own. The Penguins have been impressed with his offseason training and his conditioning upon his arrival at training camp, which has been the biggest knock on him throughout his short career. With arrows pointing up for Pouliot, a package deal just might get the job done. Pittsburgh will need to unload some salary so this wouldn't be an easy deal to accomplish, but certainly worth a look.
Whether or not you agree with those names, one thing is certain: Rutherford does have a few assets he could use to bring Trouba to Pittsburgh. It will be costly – and coming to terms on a multi-year deal that suits his salary requirements on a team with Sidney Crosby, Evgeni Malkin, Kris Letang and Phil Kessel will be extremely challenging – but it technically could be done.
Is he worth that sort of commitment?
Best Case Scenario
Would Trouba look great in a Penguins uniform? Sure. However, best case scenario is Maatta returning to form. His six-year deal worth $4.083 million annually is solid value for a player with that sort of potential. We're also seeing a trend in camp, which may lead everyone to believe the Penguins plan on keeping him with Letang…
Kris Letang and Olli Maatta working out on the ice by themselves well after practice has concluded: pic.twitter.com/XCTFST3GgX

— Seth Rorabaugh (@SethRorabaugh) September 28, 2016
Maatta is Pittsburgh's answer in the top-four and provides the perfect skill set to play alongside their offensively minded individuals like Letang and Trevor Daley. He's smart, poised beyond his years and until recently, mobile enough to keep up with Pittsburgh's speed approach. If he can overcome whatever it is that's ailing him – which is impacting his skating ability – the Penguins have no reason for concern.
Trouba will almost certainly dawn a new jersey in the very near future but if I had to guess, it won't have a Penguins logo on the front. Boston and Detroit are two likely suitors, but every team in the league will at least inquire, hence Dreger's comment about Pittsburgh. Their inclusion in that conversation isn't an indication of an imminent deal by any means. If Maatta continues to struggle, the conversation may shift to finding a taker at some point. That isn't the case… yet.