Training camp has started across the National Hockey League. Which means that it's time for one of the best parts of the hockey season: bold predictions. Here are four bold (bordering on ridiculous) predictions for the Winnipeg Jets' upcoming season:
4. The Jets Will Finish Second in the Division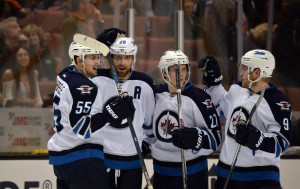 Predicting the Jets to make the playoffs, while not the popular choice, isn't all that ridiculous. But powered by an influx of talent, the further maturation of Mark Scheifele, Jacob Trouba and Connor Hellebuyck, and leadership from Blake Wheeler and Dustin Byfuglien, the Winnipeg Jets will surprise everyone in the league by dominating divisional play and earning a spot in the playoffs, along with home ice advantage in the first round.
Your record against your divisional opponents has a huge impact on where you finish in the standings. Last year, the Jets only managed 11 wins in 29 tries. But flash back just one year, and you'll see that the Jets actually dominated their division, going 16-8-5 on their way to a wild card spot. If Winnipeg can tighten up their game against their divisional rivals, and stay .500 everywhere else, they could easily finish near the top of their division.
Insane Prediction: They Finish First in the League and Make It to the Conference Final
For all the same reasons they could be second in the division, they could also win the entire league and run over a few teams in the playoffs. I mean, realistically, if they had a .750 winning percentage against each division, they would be doing pretty well.
3. Ondrej Pavelec Will Put up Career Numbers…and Be Traded
Ondrej Pavelec has long been a talking point in Winnipeg. His career numbers are not promising, yet he continues to be the starting goalie for the Jets. Pavelec has a habit of making outstanding, sometimes ridiculous, saves. He also occasionally lets in very bad goals that the other 29 goalies in the league would have stopped.
But this year, he is not just fighting for a spot but also a contract. Pavelec is in the last year of his contract and will need a good year with prospects Connor Hellebuyck and Eric Comrie on their way up. Considering the prospect cupboard built by Kevin Cheveldayoff since 2011, Pavelec is not likely a part of their plans. And Pavelec does not have a no-movement clause, so he is expendable to the Jets.
In a time-share with Hellebuyck, Pavelec puts up a 2.31GAA and .928SV%, and gets flipped for a pick and prospect at the trade deadline.
Insane Prediction: Pavelec Is Traded to a Contender, Takes the Starting Job Through Injury, and Leads Them to a Stanley Cup
It would be a great story for Pavelec, and would begin a long string of questions asking if "Pavelec is a bad goalie or a good goalie behind a bad team?"
2. Blake Wheeler Will Hit Point-Per-Game Production and Finish the Season with 90 Points
Blake Wheeler has been solid every year since arriving in Winnipeg, but last year he took it to another level. Wheeler played all 82 games and finished with 26 goals and 52 assists. He formed a potent pairing with Scheifele near the end of the year and added more firepower when Nikolaj Ehlers joined. But he isn't done.
Blake Wheeler was named the captain of the Winnipeg Jets during the off-season. He's excited about it and ready to begin another season.
Jets name Blake Wheeler captain. MORE: https://t.co/cMEkFpeC1L pic.twitter.com/XOcajnTax5

— TSN (@TSN_Sports) August 31, 2016
Wheeler will start the year off with Scheifele, with whom he had instant chemistry. Ehlers will likely occupy the other spot to start the year. That gives Wheeler a lot of skill to work with on offence. The general consensus, however, is that spot will belong to newcomer Patrik Laine shortly. Having a shoot-first player on the wing would be great for Wheeler, and will boost his assist total.
Insane Prediction: Blake Wheeler Wins the Art Ross Trophy
Wheeler connects instantly with Scheifele and Laine, and that line drives the offence every single game. Wheeler finishes with more than 100 points and ends up leading the league.
1. Patrik Laine Hits 35 Goals in His Rookie Season
The Winnipeg Jets were the real winners of the 2016 Draft Lottery, jumping up to the second spot and taking Patrik Laine. If you were looking for an interesting story to follow this year, it will be that of Laine and his rookie year in the NHL.
While Auston Matthews went number one, Laine made it known that he believes he deserved that honor. He isn't shy about his skill and that's a good thing; mainly because he backs it up with his play. Laine has played against men in Finland and can't wait to take his Ovechkin/Stamkos-like game to Winnipeg.
With either sheltered minutes on a line with Bryan Little or playing hard minutes with skill players like Scheifele and Wheeler, Laine will be given every opportunity to score, as most of his teammates play 'pass first'. Laine does not, nor should he ever try to play that way. The Jets have needed a pure goal scorer since they got rid of Evander Kane (who had the potential). Laine will finish the season north of 50 points, but the bulk of those will be goals, likely coming from the top of the circle on a one-timer.
Insane Prediction: Laine Scores 77 Goals and Breaks Selanne's Rookie Goal Record.
Maybe the stars are all aligning. A first round draft pick. Finnish-born. Known for goal scoring. Already played at a high level in world championship tournaments. A name that appears normal, but is oddly difficult to pronounce for certain broadcasters. The two best centers on the team include a 23-year-old and a veteran player under six feet who has only ever played for one franchise.
It's going to happen, just wait!
Judson Rempel was born and raised in the Great White North, skating on ponds and watching hockey every Saturday night in small town Manitoba. When he's not watching hockey, he's playing hockey with his son and daughter, and trying to convince his wife to let him watch more hockey.