In more ways than one, Chicago's defensive unit is moving in the opposite direction of its forward group. While salary cap issues pushed out several talented players up front this offseason, Stan Bowman saved enough room to add Brian Campbell and Michal Kempny to shore up the blueline. And while the previously previewed forward unit is now counting on its young players to replace lost veterans, the defense added experience to a core that was already comprised of several older players.
Because of the offseason moves, one could easily sort Chicago's defensemen into three distinct categories: the core, the newcomers, and the future. Each class brings with it a unique set of questions and abilities that guarantee to make the 2016-17 season an interesting one for Joel Quenneville and his assistants.
The Core
These names are the ones that any casual hockey fan would know almost immediately thanks to the success and experience of each player within this category. Duncan Keith, Brent Seabrook, and Niklas Hjalmarsson are the reasons why Chicago has had such an impressive blueline for so long, and they have earned the right to be considered amongst the Blackhawks' core players.
Keith is one of the game's best — even at the age of 33 — and he will be counted on to play huge minutes with intimidating defensive assignments all season. The Canadian veteran may not be healthy for the start of the season after an offseason knee injury, but the early playoff exit and additional rest he is receiving right now might be better for him over the course of the year. Already a two-time Norris Trophy winner, Keith will try to add to his Hall of Fame résumé once again in 2016-17.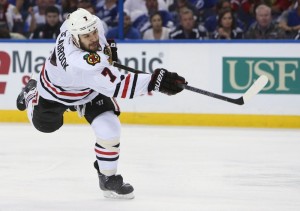 Keith's longtime defense partner, Seabrook, has not aged as well, however. Despite finishing last season with career highs in goals and points, Seabrook's defensive game has been lacking over the past few years. Still an imposing physical force, Seabrook has not been able to control play the way he used to, and a regression in his production is likely to occur in the near future. The addition of Campbell and the possibility of playing with him should help break the slump, but expecting close to 50 points again from Seabrook is unrealistic.
Meanwhile, Niklas Hjalmarsson has quietly continued to be one of the best shutdown defensemen in the NHL. While he never really puts up huge point totals, he also rarely makes mistakes with the puck, and his intelligent play has earned him the trust of Quenneville and his teammates over his nine seasons with the Blackhawks. Expect him to continue his exceptional defense this upcoming season.
The Newcomers
Given the incredible core already in place on Chicago's blueline, it was somewhat surprising that the unit struggled so mightily last season. Part of the problem was the poor play of Trevor Daley before his trade to Pittsburgh, and the subsequent inability to replace his minutes effectively, with mediocre play from Rob Scuderi and Christian Ehrhoff. Those struggles hopefully make it clear why the additions of Campbell and Kempny were such a huge deal this summer.
Campbell is now in his second stint with the Hawks after taking a huge discount in free agency to return to the team with which he won a Cup in 2010. The veteran was vital to the development of Aaron Ekblad in Florida and even his age isn't likely to keep him from being one of the NHL's best once again.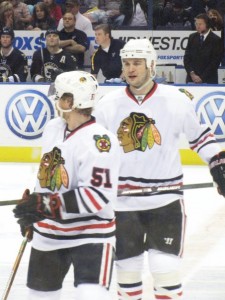 He appears destined to play on the team's second defense pairing with Seabrook, which should both help Seabrook elevate his game and allow Campbell to re-acclimate to Quenneville's system. Knowing that Joel likes to lean on his top four defensemen, Campbell should expect to see over 20 minutes of ice time per game and could even come close to 35 points again behind an exciting Blackhawks offense.
Kempny is more of a question mark than his fellow newcomer in Campbell, but early reports indicate that he could have been a huge steal coming over from the KHL. Described as a smooth skater with good passing skills and defensive awareness, his balanced style of play could be a hit in Quenneville's system where players' responsible play is prioritized.
While the Czech defender may not start the season receiving top four minutes, I don't think it would be impossible for him to overtake either Seabrook or Campbell on the depth chart by the end of the season.
The Future
The one obvious problem with the Blackhawks' set of defensemen is that they all seem to be on the wrong end of the age spectrum. Keith and Campbell have managed to maintain high levels of play despite aging, but that can only last so long. The youngest among the rest of the top six is Trevor van Riemsdyk who, at 25, isn't likely to get any better than he is right now.
Thankfully, the Hawks have developed a small group of very promising young defensemen that will challenge for major roles with the NHL squad in the near future.
@coreypronman's top 12 Hawks prospects:

DeBrincat
Forsling
Pokka
Schmaltz
Motte
Hinostroza
Hartman
Kayumov
Carlsson
Krys
McNeill
Nalimov

— Second City Hockey (@2ndCityHockey) September 1, 2016
Included in that group are Gustav Forsling and Ville Pokka: two undersized puck-moving defensemen who found their way to the organization through trades for veteran players. After a few years of developing overseas and in the minors, Pokka especially could be ready for a much larger role in the organization this fall.
Similar to Keith in terms of stature and hockey intelligence, the key for Pokka will be earning the trust of Quenneville as a young player. He was a star on AHL Rockford last season, and if he can carry that momentum with him to camp then he could be in line for a very solid NHL debut.
Forsling, who came to Chicago in exchange for Adam Clendening, can also be compared to Keith, though perhaps with more offensive flair than Pokka has exhibited. Weighing less than 200 pounds while standing just 5'11", according to the Blackhawks' website, the exciting Swede will probably need to add some size before becoming a regular at the NHL level. But the team has to be excited about his rapid development over the past two years.
The signing of Kempny and return of TVR will make it extremely difficult for either player to earn a roster spot at the start of the season, but the inevitability of injuries and the possibility of trades makes me think that Pokka will receive an extended NHL look by the end of the season.
These players add depth and security for a core that will be one of the NHL's strongest in 2016-17. If the Blackhawks are to return to the Stanley Cup in 2017, this is the defensive group that will allow them to do so.
David is entering his final year as a sport management and operations and information management double major at UMass Amherst. Originally from the West Suburbs of Chicago, David has enjoyed watching the Blackhawks for as long as he can remember. When not watching or writing about hockey, he can be found working on the McCormack Future Leaders Conference on the UMass campus.