The Chicago Blackhawks don't get to start their season until Oct. 12 against the St. Louis Blues, but speculation about the team's opening day roster is already running rampant. With this in mind, this article will be the first in a series of three that provides an outline of the current Blackhawks roster and the players most likely to be included when the Hawks' return to the United Center.
Forward is the most intriguing position group to look at entering camp and I will start there. While about half of the 12 starting positions will be filled with Chicago staples both new and old, the rest of the lineup offers no guarantees.
Center
Perhaps the most important position on any team is the one responsible for controlling the middle of the ice. Jonathan Toews has been the main man responsible for maintaining the quality of this position group for the Blackhawks since he arrived on the scene during the 2007-08 season. Thankfully, he will be back to anchor this slot again in 2016-17, though the rest of the group around him has undergone some dramatic changes in the recent months and years.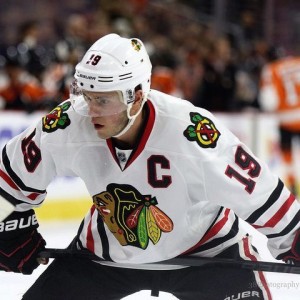 While the second line center position had been one of weakness for years under Joel Quenneville, Artem Anisimov seems to have solved Chicago's problems there for the foreseeable future. The consistent and intelligent Russian had instant chemistry with Patrick Kane and Artemi Panarin last season while scoring 20 goals in a year for just the second time. He will provide some much-needed stability and strong two-way play behind Toews once again.
After Anisimov, however, things get interesting. Marcus Kruger seems positioned to take a spot in the middle of the third line after Teuvo Teravainen was traded to clear cap space this offseason. Teravainen was once considered the future for the Blackhawks and seemed to earn a larger role after playing very well last season. His departure leaves question marks, although Kruger's role creates even more.
While Kruger would be considered one of the best fourth line centers in the NHL due to his defense and responsible play, he has never been able to score enough to justify a higher place in the lineup. Additionally, his new contract with a cap hit of just over $3 million may make him a trade candidate for the constantly cap-crunched Blackhawks. His role with the team is something to keep an eye on as camp approaches.
The final center slot is expected to be filled by either Tanner Kero or Dennis Rasmussen. Kero played well in a primarily defensive role during his call-up last season, while Rasmussen was able to provide a spark with his streaky goal scoring in his first year with the Blackhawks. There is a chance that both make the roster initially before Quenneville makes a decision on who stays and who returns to Rockford. Either way, the relative inexperience of both these players means that the Hawks won't have the security of a top fourth line as they have in years past.
Left Wing
Easily the weakest position group on Chicago's roster right now is their assembly of left wings. Richard Panik is probably the most talented player behind Artemi Panarin right now, and he scored all of six goals last season. Those two are the only ones in this position group that are guaranteed roster spots, though veteran depth player Andrew Desjardins is expected to lock down a role as well.
Other than that, several young players are expected to compete for a spot on the left side of the Hawks' lineup. Tyler Motte and Nick Schmaltz (both listed as centers on the team's website) are two players to keep an eye on, but veteran help could still be on the way to shore up this position.
Blackhawks to play the Blues later on. Hawks will have Nick Schmaltz centering LW Tyler Motte and RW Alex DeBrincat

— Mike Morreale (@mikemorrealeNHL) September 16, 2016
This group is also likely to be dogged by uncertainty as to where Panarin will begin the season. While it appears likely that he will return to play next to Anisimov on the second line, Quenneville could also opt to play him with Toews to load up a line with his best center.
If Panarin doesn't start the season next to Toews, then the spot will likely go to the winner of a three-way position battle between Panik, Motte, and Schmaltz. The two rookies in Motte and Schmaltz have earned strong reviews from management thus far and could surprise with breakout seasons if given the opportunity.
Right Wing
It is often more valuable to look beyond the contributions of just one star player when examining a position group as a whole (just look at what little the Hawks have behind Panarin). And while I will stick to that rule here, Patrick Kane definitely made it difficult for me to do so.
The NHL's reigning MVP and scoring leader dominated opponents to the tune of 46 goals and 106 points in his ninth season with the Blackhawks. In addition to playing better than almost every other player in the league, he also played more than almost anyone else, averaging the second most ice time of any winger in the league (finishing just behind Evander Kane of Buffalo).
He is capable of holding an entire position group together on his own, but he doesn't have to in Chicago, thanks to a solid supporting cast.
Marian Hossa is no longer the star that he once was, but he should return to scoring 20 goals if he stays healthy. Health will be the question once again for the veteran winger, but expect him to contribute defensively and on the power play when in the lineup.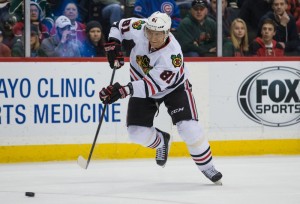 Meanwhile, general manager Stan Bowman has done a good job of assembling a cast of eager and talented young players to support the two established leaders of this position group. Specifically, Vincent Hinostroza, Ryan Hartman and Mark McNeill will all be given the opportunity to contribute to the team this season. Hinostroza has drawn especially strong reviews as of late, meaning I wouldn't be surprised to see him get a crack at a top-six role.
Hartman could quickly replace the sandpaper the Hawks lost with the trade of Andrew Shaw, while McNeill's size and ability to play center and wing could help him stick around. A quick initial estimate says that two of these three players are likely to make the team out of camp.
Behind them, Jordin Tootoo was signed in the offseason to add toughness to a mostly skill-based lineup. Kyle Baun actually started last season playing next to Toews and Hossa, but his play quickly dropped off en route to scoring just one goal in 43 games with AHL Rockford. The only way both of those players make the roster would be if the veterans run into injury problems.
Position Overview
Forward used to be one of the strengths of Chicago's lineup thanks to a deep and talented group of players. However, the recent departures of key players like Patrick Sharp, Brandon Saad, Andrew Shaw and Teuvo Teravainen has left the team with few established options behind the core of Toews, Kane and Hossa. Some of the young players will step up this season, but it is abundantly clear that the high-flying Hawks of 2010 and 2013 are no more.