At 19-years old, Olli Maatta joined the Pittsburgh Penguins and left them absolutely no choice but to keep him at the NHL level. He played 78 games his rookie season, tallying 29 total points and displaying the type of defensive awareness and poise you'd expect to see from a ten-year veteran. He was brilliant.
Then came the health issues.
Maatta suffered multiple upper body injuries already in his short tenure. He also had a run-in with the mumps and more surprisingly, had a cancerous thyroid tumor removed in 2014. At this point in his career, he has dealt with more health issues than a lot of veterans and he's only 22 years-old. Throughout all of this, Maatta has rolled with the punches and remained as upbeat and positive as possible but now – as he finishes up the World Cup of Hockey and enters training camp healthy – it's time to put it all behind him and get to work.
His performance in the World Cup was far less than stellar, to say the least. His skating looks labored, he looks slow and seems as if he's struggling with quick turns and pivoting. That consensus seems to be widespread among most folks who had paid attention. That's ok for now, though.
He missed a portion of the playoffs a few months ago after a hit to the head from Washington Capitals' defenseman and former Penguin Brookes Orpik and never really returned to form. The World Cup actually provided a good primer for training camp after missing so much hockey last season. It gave him an opportunity for game action right out of the gate and a chance to get his legs under him before joining his team in Cranberry, Pa.
Now that he has joined his team, however, it's imperative that he start hitting on all cylinders.
With Great Salary Comes Great Responsibility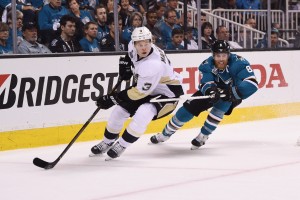 Jim Rutherford showed his trust in Maatta's development last season and rewarded him with a six-year deal worth $4.083 million annually. That's top-four salary, and they need top-four performance from him.
Pittsburgh spends to the cap every year, which leaves little room for error. They'll need to sign Brian Dumoulin, Justin Schultz and Derrick Pouliot at season's end – barring a trade – as all three are restricted free agents. Trevor Daley will be unrestricted – and likely unaffordable – so a replacement is needed for him too.
Concerned about six years for Maatta yet?
Roman Josi, Niklas Hjalmarsson, Jake Muzzin, and Cam Fowler are a few other names that fall into the same salary range as Maatta. Is he on their level? Yes. However, he hasn't shown it recently and that could spell bad news for Pittsburgh. They'll be hard pressed from a salary standpoint to add another blue-liner of that caliber, which is why this storyline – Maatta returning to form – is arguably the most important item to watch as Pittsburgh makes their way through training camp.
What Happens Next?
Maybe a better question is, what do the Penguins do if Maatta can't get it together?
Some have suggested the possibility of trading him, with Jacob Trouba's name in the mix. Trouba has asked out of Winnipeg and the Jets are reportedly seeking a left-handed defenseman of similar value. Maatta fits the bill if he can stay healthy but I imagine Jets' general manager Kevin Cheveldayoff would have concerns over his health issues. How could he not? Below is a comparison of the two, courtesy of ownthepuck.blogspot.com.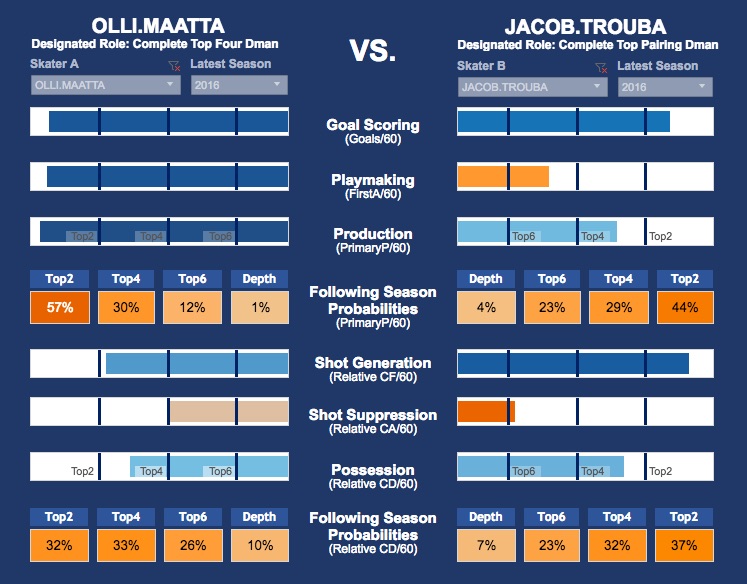 The other challenge in a deal like that would be Trouba's salary, as he's reportedly asking for $7 million per year. He won't get that, but he may get close and anything above $5 million could prove troublesome for the Penguins. He's also going to want term – likely similar to Maatta's six years – so it's hard to imagine a deal like this coming to fruition.
Short term, Pittsburgh has answers. Pouliot arrived at camp in much better shape than last season and looks as if he's ready to finally make a push for more NHL duty. Schultz could very well make a push for more minutes and of course, Dumoulin is worthy of top-pairing considerations. Injuries will occur, though. For Pittsburgh's sake, as well as Maatta, we can only hope that he finds his game again.