The National Hockey League reportedly has its doubts about player participation at the 2018 Winter Olympics in Pyeongchang, South Korea.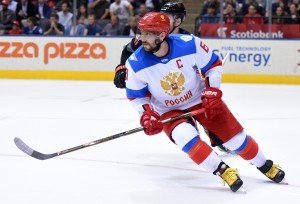 With the 2016 World Cup of Hockey set to begin Game 1 of the finals on Tuesday, NHL Deputy Commissioner Bill Daly spoke about the future of player participation at the Olympics— a topic receiving lots of attention as the 2016-17 NHL regular season is set to begin.
"I think time is very short to make a decision, and I'm not sure there's been a lot of progress made in the past six months, and I'm not sure there's any prospect for progress to be made," Daly said, according to Yahoo Sports' Greg Wyshynski. "So on the basis of that, I'd say that I'm more negative today than I was two weeks ago."
Concerns about NHL player participation at the Winter Olympics from the league's standpoint include who will cover travel costs, player insurance and how players and their guests will be accommodated. The NHL received an update from the International Ice Hockey Federation during the World Cup which reportedly left much to discuss in terms of the International Olympic Committee's financial backing.
Player participation has been something talked about since the 2014 Winter Olympics, but has become an increasingly more discussed topic in recent weeks as the games grow closer. Earlier this month, Washington Capitals forward Alexander Ovechkin made headlines when he said he would be playing in the Olympics whether or not the NHL agreed to send its players.
When Daly was asked about the possibility of players leaving their respective NHL clubs to participate in the Olympics, he provided the following response:
"I don't have a league reaction to that. If that became a prevailing view of a group of players, or a significant group of players, I might have a different view. But at this point it's a single superstar player who will have a contract with one of clubs, and the club will handle that within its own discretion, Daly said, according to Wyshynski.
Team Europe's Vanek Calls Beating Canada Twice 'Impossible': Report
Team Europe's Thomas Vanek has his doubts about beating Team Canada in the best-of-three finals at the 2016 World Cup according to TSN's Mark Masters on Tuesday.
When asked about tonight's game against Team Europe, Vanek reportedly did not hold back on his thoughts about Team Canada.
"We know this (Canada) is the best team in the world," Vanek said according to Masters. "To beat them once is going to be tough, to beat them twice is gonna … it's impossible. So, our mindset is: it's best of three, but we can't look at all three games. We look at tonight."
Canada is the only unbeaten team in the tournament and defeated Team Europe 4-1 earlier in the World Cup.
The Great One's Note to Team Europe
As Team Europe prepares to take on Team Canada in Game 1 of the finals at the World Cup, the team received a special note from Wayne Gretzky on Tuesday.
The Great One's signed note to Team Europe wished them luck and reminded them to have fun. Team Europe defeated Sweden to advance to the final, while Canada defeated Russia.
The finals begin at 8 pm ET and can be seen on ESPN in the United States and on the CBC in Canada.
When The Great One leaves you a pre-game note. #WCH2016 pic.twitter.com/UGLMYchKnk

— Team Europe (@TeamEUR_WCH) September 27, 2016
Penguins Bring Stanley Cup to 9/11 First Responders
While it is customary for each member of a Stanley Cup-winning team to spend a day or two with the prized trophy, the Pittsburgh Penguins made a classy gesture towards important members of public service in Shanksville, Pennsylvania.
Members of the organization brought the Cup to first responders in nearby Shanksville, the city where United Airlines Flight 93 crashed on 9/11 after passengers courageously battled hijackers in an attempt to take over control of the plane.
The @penguins staff brought the #stanleycup to 1st responders for flight 93 from 9/11 outside of Pittsburgh. @NHL@HockeyHallFame pic.twitter.com/mTKqspE9jy

— Philip Pritchard (@keeperofthecup) September 27, 2016
New York Rangers Cut Training Camp Roster to 50 Players
The New York Rangers reduced the team's training camp roster by 13 players, general manager Jeff Gorton announced on Tuesday.
Adam Chapie, Troy Donnay, Michael Joly and Ahti Oksanen were assigned to the American Hockey League's Hartford Wolf Pack, where they will begin training camp with the club. Tim Gettinger, Ty Ronning and Sergey Zborovskiy were each returned to their junior hockey teams.
Matt Carey, Spiro Goulakos and Garrett Noonan were released from their professional tryouts (PTOs) and Nick Betz, Reid Duke and Joseph Raaymakers were each released from their amateur tryouts.
Carey, Duke, Goulakos and Noonan will also report to the Wolf Pack's training camp. The cuts bring the Rangers' training camp roster to 50 players.
#NYR have the following 50 players remaining at #NYRTC pic.twitter.com/QQKQ13KOB9

— New York Rangers (@NYRangers) September 27, 2016
Odds and Ends
— Wayne Gretzky told a hilarious story about how he received advice from an employee at the Hockey Hall of Fame on how to score more goals. Listen to The Great One tell the story here.
— The 2016-17 NHL preseason is well underway as 24 teams will compete in 12 games on Tuesday.
— The NHL's "Uncle" Benny Ercolani celebrated his 40th anniversary with the league on Tuesday. He has been a part of the NHL for a whopping 40% of all games in league history.
Steven is a lawyer and writer with a passion for the game of hockey. He's the Lead Writer covering the Tampa Bay Lightning with THW. He's also been press credentialed through the Lightning since 2016. His work has been published at The Fourth Period, LightningInsider.com, Bolt Prospects, The Sports Daily Network, U.S. College Hockey Online and College Hockey News. He's had radio appearances on TSN 690 in Montreal, Lightning Power Play Live and multiple podcasts to give insight and analysis on the team. He can be reached on Twitter @StevenDiOssi and by email at sdiossi@gmail.com.