At the start of the 2016-17 NHL season, Jacob Trouba's future with the Winnipeg Jets was uncertain. He had opted out of training camp after a trade request placed in May went unanswered, and contract talks seemed to be at a standstill.
"Our client, Jacob Trouba, will not be attending the Winnipeg Jets NHL training camp," agent Kurt Overhardt said in a press release as reported by Sportsnet. "The situation is not about money; it is solely about our client having the opportunity to realize his potential as a right shot NHL defenseman."
Overhardt explained that Trouba wanted to take on a bigger role that he didn't feel was possible with "two outstanding right shot veteran defensemen" in Tyler Myers and Dustin Byfuglien already in the lineup. But after missing 15 regular season games due to the dispute, Trouba signed a two-year, $6 million bridge contract – and the Jets sure are glad he did.
Big Minutes Behind Big Buff
After being sidelined with a lower-body injury on Nov. 11, Myers will now sit out an additional 6-8 weeks with the possibility that he won't return to play this season. Myers' absence has allowed 22-year-old Trouba to slip into a top 4 role, and he's been taking it in stride.
"As you get older as a player, there's more you can grow into and you want to take more responsibility," Trouba said to the Winnipeg Sun. "Just naturally, there's a progression, for sure. I know I can play this game, I just have to show I can play it consistently."
Trouba has indeed taken on more responsibility: in the past five games, he never played less than 23 minutes, and even skated for a whopping 30 in a 4-3 win over the Dallas Stars. The only Jets player to be on the ice more than Trouba is Dustin Byfuglien himself.
"The minutes are justified for [Trouba] and he's earned all of them," said head coach Paul Maurice in the same Winnipeg Sun article. "And as he gets older, he's probably going to play even more. He's a big, strong man out there and he's driving the play, defensively and offensively."
Trouba's Complete 180
From a wishy-washy 2015-16 season to playing top 4 minutes, Trouba has done a complete 180, and it is not going unnoticed.
"Jacob Trouba played one hell of a hockey game," Maurice said after a victory against the St. Louis Blues on Jan. 31. "He was big, strong and got stronger has the game went on."
Jacob Trouba vs. DAL: 30:16 TOI (1st time this yr 30+ mins in reg. time), 4 shots, 4 hits, 3 blocks. Total beast for #NHLJets right now.

— Ryan Dittrick (@ryandittrick) February 3, 2017
Not only has Trouba been solid defensively, but his even-strength offensive numbers have also improved vastly. HockeyAnalysis.com reports that both his Corsi and Fenwick per 60 minutes have skyrocketed, with his Fenwick up to a +9 from a +6 last season. His Corsi is pushing a +13, up from a +9.5 in 2015-16. In comparison, Byfuglien has a Fenwick of +8.73 and a Corsi of +11.22 in 350+ more minutes of ice time.
Though they are unspectacular numbers, the context is crucial; remember, the Jets currently have the seventh-worst shot production in the NHL, and are also giving up the 11th-most shots. With Trouba's numbers topping Byfuglien's, a player who posed a threat to his roster spot earlier this season, this is a glimpse into the future role Trouba could create for himself.
Where Is His Ceiling?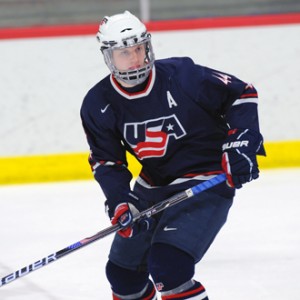 Drafted 9th overall in the 2012 NHL Draft, Trouba immediately cracked the Jets' NHL lineup. With a strong performance at the 2013 World Junior Championships, Trouba played a crucial role in bringing gold to the United States for the first time in seven years. Additionally, his four goals and five assists in seven games earned him the honor of Best Defenseman. He moved on to score 29 points in 65 games his rookie year, proving himself as a prominent young defender in the NHL.
All of these performances made it a difficult situation for the Jets when he lost his groove in 2015-16, scoring only 21 points in 81 games. But Maurice owes Trouba's comeback this year to rigorous off-season training, adding that this year's success is no fluke.
"He's a young defenseman in this league and he comes back bigger and stronger over one summer," Maurice said to NHL.com. "Now he understands what it takes to be a dominant defenseman in the game."
Now that he's found solid ground once more, Trouba believes his spot is no longer in question.
"There's been moments over the past couple years where I've had [consistency], and then I've lost it. Slowly but surely I'm starting to get the hang of it," he said to NHL.com.
"His reads are better; when to drive at a player, when to give ice – that is experience and a lot of time it takes years to develop that," Maurice said in the same article. "When he's decided now to close a gap there's no hesitation, he gets there big and strong, a lot of times the guy ends up on his butt, and his stick is really good in those situations. There's less uncertainty in his game, which makes him quicker, and then his power and strength makes him really effective finishing the deal."

Emma Miller is a journalist-in-the-making with a passion for all things hockey. She is currently studying Journalism at Ithaca College, where she received the Rod Serling Communications Scholarship for excellence in the field of communications. Before her venture as a Winnipeg Jets contributor for THW, Emma completed several internships with Swimming World Magazine which allowed her to explore her love of on-the-fly sports journalism and live radio broadcasting. She is also proud to have been recognized by the Garden State Scholastic Press Association for Honorable Mention in Sports Writing across all high school journalists in the state of New Jersey. Above all else, Emma wants to convey her love for the sport of hockey through her writing and hopes to gain experience for a possible career in this field. You can follow Emma on Twitter at @emiller04 or shoot her an email at emiller8@ithaca.edu.