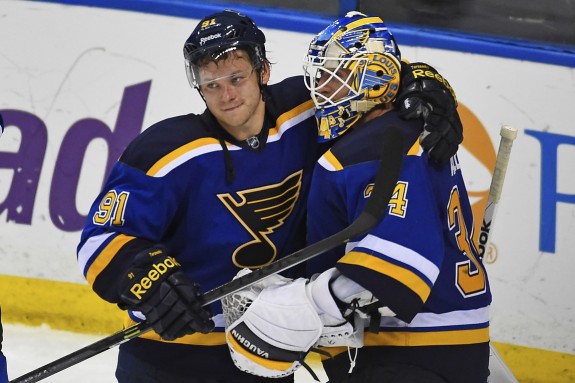 Jake Allen has been called the goalie of the future for the St. Louis Blues, but with shaky goaltending from Brian Elliott over the last two weeks Allen has emerged as a potential favorite to start Game 1 as the playoffs loom large on the horizon.
Who's Hot? Who's Not?
Allen has been outstanding between the pipes lately, posting a 4-0-1 record in his last five starts while allowing just 5 goals over the span including a shutout in Dallas on March 15. Coach Ken Hitchcock stuck to the company line earlier in the season, all but shouting from the Scottrade Center rafters that Elliott was the Blues' #1 goalie, but has said in the last couple of days that both goaltenders will play over this final week of the regular season and that he'd "ride the hot hand" if it comes down to it.
Hitch cont'd: "And what's best for the hockey club is whoever's playing the best gets to play. That's just the way it is." (2/2) #stlblues

— Jeremy Rutherford (@jprutherford) April 6, 2015
It could be that the future is now for Jake Allen and the Blues. Allen was a big part of the St. Louis win in Chicago on Easter Sunday, locking down the Blackhawks for the final 40 minutes. Chicago peppered the St. Louis netminder with thirty-nine shots but couldn't solve Allen after their first period loan tally. His heroics included a highlight reel stop of Bryan Bickell on a 2-on-none break-in:
Hitchcock, going slightly against the grain he's followed for most of the season, announced yesterday that Allen would start again Tuesday versus the Winnipeg Jets. It's the second time since Elliott returned from his lengthy stint on IR that Allen will make consecutive starts. He last saw the Jets way back in November in the teams' first match-up this season, a 4-2 victory for Allen and the Blues in Winnipeg.
As good as Jake Allen has been over this recent stretch, Brian Elliott has been the polar opposite. The Blues have won only one of Elliott's last five starts, having to recover from a 5-3 deficit to get that lone victory. They've given up a total of 20 goals over the five games. Elliott carried them into a shootout with Winnipeg back on March 19, stopping 33 of 34 shots in regulation and overtime and on the season he's still (barely) in the Top 10 in GAA, but in his last four starts he's been dismal, allowing 15 goals and posting just a .824 save percentage.
Shouldering The Load
St. Louis will once again be without its top scorers, Vladimir Tarasenko and Alexander Steen, but the way the Blues have played in front of Allen in his last five starts it may not matter. The team seems to have another gear defensively with Allen in net, and has been playing some of the best hockey we've seen from them this season in front of the youngster. Allen appears to have the confidence of a seasoned veteran and maybe we shouldn't be surprised. After all, he had one of the greatest goalies of all-time in the clubhouse this season in Martin Brodeur. I think about Marty every time I see Allen deftly playing the puck behind his net.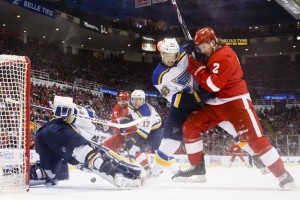 It makes no sense that the Blues would play better in front of their backup goalie than for the #1 guy yet they seem to give up far more odd-man rushes in front of Elliott. The defense seems to be lacking in his starts. Maybe they're more protective of Allen because he's younger? Maybe they feel compelled to work harder because it's how he handles himself?
Brian Elliott's work ethic has certainly never been in question. He's handled the non-controversy surrounding the St. Louis goaltender position with professionalism and aplomb. But maybe, just maybe, Allen has surpassed Elliott as the better netminder this year. Perhaps the Blues have been playing their best hockey in front of their #1 guy and we just didn't know it and tonight's performance may answer some of those questions.