When you take a look at the list of the NHL's top scorers right now, a lot of obvious names pop out at you.
Sidney Crosby is, not surprisingly, right near the top. So are Steven Stamkos and Evgeni Malkin, who have been two of the league's top superstars for the past few seasons. Tyler Seguin, Ryan Getzlaf and Claude Giroux, who all scored over 80 points last season, shouldn't be surprises either.
But right in the middle of the upper-echelon pack, sitting comfortably in third place in total points, is a new name to this kind of group, but also one that might be sticking around for a while: Jakub Voracek of the Philadelphia Flyers.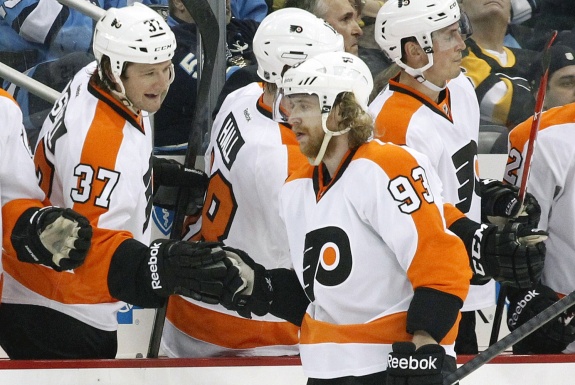 Now, it's by no means a secret that Voracek is a good player. He was drafted 7th overall by the Columbus Blue Jackets in 2007 and has been steadily progressing in his NHL career ever since. He posted a superb 46 points in 48 games during the NHL's lockout-shortened 2013 season, and followed it up with 62 points in 82 games last year.
However, this seems to be the year where the 25 year-old Czech native takes that next step into great player territory.
Even though the Crosbys, Stamkoses and Seguins of the hockey world draw much more media attention, Voracek has been equally as dominant of a player  so far this season. Through 26 games this year Voracek has already scored 33 points, putting him more than well on pace to not only eclipse his aforementioned previous season-high of 62 points, but also crack the prestigious 100-point plateau. Playing alongside Giroux and Wayne Simmonds, the trio has formed arguably the best line in the entire NHL, and pretty much the only thing that's keeping the struggling Flyers (currently 13th in the Eastern Conference with a record of 9-13-4) from falling even further in the standings.
Some might argue that Voracek's performance is being inflated because he spends almost all of his time with the more-established Giroux, who is the straw that stirs the drink offensively in Philadelphia. Considering Giroux is the center on that line, it's not an argument without merit. However, Voracek's 33 points still top Giroux's current total of 29, and in terms of possession stats it's Voraek's 54.9% CorsiFor rating that leads the entire Flyers team, trumping Giroux's 53.1%. The truth is that both players are now among the NHL's elite, even though Giroux happened to get there first.
With an excellent blend of size, speed, puck skills and determination, Voracek is an offensive threat both off the rush and on the cycle. Although he doesn't play the physical style of hockey that often comes with players that have a 6'2″ frame, Voracek is still one of the toughest players in the game to take the puck away from. Combine that with a natural ability to distribute the puck and you have a recipe for success that is hard for other teams to contain.
"We knew he could be a special player if he put everything together and he's starting to do that," said teammate Steve Mason about Voracek in this November 7th article from the Flyers' official website. "He can take over a hockey game and he is getting rewarded with the points right now."
At only 25 years of age, Voracek is just now entering the prime years of his career and is only getting better. If the hockey world hasn't already noticed that he is one of the game's best young stars, then they sure will soon enough.
Derek Neumeier primarily covers the Dallas Stars, but also other various topics related to the sport of hockey. A Journalism graduate of Mount Royal University, Derek also writes for Defending Big D, and has done previous work with the Edmonton Oilers as a communications intern and Hockey Canada as a freelance writer. You can follow him on Twitter at @Derek_N_NHL