With Dallas Stars defender, Stephane Robidas, on the disabled list after a broken fibula and tibia Jamie Oleksiak must take advantage of his time in the NHL to stick with the club. If he doesn't and is sent back to the Stars' American Hockey League affiliate, the Texas Stars, it'll show signs of regression to the former first round pick.
Oleksiak played sparingly during his rookie season at the NHL level logging 16 games with two assists and a minus-5 rating. He spent the majority of his rookie year in Texas where he shined in 59 games scoring six goals with 27 assists earning a plus-19 rating. This season he started out in Texas scoring three goals with two assists in 22 games before being called up due to Robidas injury.
He's played in three games since being asserted into the lineup back on December 1st, having failed to register a point. In Oleksiak's first game he impressed Stars' head coach Lindy Ruff during warmups and earned some praise from him after the game saying: "He was good," Ruff said. "We used him against some of their speed guys and their skill guys and I thought he did a nice job. Even late (Jordan) Eberle tried to drive wide, and he did a good job on him. So, for the first game, I thought he did a good job." <SportsDay DFW>
Oleksiak does have the benefit of the Stars being a mess on defense before Robidas was injured. Sergei Gonchar, who was brought in as a free agent has been terrible with a minus-9 rating. Alex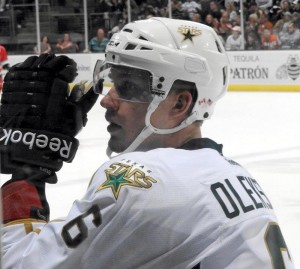 Goligoski has been a healthy scratch and moved to left wing for a couple of games. And, the team as a whole ranks 22nd overall allowing 2.8 goals per game.
With Robidas out for about four to six months it should give Oleksiak enough time to find his way into the rotation of six defenders on the Stars. The organization picked him with their first selection in the 2011 draft, fourteenth overall. He is only 20-years old. However, if he is sent back-down either before or after Robidas is healthy it will be a sign that he isn't progressing at the rate a first round draft pick should.
Follow me on Twitter by clicking the link: @tjmcaloon
I've devoted most of my life to being a Pittsburgh sports fan. Currently, I live in Austin with my wife Sarah and our dogs Clooney and Maggie.. But, I had the pleasure of taking in all that is Austin, TX – mostly the Texas Stars American Hockey League franchise – for the past 4 years.