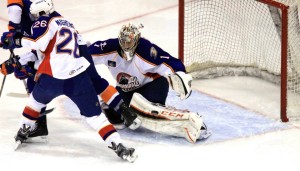 Goaltending is always a key position that every team in the NHL focuses on. In recent years, the Anaheim Ducks have solidified their depth in goal with the likes of Anaheim's current starting goaltender Frederik Andersen, backup Ilya Bryzgalov, prospect John Gibson, and depth starter Jason LaBarbera all whom have seen NHL ice this year with the Ducks.
At 35-years of age, Jason LaBarbera is assigned to Anaheim's AHL team in Norfolk, Virginia, the Admirals, where he is splitting starting assignments with 21-year-old John Gibson a tandem that can be dizzying for their opponents at times. Nobody appreciates this more than Norfolk's Head Coach Jarrod Skalde who said, "To have both those guys playing now, it's been along time since we had both of them together and we have all the confidence in both of them. Jason LaBarbera has done a great job since he's been down and we know what Gibby (John Gibson) can do."
While Gibson is just starting out on his pro career, LaBarbera's career is in full swing as he is in his fifteenth pro season. LaBarbera has 182 NHL games under his belt, 60 of those games are wins. Those hard fought NHL wins have came in six different jersey's including the New York Rangers, the L.A. Kings, the Vancouver Canucks, the Phoenix Coyotes, and the Anaheim Ducks.
LaBarbera talked about how winning at any level is satisfying, "Obviously it's fun. Those are the times when you do play well and you win. It's pretty tough at any aspect of your life to mimic that. If you ask any player, if they score the winning goal or the goalie that has a good game and they win, any athlete or performer when you do what you're supposed to do and do it well, it's pretty satisfying."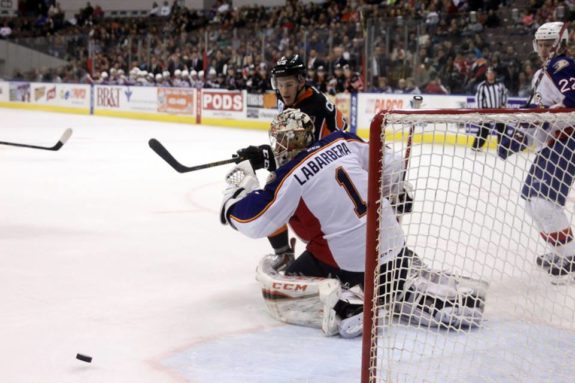 LaBarbera shared how he takes a bad game and uses it in a positive light, "You have to look at and try to move on. It's a little bit easier for me at this level (AHL) because you get to play right away. It's a little bit more difficult when you play one game every couple weeks and you have to sit on it. That part is difficult, but it's part of the game and part of being a goalie. You have to be able to move on. If you had a tough night the night before, just come to practice the next day and have a good practice and try to feel good about yourself."
Sure almost every hockey player has a routine on game day, but goalies are a unique bunch that skate to a different drum on game day. "Barbs" is no different as he talked about routines, "When I walk through every door way I always touch the top of the doorway. There are always little things like the way you touch your posts, the way you stretch, the way you scrape your crease, to the way you drink your water. I chew gum during the game and how you are during the national anthem. There are so many different things that you do that you don't even think about. You just start doing it and you're always adding different things to your repertoire."
The Burnaby, BC native is one of the most highly decorated goalies to play in the AHL having won the Aldege "Baz" Bastien Memorial trophy twice; once in 2004 with the Hartford Wolf Pack and the other came in 2007 with the Manchester Monarchs. The Aldege "Baz" Bastien Memorial trophy is awarded to the league's top netminder, but the awards don't stop there as LaBarbera also won the AHL MVP Award in 2004.
Having your name cemented in the record books in any league is no easy feat as LaBarbera additionally holds an AHL record for the most shutouts in a single season with 13 during the 2003-2004 season. The 6'3" left-handed catching netminder talked about records saying, "I'm not going to lie. I always look at the shutout records during the season even in the NHL. I always would keep track to see where guys were at. That year was a pretty special year with a lot of really cool people. To have your jersey in the Hall Of Fame is always a pretty special thing."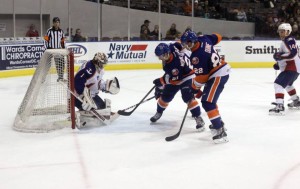 Over the course of a game a goalie can see a lot more than a skater that's always on the move. LaBarbera thinks communication on the ice is crucial to a teams success noting, "From a fan's perspective, they wouldn't notice or see that, but I think it's massive. Back there as the goalie your kind of the quarterback. You see everything that's going on behind the D-man. So it's really important to give them instructions and help them out and tell them what to do because they don't see what's going on."
LaBarbera has overcome many hurdles in his career, but one of the challenging hurdles came this season as he came off back-to-back starts in the AHL.  He was recalled by Anaheim and met the team in Colorado where the plan was for him to serve as a back up.  However when John Gibson couldn't play due to leg tightness, the jet lagged 35-year-old got the nod. What made this situation more exciting was that LaBarbera not only started and won, but stopped 16 out of 18 shots paving the way to a 3-2 Ducks victory at the Pepsi Center in Denver. He couldn't have asked for a better backup as Dwayne Roloson, Anaheim's 45-year-old Goaltending Coach, sat as a last resort for the Ducks.
Jason talked about the situation and game in Colorado, "That was one of the toughest things I had to do. You play Friday and Saturday here (in Norfolk) and get up early the next morning with no sleep and fly out. You expect to backup and get through the day and during warm up Gibby got hurt. It's just one of those things where you take a deep breath and hope to do your best and hope things go well for you. I was lucky enough to where the guys in front of me played great that game. It was the first time I played behind that team and it was the first time I played in the NHL in almost a year. It was an interesting experience and it worked out well."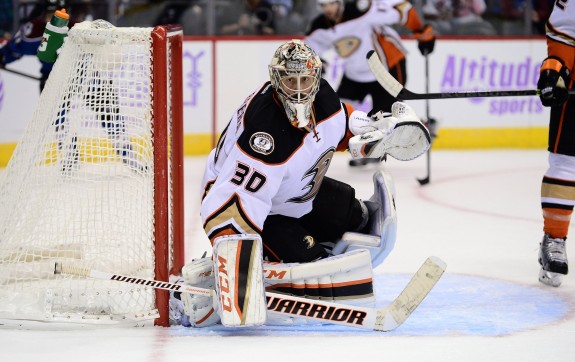 Off the ice LaBarbera and his wife Kodette are getting ready to have some on air TV time with their kids. LaBarbera's oldest son, Ryder, has Autism and will also be on the show. The show which is entitled "Hockey Wives" will debut in Canada on March 18th.  Kodette will be featured alongside other hockey spouses including the wives of Ryan Miller and Dustin Brown.
"They just finished filming us this past Monday while I was home for the break. They've been filming all year. Hopefully it turns out good. It's a good story.  My wife and kids are at home and my oldest son has autism so hopefully we can use it as a platform to show what its like to have a child with autism. They filmed me being away and how difficult it is and the things my wife has to do on a daily basis. Hopefully it does bring a little bit of awareness and it's not all glitz and glam. We do have real lives and hopefully it turns out good," noted Jason.
LaBarbera was a solid off-season signing by the Ducks who has stepped up in net for the Admirals and will hopefully be the key to a late season playoff run for Norfolk.