Talk about a situation that has blown up out of nowhere. Evander Kane is causing a huge stir up in the frozen tundra of Winnipeg. With that comes trade talk, and with that comes trade talk among Flyer fans.
Let's not and say we did.
Like Bobby Ryan, Evander Kane's name seems to come up in Philadelphia around every trade deadline. Last summer, Kane favorited a tweet sent out by a Flyers fan, calling Hextall to trade for him. Now that the saga between Kane, the Jets, and Dustin Byfuglien is unfolding, the Twittersphere is buzzing, especially with Flyers fans who would love to see Kane in Orange and Black.
https://twitter.com/lonis119/status/563443335659270144
Honestly I'd love to see E Kane on the flyers. What I'm scared of is Hexy trading something too valuable

— Pepe Silvia (@TheJawnKing) February 5, 2015
Flyers Evander Kane rumors in full effect again. Lets hope it happens

— Toddy🦰 (@IGotRedHair) February 5, 2015
Call me crazy here, but Evander Kane would look good in Orange and Black #Flyers

— Chris (@cWALTtheMAN) February 4, 2015
Once again. Let's stay away from this.
Point one. His stats.
I'd hate to say a guy is overhyped, but that is clearly the case in Philadelphia with Evander Kane. Kane's production has not been something to write home about,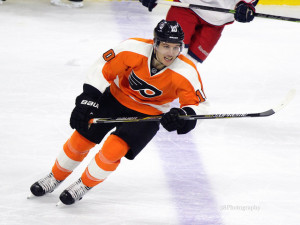 and certainly not something to trade Couturier or Schenn for. He has put up 50 points once in his career, has cracked 20 goals once, and has played one full, injury-free season in the NHL. He's in his sixth season. Sure he's young, but getting Kane would likely require giving up Schenn or Couturier.
Not worth it. Schenn is on pace for his best year yet, just 10 points away from eclipsing his career high of 41 points, and don't forget there's still 31 games left. Schenn also has a manageable cap hit at $2.5 million. Evander Kane's is $5.2 million. Would the Flyers get a little more production out of Kane right now than Schenn? Maybe. But that's a short term fix and the last thing a cash strapped team needs.
Point two. His attitude.
Has anyone forgotten why Mike Richards, Jeff Carter, and Joffery Lupul were shipped out of Philly? "Locker room problems" was a frequently used term in the media. The Flyers don't need that again.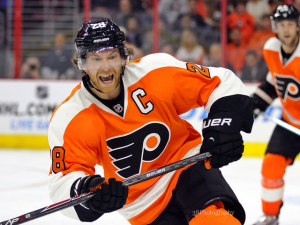 If the reports are true, and Kane really did violate team rules by wearing a track suit, then proceed to stir up a controversy about it afterwards which eventually got him scratched, then the Flyers should stay away.
The Flyers may not mesh well at times on the ice, and they have their defensive struggles, but if one thing is true, they have worked as a group the past few seasons. This is a team that defied all odds and made the playoffs last season after a historically bad start. Claude Giroux has proved himself to be a great captain, and Jakub Voracek is an emerging star. Is there really any reason to jeopardize all of that for a player who could possibly be a loose cannon? No way.
Would Evander Kane bring some offense to the Flyers? Yes he would. But his cap hit and off-ice problems far outweigh any positives he would bring to the Flyers. Not to mention, the Flyers don't need to trade away anymore young talent. That's come back to haunt them enough in the past.
Be patient, Philadelphia. It might be tempting, but the Flyers are better off not pursuing Evander Kane.