With the NHL Trade Deadline drawing near, the Detroit Red Wings have been tied to potential trade targets such as Tyler Myers, Mike Green and Keith Yandle. Landing any one of those big names means sending assets the other way that Red Wings' brass may not be comfortable moving. Furthermore, on an already crowded blueline, adding one of the aforementioned defenders could complicate bringing in prospects like Xavier Ouellet, Alexey Marchenko and Ryan Sproul in the next season or two. One name that has been floated around in the trade market is Marek Zidlicky of the New Jersey Devils.
 Under The Radar
While his name does not carry the weight of a Green or Yandle, Zidlicky has provided a steady stream of offensive support throughout his NHL career.  He has posted 40+ points six times, with his latest fruitful year coming during the 2013-14 season, where he netted 12 goals and 30 assists, for 42 points. Currently, he is on pace for 33 points with the Devils, which would still place him second on the Red Wings among defensemen.
In addition to his offensive contributions, Zidlicky is a steadying presence on defense. While eleven of his points have come on the power play, ten of them have come at even strength.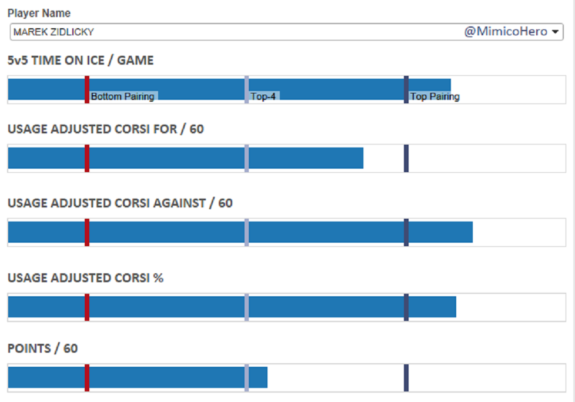 As the graph shows, Zidlicky has effectively played at a high level during his time with the Devils. While he may not move Danny DeKeyser off Detroit's second powerplay unit, he could certainly contribute offensively. At the very least, his 80 shots on goals (nearly 20 more than any Detroit defenders) show he's capable of getting the puck on goal, creating more scoring opportunities for the forwards.
 Bridging The Gap
Unlike the other trade targets currently on the market, Zidlicky is in the twilight of his career. While adding a defenseman in his mid-to-late twenties could create a logjam on Detroit's back end, he would likely spend a year or two in Detroit, at the most. Some of the big name defenders on the market today are likely looking to sign for some term. Zidlicky could be comfortable signing one year at a time, as he did with the Devils heading into the 2014-15 season. It would aid in the transition that Detroit's defense is currently under, allowing players like Sproul and Jensen to break in when they are ready to contribute offensively.
 Low Risk, High Reward?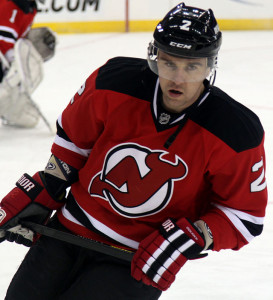 While some of the offensive defenders on the trade market carry a hefty return, Zidlicky could likely be had for a more modest price. With Buffalo Sabres general manager  Tim Murray reportedly asking for one of Anthony Mantha, Gustav Nyquist or Dylan Larkin in return for Tyler Myers, Ken Holland may be more comfortable sending a 2nd round draft pick, or a prospect along the lines of a Nick Jensen for the services or Zidlicky. Though it might seem a bit steep for a 38-year-old veteran, the move would solidify Detroit's defense corps heading into this year's playoffs.