They say that you can never go home again. Tuesday, former Fighting Sioux team All-American Jason Ulmer proved that you can. Ulmer, a two-time NCAA champion joined the University of North Dakota coaching staff as a student assistant coach. Ulmer will be pursuing a Master's degree.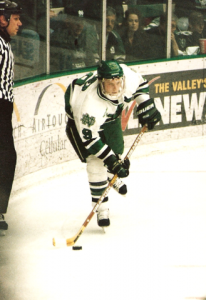 Ulmer brings a wealth of playing experience to the UND coaching staff. Ulmer, who retired from  professional hockey last April, enjoyed a 16-year career playing in six different leagues on two continents.
Ulmer played 11 of those 16 seasons in Germany and is ranked 46th all-time in the Deutsche Eishockey Liga. During those 11 seasons, he played for four different teams. Ulmer played in 404 games scoring 98 goals and 348 points, he was also a plus-34.
UND head coach Brad Berry is very happy to have Ulmer on his coaching staff and welcomed the former player back home.
"We are very excited about Jason rejoining our family at North Dakota" Berry said. "Jason, a two-time national champion – will bring a wealth of experience to our group in the coming years."
Many UND fans will have fond memories of Ulmer. The Wilcox Saskatchewan native played at UND from 1996-2000, winning two NCAA titles in 1997 and 2000.  Ulmer played in 146 games scoring 33 goals and 102 points.
Eric is a 1996, 1999 graduate of the University of North Dakota. Eric covers the University of North Dakota Hockey and Division I college hockey. Eric is the Contributing Editor for Inside Hockey.