An Injury and a Wake-Up Call
In 2010-2011, when Anze Kopitar went down near the end of the season with a broken ankle, the Kings knew they were in trouble. Anze Kopitar has led the Kings in points five of the last six seasons.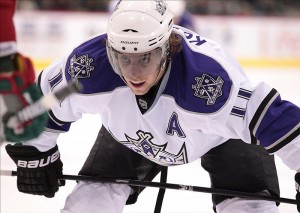 If Doughty had gone down, Jack Johnson (at that time) had showed he could step up and play that role of a work-horse defenseman. If Jonathan Quick had gone down, the Los Angeles Kings had Jonathan Bernier they believed they could rely on. However, the injury to Kopitar that season exposed the biggest void within a strong Kings roster: another reliable, top-six center. The Kings lost in the conference quarter-final series against the San Jose Sharks. The series ended in overtime in game six as Joe Thornton did his best b-boy impression towards center ice.
That offseason, Lombardi addressed that void and acquired Mike Richards from the Philadelphia Flyers as Jeff Carter had been traded earlier that day to the Columbus Blue Jackets. In the middle of the season, Carter joined Richards again as a Los Angeles Kings at the trade deadline.
Richards was immediately inserted into the second line center position with Jeff Carter (after his acquisition) glued to his right side and the Kings would go on to win the Stanley Cup in spectacular fashion going 16-4 in the playoffs. Both Richards and Carter would play pivotal roles in that championship run.
One Door Ajar, the Other Wide Open
Richards' career would start to decline and slowly, Jeff Carter started to become more reliable and trusted by the coaching staff. Beginning last season on the second line with Jeff Carter, Richards saw the majority of his ice time on the fourth line that season. Jeff Carter, however, began to flourish and assert himself as a second line/number one center. Earning a spot on the Canadian gold medal team during the 2014 Winter Olympics in Sochi, Russia.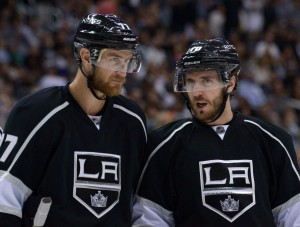 In the 2013-2014 Stanley Cup playoffs, specifically the Western Conference finals, Jeff Carter emerged himself as the Los Angeles Kings' number two threat behind a worldly player in Anze Kopitar. Alongside rookies, Tyler Toffoli and Tanner Pearson, the trio put the Kings on their backs to defeat the defending Stanley Cup Champions, Chicago Blackhawks, in a series that would give fans the best hockey in a long time. The hockey was so good, fans had already written off the Stanley Cup Finals after that series concluded.

The Next Level
During this last offseason, Jeff Carter committed himself to an intense workout regimen and started the season right going into practices early and leaving them late. Jeff Carter, a player whom had an infamous reputation of being injury prone, has not missed a game this season, only ten last season, and played the entire lockout-shortened season.
Jeff Carter has surpassed twenty-five goals his last three seasons with the Kings, leading the Kings in points this season (above Anze Kopitar), and is depended upon for all situations. Jeff Carter wins the majority of his faceoffs and is currently leading the Kings in faceoff percentage. Faceoff wins promote procession.
Carter has surprised Kings fans with his unbelievable stride and speed and his ability to make plays. He has a pure goal-scorer's shot and a great two-way game. With Jeff Carter signed until 2021-2022 at a reasonable AAV cap hit of 5.275 (million), the Kings have a second line center that is drawing a lot of attention from opposing teams.
Cole R. Querry resides in Southern California. Having played hockey through college and a background in science and math, he promises to bring an objective analysis to the team and sport he loves.