The Edmonton Oilers aren't making the playoffs this year. The only real question heading into the final stretch of the season is which draft position the Oilers will find themselves in. And, as is often the case with struggling teams in big hockey markets, it's easy to pick things apart and create controversy. Taylor Hall has been the latest target, because of one commentator. But that's more hearsay than anything else. Tangibly, there has been a question surrounding this team, and that's whether or not they currently have a true number one centerman.
Do Teams Need a Clear-Cut Number One?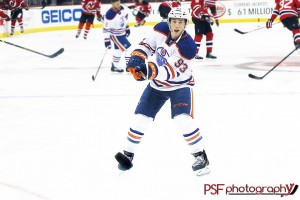 Ryan Nugent-Hopkins has been having a strong finish to the season, and he has continued to show growth and improvement in his overall game. He has certainly shown that he's capable of playing big time minutes in this league, but is he really that number one center all teams hope to have? Similar to Hall, RNH has been the target of a hockey commentator who suggested his a second line, if not really good, third line centerman. Considering he's the best the Oilers have, that comment wasn't well received.
But before we debate the abilities of RNH, let's take a look around the league and see how other teams stack up. The Montreal Canadiens, currently the best team in the Eastern Conference, skate out such centermen as Lars Eller, Tomas Plekanec, David Desharnais and Alex Galchenyuk down the middle of the ice. All fine players, but none have the size and prowess that you would decidedly want for a number one guy. Who would be the top line center on the New York Rangers, the second best team in the East? Is it Derick Brassard, Derek Stepan? Dominic Moore perhaps? (N0)
The Nashville Predators, one of the top teams in the West, lineup the likes of Mike Ribiero, Mike Fisher, Colin Wilson and Craig Smith as their pivots. Ribiero is underrated in terms of his play-making ability no doubt, but again, not the first guy you'd choose to build your team around. Now granted, these three teams have one very important thing in common, and that's elite goaltending. But it raises an entirely different question, and that's whether strength in one position makes up for weakness in another. So in other words, if your team is strong in other areas, you can get by with a few good centers rather one big dog. Maybe.
How Does Ryan Compare to Other Centers?
The best centers in the league are obvious. Sidney Crosby, Ryan Getzlaf, John Tavares, Nicklas Backstrom, Jonathan Toews, Anze Kopitar, Steven Stamkos, Evgeni Malkin, Joe Thornton, Henrik Sedin, Jamie Benn. There's no debate around those guys and their status as top centers. So stacked up against Ryan Nugent-Hopkins, how many times do you take him over any of those players? Probably not too many times if we're being honest. But let's look at the stats, obviously taking into account the quality of the players around him compared to others. So far on the season, RNH has 23 goals, 31 assists and 54 points.
John Tavares: 34-40-74
Sidney Crosby: 24-50-74
Nicklas Backstrom: 18-54-72
Jamie Benn: 27-44-71
Evgeni Malkin: 28-40-68
Claude Giroux: 22-46-68
Steven Stamkos: 40-27-67
Ryan Getzlaf: 23-43-66
Henrik Sedin: 17-48-65
Joe Thornton: 14-48-62
Jonathan Toews: 23-37-60
Anze Kopitar: 15-44-59
Now let's compare him to a few other "number one" centers in the league.
Mike Ribiero: 13-43-56
David Backes: 25-29-54
Derick Brassard: 15-39-54
Kyle Turris: 21-32-52
Tomas Plekanec: 22-30-52
Bryan Little: 24-27-51
Patrice Bergeron: 21-30-51
Mikko Koivu: 11-32-43
The Nuge is in pretty good company among these players. Maybe they aren't the big point producers, but they are the guys that line up for the big face-offs. Having a big, strong, point-producing pivot is a huge asset to your team. But, if you can build with other pieces, and have strength at other positions, you can have a lesser number one guy, for lack of a better term. Maybe?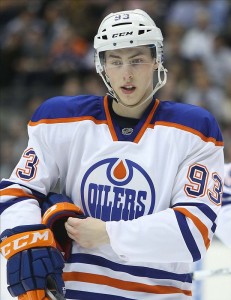 Nugent-Hopkins Could be the Guy
So where does this leave the Oilers? They don't have an elite goalie. They don't have a stud defenceman. They don't have a lot of depth at center after RNH. Because of that, people will have the debate over Nugent-Hopkins. He doesn't have a lot to work with, yet he's still putting up comparable numbers to the top centerman on some very good teams. He's 6 feet, and 190 pounds, but at just 21 years old he can still fill out his frame a little more. His size has always been a concern because of the way the Western Conference is built, but puck smarts and good vision can often times make up for a lack of size.
The reality for the Oilers is that they just aren't good in pretty much every area, thus magnifying the perceived issue with Nugent-Hopkins. On teams like the Penguins, the Sharks, the Ducks, or the Bruins, Ryan Nugent-Hopkins would not be a number one center. In fact, on any of those teams he would likely be a number three guy. But he isn't on those teams. He is the Oilers number one center, whether that's the optimal position for him or not. He has more skill than he's given credit for, though perhaps he is better suited to be a really good second line center. But he has a chance to prove he's more than that, and so far he's handling it quite well.
Marcy, a former hockey player, is a hockey correspondent on CTV News and TSN radio. She began her career as a Sports Journalist in 2009 and has been part of The Hockey Writers since 2010, where she is currently a senior writer and editor.