With the San Jose Sharks set to miss the postseason for the first time in over a decade, what is left for Sharks fans to look forward to these last nine games? Well, there are three young players in particular that can use these last few games as a springboard into next season. Continuing to watch their progress should be enough to keep even the average fan tuned in.
3. Tomas Hertl (LW, C)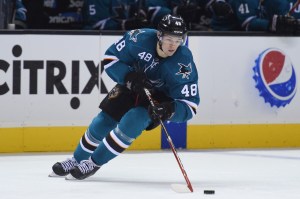 It has no doubt been a trying year for the 21-year-old NHL sophomore. Hertl has tallied just 28 points this season in 73 games. That is only a .38 points per game rate. As a rookie, his 25 points in 37 games, or .68 PPG rate, was much more impressive. Clearly Hertl is still overcoming the knee injury that forced him to miss over three months of his rookie season. His skating stride hasn't looked nearly as explosive this season as it did a year ago. The limited ability to push off has been the main cause of his limited production. However, it should be considered an incredibly positive sign that the youngster has played every single game this season. Not only is he getting accustom to the every other day NHL schedule but he has also been slightly more productive lately. Nine points in the past 20 games, or a .45 points per game rate is a slight increase over the .36 rate over his first 53 games. With a full offseason to rehab and improve, and another year of general maturity it wouldn't be shocking to see Hertl back into the .6 or better PPG range next season. Confidence is big in hockey though and continuing to pick up points these last few games would be beneficial for the 2012 first round pick going into next season.
2. Mirco Mueller (D)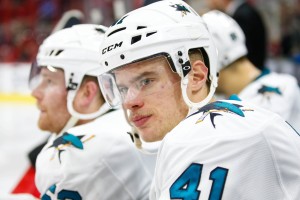 San Jose's 2013 first round pick Mirco Mueller has had a tough rookie season in the NHL. The recently turned 20-year-old defensemen has been mismanaged all season long. He was forced to begin his season on a pairing with the incredibly awful defenseman Brent Burns. Having to play your first NHL season at a young age while paired with an offensive minded player returning to defense for the first time in two years? That is a tough assignment. Mueller showed some signs early of his potential to be a shut down defenseman but his struggles with the puck have been glaring all season. Instead of letting him play every night and improve, the Sharks frequently made Mueller a healthy scratch throughout the season. It is one of the many oddities that make outsiders wonder "so much for rebuilding". With the Sharks essentially eliminated from the playoffs barring a Doug Flutie esque Florida State Hail Mary miracle, Mueller should be in the lineup the rest of the way. Again, confidence is big for these players and Mueller can use these final games to feel better about his game.
1. Chris Tierney (C)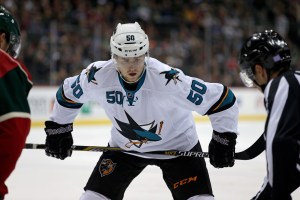 Unlike his teammates above, Chris Tierney has been a huge positive development late in this season. While Hertl and Mueller have had forgetful seasons, Tierney has shined big time late here in his rookie season. After initially making the Sharks roster out of training camp, Tierney was sent back down to AHL Worcester where he got accustomed to the heavy style of play in the North American professional leagues. Even in the AHL, players are much bigger and faster than in juniors. Over his most recent couple of recalls to the NHL, Tierney has established himself as an every night player, often centering the third line. In his past 19 games Tierney has picked up 10 points, for over a half a point (.5) per game average. For a third line center that is terrific production. This season San Jose's most regular third line center was James Sheppard who had a points per game rate of just .28. Watching Tierney continue to progress will be exciting for Sharks fans. The youngster has been making some incredible dishes lately and being above water in terms of plus/minus on this otherwise bad team this year is a sign of his strong shut down abilities. His play of late shows his ceiling may in fact be second line center but even if he doesn't get there, he looks like a sure bet to be a tremendous third line center down the line.
Andrew has been credentialed to cover the Sharks since 2010 and the 49ers since 2012. He graduated with his BA in Broadcast Electronic Communication Arts in 2013 from San Francisco State University.