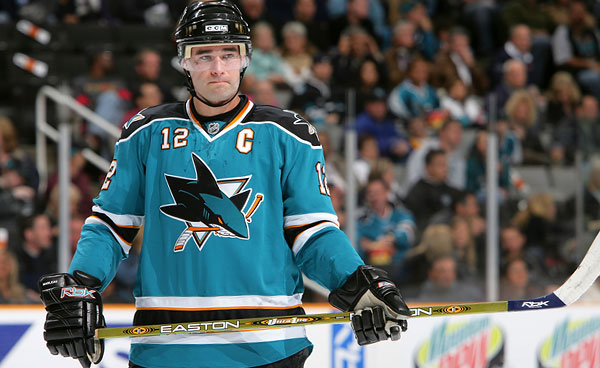 In his memoir, J.R.: My Life as the Most Outspoken, Fearless and Hard-Hitting Man in Hockey, Jeremy Roenick took yet another opportunity to blast his former teammate Patrick Marleau, who he played with for two years on the San Jose Sharks from 2007-2009.
Of course, we all remember the night that Roenick called Marleau "gutless" after a Game 5 loss to the Red Wings last year:
But Roenick, who is certainly not afraid to voice his opinion, took things a step further in his book by dedicating an entire chapter to Patrick Marleau. He ranked Marleau number three on his list of the "5 Players I Hated During My Playing Career," then explained why (excerpt from Yahoo):
One night I even went to his home to discuss the struggles he was going through. It was around Thanksgiving. I was with my family at home. But I couldn't stop thinking about the team and how dominant the Sharks could be if Marleau would realize his potential. After thinking about it all day, I couldn't take it anymore. I left my family, climbed into my car and drove to Marleau's home. My intention wasn't to yell at him. I wanted to inspire him, to let him know that his teammates were behind him. I went there to tell him that I believed he could be one of the league's very best players if he just altered his game slightly. He needed to play with more of an edge. He needed to show some bigger balls when the game was on the line.

What no one seems to understand is that I believe Marleau is a special talent . . . Marleau frustrated me when I played with him because I wanted more from him. He was earning $6.9 million per season and I just didn't believe he brought the superstar effort that you would expect from that caliber of player.

I tried to tell him that that night, but I could tell 10 minutes into our conversation that I was wasting my time. He considered my arrival at his house an intrusion. He listened to me, but he never did anything to change the way he was.
We can't deny the fact that Marleau is a special talent and a great player. He has spent his entire career with the Sharks after being drafted second overall in 1997, and has scored 30+ goals six different times during his 14 seasons in San Jose. He was the captain of the team from 2004-2009, and will go down as perhaps the greatest Shark of all-time when he retires.
But we also can't deny the fact that, like Roenick states, he can do so much more. There are times when Marleau doesn't show up on the stat sheet for a couple games, and simply looks lost on the ice. His numbers may indicate a superstar-type player, but having watched every Sharks game for the past few years, his effort and lack of emotion and presence on the ice does not reflect that of a superstar.
To his credit, Marleau defended himself via the San Jose Mercury News:
I don't know what people are expecting, but I think I show emotion – I score goals, I show emotion. If a team's trying to get after the top players and you show that they're getting to you, that's one aspect of it too. There's different ways to skin a cat.

There's other players that are regarded as great players for the way they handle themselves – they don't get up too high or down too low. There's going to be critics – they have to pick at something and they'll pick at that.